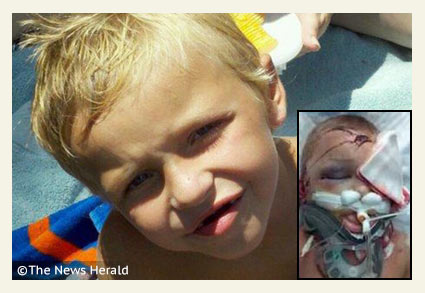 Tyler Austin "Catfish" Jett, 7-years old, of Callaway, Florida.
Decade Behind Bars
UPDATE 10/11/13: On October 11, Circuit Judge James Fensom denied Edward Daniels a new trial and sentenced him to 10-years in prison and 5-years probation. Assistant State Attorney Larry Basford and Assistant Public Defender Doug White brought up witnesses to give brief statements on Daniels sentencing. Daniels then gave an apology to the Jett family for the first time. The condition of his probation includes that Daniels cannot own or live in a household with dogs.
08/30/13: Guilty of Manslaughter
On August 29, a Bay County jury found Edward Daniels II guilty of manslaughter in connection to the dog mauling death of 7-year old Tyler Jett after two hours of deliberating. During the two day trial, a half dozen of Daniel's neighbors testified that his dogs had threatened them prior to the April 2 attack, and that they had confronted Daniels about it as well. Stanlee Himbaugh testified that he even warned Daniels, "They're going to kill a kid." The jury agreed with the neighbors.
Daniels was found not guilty for the charge of tampering with evidence.
04/08/13: Manslaughter Charges
Manslaughter charges have been filed against Edward Daniels II of Callaway after his two dogs brutally attacked Tyler Jett on April 2, ultimately causing his death. Daniels was already charged with felony tampering of evidence and drug charges that arose during the investigation. Greg Wilson, Chief Assistant State Attorney for the 14th Judicial Circuit, said, "In any type of animal case where the death of another person occurred, [manslaughter] is the highest you could go."
Edward Daniels II, 21, faces up to 15-years if convicted of manslaughter. On March 28, just days before his dogs got loose (again) and attacked Tyler, Bay County Animal Control cited Daniels for allowing his dogs to run loose and terrorize neighbors. That citation put Daniels on notice that his dogs were dangerous and that he needed to properly secure his animals. Daniels failed to do so and as a result, a child was horribly mauled and died due to injuries inflicted by his dogs.
The WMBB video showed images of both attacking dogs.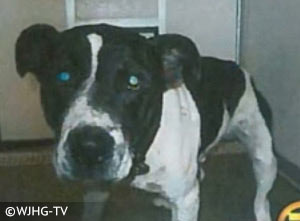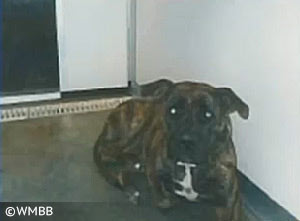 ---
04/07/13: Boy Dies After Attack
Callaway, FL - Tyler Jett, 7-years old, of Callaway has died. On April 2, Tyler was savagely attacked by two loose pit bull-mix dogs. Tyler was flown to Sacred Heart Hospital in Pensacola where he remained in intensive care until his death.1 The boy suffered a punctured carotid artery and his head, face and neck were badly bitten. The dogs' owner, Edward Daniels II, was charged with felony tampering of evidence after washing the blood off one of his dogs after the attack.2
Just before the attack, Tyler was riding his bike after returning from school.3 Witnesses said the two dogs, which escaped from their owner's fenced-in yard, had chased another neighborhood boy into Tyler's yard before turning their attention on Tyler. The boy's stepmother, Katy Phillips, Tyler's father and a neighbor rushed to help him after hearing his screams. "Tyler did not provoke these dogs," Phillips said. "These dogs (dragged) this 7-year-old across my front yard."4
"I was keeping him alive. I was applying pressure to his neck and his head and telling him to keep breathing for me," Phillips said.
Two days after the violent attack, friends of the boy's family planned a benefit to raise money to help cover the boy's medical costs. The benefit cookout was held Saturday morning at the Dam Bait Shop. An aunt of the boy said the event raised about $12,000. A new fundraising event will be held Monday at Bill Byrd Kia in Panama City. WPAP 92.5 FM will be broadcasting live. Collecting donations now broadens to include Tyler's funeral expenses along with his hospital stay costs.
Daniels is not a stranger to dog attacks. Last May, Daniels was walking a dog named Dude that belonged to his sister, Amber Daniels, when it bit a 9-year old boy in the face without provocation. That dog was surrendered to animal control to be destroyed after it was declared dangerous for a previous unprovoked attack in 2010. The two pit bull-mix dogs that attacked Tyler had not been previously declared dangerous, but had a history of getting loose and threatening behaviors.
04/03/13: BCSO Police Report
OFFICIAL BCSO REPORT – CALLAWAY DOG ATTACK

On 04-02-13 I Deputy Price responded to 6213 Kelly Ct. in reference to a seven year old child being mauled by two pittbull's. Upon my arrival Fire Rescue were already on scene and administering CPR to the unconscious seven year old white male that was attacked by the pitt bull's. The pittbull's had already fled the scene and were believe to have went back to their home at 6228 Kelly Ct. (Mother) Katy Phillips explained to me that she was inside her house when she heard screaming and yelling outside by family members and neighbor's who saw her son being attacked by two pittbull's. Ms. Phillips said that neighbor Shannon Washington, herself and her husband attempted to scare off the two pittbull's but were unsuccessful due to the pittbulls aggressive behavior towards them. Ms. Phillips said that she then covered her son beneath her as her husband went to retrieve a gun from out of the house to kill the dog's.

Myself and responding Deputies went to the residence of 6228 Kelly Ct. where we made contact with the owner of the pittbull's Edward Daniels Jr. II. Animal Control later arrived on scene and detained the two pittbull's that were located in Mr. Daniel's back yard. The two dogs were identified by the victim's parents and neighbors as the two pittbull's that attacked the seven year old child.

The child was later identified to be XXXXX Austin XXXXX. The pittbull's are described as two mix breed pitt bull's. One was a Brindle mix breed pitt bull that was a one year old. The second pittbull was identified as a mixed breed pittbull that was eight years old. Upon receiving the pittbull's from Mr. Daniels, Animal Control personnel Matthew Bland said to me, that Mr. Daniels had a non caring attitude learning that the pittbulls attacked a seven year old child. Mr. Bland also said that Mr. Daniels said that he knew something was wrong when he saw blood on the eight year old pittbull's mouth. Mr. Daniels said that both of the pittbull's have gotten out of his back yard on several occassions by digging holes under the fence.
Read: BCSO report in full | Additional BCSO report
View the DogsBite.org Google Map:
Florida Fatal Pit Bull Maulings
.
1
The boy did not regain consciousness after the mauling.
2
Daniels is not the first Florida resident to "tamper with evidence" by washing away blood evidence after a fatal dog attack. After the mauling death of Carshena Benjamin in 2007, Linda Billie did the same thing then dumped the two pit bulls at undisclosed locations. Neither Billie nor the owner of the dogs, Linda Newell, were criminally charged.
3
The News Herald describes one dog as an Alapaha blue-blood bulldog, one of several unofficial breeds achieved by crossing the "old southern white bulldog" and the
American pit bull terrier. The other dog is simply described as a "brindle bulldog." The Bay County Sheriff's Office report described both dogs as mixed-breed pit bulls. Notably, it was the owner of the dogs that altered the "breed type" while under police questioning on the day of the attack.
4
Tyler's step-mother also told the News Herald that his family owns a pit bull that had been Tyler's "playmate all of his life," but after the mauling,
they planned to get rid of it.
Related articles:
07/25/12: Bay County Animal Hospital Worker Suffers Catastrophic Injury in Pit Bull Attack
07/11/12: 2012 Dog Bite Fatality: Avondale Man Mauled to Death by Pit Bull-Type Dog
04/08/09: Pit Bull Attacks Toddler While Being Baby-Sat in Bay County
04/01/08: 2007 Fatal Mauling Investigation of Carshena Benjamin Closes Unresolved