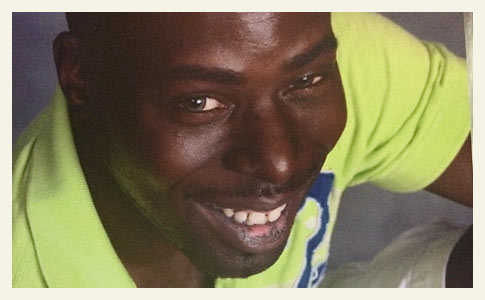 Pleads No Contest
UPDATE 04/18/16: The owner of a pack of pit bulls that killed a man last year pleaded no contest to a felony charge in exchange for a 3-year prison term. John Chester Smith, 63, entered the plea in a Jefferson-Lincoln County Circuit Court and will be sentenced in June, Prosecuting Attorney S. Kyle Hunter said. "The judge deferred sentencing so that Smith could get his business affairs in order," Hunter explained. The victim, 36-year old De'Trick Omar Johnson, had no such luxury.
"This was a horrible death," Hunter said. "Even though Mr. Smith did not personally cause the death, our position was that there was recklessness on his part because of the dogs and it deserved prison time." If the case had gone to trial, prosecutors had evidence there had been four previous serious incidents involving Smith's dogs. It seems that with four previous attacks, including one that forced a man up a tree, a jury would have convicted and with stiffer prison time.
John Chester Smith got off easy considering his knowledge of his pit bulls' vicious propensities, as well as owning a pack of these dogs.
On March 21, 2015, De'Trick Johnson of Pine Bluff drove to C.J.'s Garage, an auto repair shop owned by Smith, to have some repairs done on his car. As he waited outside the gate of the business, a pack of pit bulls owned by Smith charged beneath the gate and launched a lethal attack. The dogs destroyed him; one account said the attack lasted 20 minutes. The pit bulls were still tearing out his flesh when deputies arrived; they shot and killed four of the dogs on scene.
We are so sorry for Johnson's family members and close friends. We hope the plea deal of a 3-year prison sentence is sufficient. Smith's son, John Smith, and Johnson were best friends.
04/22/15: Manslaughter Charges
The Jefferson County prosecuting attorney's office announced today that a Pine Bluff man has been criminally charged in connection to the mauling death of De'Trick Johnson last month. John Chester Smith, 62-years old and the owner of C.J.'s Garage, was charged with manslaughter, a Class D felony. Maj. Lafayette Woods Jr., spokesman for the Jefferson County Sheriff's Office, said his office is still waiting on the arrest warrant. Deputies plan to arrest Smith on Friday.
Listen Listen to 911 Call
03/26/15: Interview with Woods
Major Lafayette Woods, spokesman with the Jefferson County Sheriff's Office, explains part of the history of the attacking pit bulls owned by John Chester Smith in an extended interview with THV 11 (scroll to see second video). He explains his department's actions following biting incidents at C.J.'s Garage as recently as March 15 and in July 2014. The March 15 victim was uncooperative, Woods states. Other victims of these same dogs never reported the biting incidents, Woods said.1
Woods was quick to point out in the very first press release that the horrific mauling death of De'Trick Johnson, "furthers the stigma of pit bull terriers as aggressive and dangerous animals" and that in his "personal experiences" pit bulls "are just very loyal."2 Woods adds in the recent extended interview, "I don't want to alienate the breed. It's not necessarily the breed, its the animal's owners who irresponsibly ignore these signs of aggression in these dogs," he said.
Woods, apparently, has never reviewed national fatal dog attack statistics, which clearly show that pit bulls kill more people than all dog breeds combined. His anecdotal "personal experiences" are simply that -- anecdotal "personal experiences" -- ungrounded in statistical reality. Woods fails to acknowledge that many well-raised family pit bulls unpredictably attack and kill family members as well. Woods is a pit bull apologist who also holds the duty to protect the public from harm.
Pit Bulls Killing Family Members
During the last 10-year period (2005 through 2014), pit bulls were responsible for 62% (203) of attacks resulting in death. Of these attacks, 53% (107) involved a family pit bull killing a household member. More than half of all fatal attacks inflicted by pit bulls were inflicted upon a family member or person the dog knew well. Predictably, 98% (105) of these attacks occurred on the dog owner's property. What does Woods have to say to these 107 families, or even to this one mother?
"I never in a million years would ever think that (Killian) would have done something like that. That was just me listening to the reports and, you know, the experts. 'Oh pit bulls have to be trained to be aggressive. If they're not trained that way, if they're not raised that way, it's fine.' ... They were the biggest babies. They were spoiled; they were never abused, never mistreated, big babies. I go to bed, they're going to bed (and) they're in the bed, under the covers, on a pillow, comfortable. He was a sweet dog, he was people friendly. The only thing was he didn't like other dogs," she said. - Shannon Easton-Hamer, whose son, Julian Slack, was mauled to death by a family pit bull in 2008.
There is no question that the 8 pit bulls owned by John Chester Smith were guard dogs with a track record of bites, attacks and aggression and that Smith was an appalling, reckless owner who deserves jail time. For Woods to go on camera, however, and squarely blame "only the animal's owners" in all instances of violent pit bull attacks is an outrage. Sadly, Woods is just another uniformed voice in the "echo-chamber" of untruths regularly blared by rabid pit bull advocates.
03/24/15: Victim's Family Speaks Out
New details emerge after the brutal fatal pit bull mauling of De'Trick Johnson just outside of C.J.'s Garage at 300 Thomas Road on March 21. The Jefferson County Sheriff's Office issued a news release on March 23 stating that the at large pit bull involved in Johnson's death was shot and killed by deputies on Monday, and another pit bull, previously unaccounted for by the sheriff's office was also seized. This brings a total of 8 pit bulls: 5 shot dead and 3 seized by authorities.
Family Members Speak Out
KATV reports an emotional interview with family members and friends of the victim, De'Trick Johnson. At front and center is the victim's younger sister Akimi Johnson and the victim's friend of 14-years and roommate, John Smith III, who is also the son of the owner of the dogs, John Chester Smith. Both Akimi and Smith III want to see justice done after De'Trick's horrific mauling death. "I was not prepared for what happened to my brother," Akimi said holding back tears.
Smith told KATV that De'Trick jumped on his car to escape, and "the dogs actually jumped on the car with him because the mud is still on the car when we brought it home." He added that there were previous victims of these dogs. "I'm not just speaking because its De'Trick," Smith said, "I am speaking on the behalf of the other victims because he wasn't the first. He wasn't the second or the third, there was about four to five people that had been attacked by these same dogs."
In a powerful statement, Smith talks about his father's utter disregard for people's safety just like so many other pit bull owners. "After he bit the first man, what was it in your mind that you couldn't get rid of the dogs then? Then he turned around and bit somebody else and then turned around and bit somebody else then turned around and killed somebody. It's just unexplainable," Smith said. All of his family members had told his father, "You need to get rid of those dogs," Smith said.
The Gate and Discrepancies
The same two individuals also talked to Fox 16. It is learned here that Smith was at the early morning scene, but it seems only at the aftermath. He did not witness the violent attack. The Fox 16 footage also shows us the first time we see the "metal siding" leaned up against the front gate of the auto shop, a type of poor contraption designed by the dogs' owner to keep the pack of dogs contained. Fox 16 also captures images of the remaining pit bulls at the Pine Bluff animal shelter.
It is unclear when the metal siding was placed against the front gate. It was absent in early news coverage. A segment from THV 11 today shows a close up of significant damage at the bottom of the siding as well, likely caused by the pit bulls. Finally, there may be serious time discrepancies. The sheriff's office said the 911 call came in just after the attack began; deputies arrived on scene 5 minutes later. An unverified account sent to DogsBite said the vicious attack lasted 20 minutes.3
Sheriff's spokesman Maj. Lafayette Woods Jr. said De'Trick Omar Johnson, 36, of Pine Bluff had taken his vehicle to CJ's Garage at 300 Thomas Road for servicing when he was attacked by the dogs. Woods said a 911 caller told operators that Johnson arrived at the property, exited his vehicle and was immediately attacked.

The sheriff's office received the 911 call at 9:53 a.m. Saturday and the responding deputy arrived at 9:58 a.m., Woods said. - ArkansasOnline, March 22, 2015
03/21/15: Dog Mauling Victim Identified
The fatal dog mauling victim has been identified as 36-year old De'Trick Johnson of Pine Bluff. When the first deputy arrived on scene Johnson was still under attack by the pit bulls. Pine Bluff resident Tom Calvert and his daughter witnessed part of the attack. Calvert told THV 11 that his daughter drove up on the scene and saw the man trying to fight off the dogs. She called her father for help. She said, "Dad, come down to C.J.'s Garage! There are dogs chewing this man up."
"It's hard to describe, the man was just chewed up. The dogs just mauled him like a pack of wolves attacking someone." - Witness Tom Calvert
THV 11 also interviewed a Quality Fence Company employee, which is located next to C.J.'s Garage. This ties back to previous comments left by ChristyInPB, who wrote earlier today that her father "who owns the fence company next door" was attacked by these same dogs 6-months ago. Employee Roger Frazier said the auto repair "business owned the dogs" and used them to guard the property. Correction, C.J.'s ran a pit bull breeding operation allegedly to guard his business.4
Major Lafayette Woods with the Jefferson County Sheriff's Office told THV 11 that he expects there will be charges filed against the owner of C.J.'s Garage, John Chester Smith, due to previous warrants and complaints. Woods did not provide any specific information at that time about earlier warrants or attacks. Johnson was pronounced dead at the scene. One dangerous pit bull still remains at large. We expect the THV 11 news segment video to air later this evening.
Late Evening Update
Scroll to see the second video on the THV 11 news report, the interview with Roger Frazier of Quality Fence. Frazier is the victim referred to by commenter Christy earlier today who escaped a similar fate to Johnson by climbing a nearby tree last year. The pit bulls also escaped under the owner's front gate in his attack -- the exact same method of escape in the fatal attack. Frazier is humble and reserved in the interview, maybe because he knows how close he came to death.
Roger Frazier

I was just coming back down the road there, walking back to the shop and five of the dogs, pit bulls, came under his gate and just tore me up. I struggled along the fence to one of those wooden fence posts, got on top of it and got into a tree -- that's the only thing that saved me. They tore my pants off of me.

Terrible vicious dogs. Even when the county sheriff came out, he shot one of them. And the other four, because I was still in the tree I could see 'em, the other four didn't stop. They just slowed down a little bit, crouched down and kept coming for him…

They are ruthless, they surrounded me. And just started biting me all around, everywhere, all over. They just would not quit -- would not quit. Even after I got in the tree, they would not leave, they stayed and stayed. Then when the county sheriff got here, they tried to attack him.

The people from the animal service, when they got here. One of them stayed in the truck and one of them had to get on top of the hood of his truck because they would attack him. My brother came … he started to get out and they came after him. They were going after anybody that day …

[He describes the size and shape of the pit bulls]. They were a litter that they had a while before and they were starting to grow up.

Well, what went through my mind is that I knew this was going to happen. I made a point to drive over to his place and tell him what the dogs had done to me. I told him if he did not do something they would kill somebody. I told some other people that too. I told the sheriff that. I said, "Those dogs are going to kill somebody" ... And that's what they did.

Something needs to happen for sure. Something should have happened when they got on me. At least somebody took the dogs away or did something; they just left them there. Now it's not really my place to say, but I'm sure that that man's family thinks that something should be done. - Roger Frazier, THV 11, March 21, 2015
03/21/15: Pack of Pit Bulls Kill Man
Pine Bluff, AR - In a developing story, a pack of seven pit bulls brutally attacked and killed a man Saturday morning. Just before 11:00 am, a group of seven pit bulls charged beneath a fence and attacked a man at 300 Thomas Road, the Jefferson County Sheriff's Office said. Specifically, the incident happened at C.J.'s Garage, an auto repair shop in the Pine Bluff area. Deputies shot and killed four of the pit bulls on scene, two others were captured and another remains at large.
C. J.'s garage is also listed at 300 N Thomas Road in White Hall with the same phone number, a jurisdiction under 8-miles away. The jurisdiction of Pine Bluff bans pit bulls. Arkansas continues to rack up deadly dog maulings. In the 8-year period of 2005 through 2012, there were 3 fatal dog attacks in the state. From January 1, 2013 to present -- just over two years -- there have been 6 fatalities. Two deaths in 2013 involved dogs from the same litter killing two unrelated people.
Late Afternoon Update
Commenter ChristyInPB at the KATV news article helps explain the jurisdictional issue. The location apparently falls outside of the Pine Bluff city limits; control likely resides with Jefferson County. She wrote that her father "who owns the fence company next door" was attacked by the same dogs 6-months ago. Afterward, her father repeatedly warned authorities to take action or "these dogs WOULD kill someone," but they said the dogs did not live within city boundaries.
@ChristyInPB (13 mins ago) "These same dogs attacked my father at who owns the fence company next door about 6 months ago. This was NOT the first incident! If it wasnt for quick thinking my father would not of survived! He had to climb a fence and still was taking by ambulance to the hospital with cuts and deep bites. The paramedic in the ambulance that came was forced to jump on his ambulance to escape them while my father was still in the tree he had to climb up to escape them. When the sheriff showed he was forced to shoot and kill one to prevent him from attacking him!"

@ChristyInPB (12 mins ago) "This could of been a child! Andd it could of been prevented! Unacceptable! My father was unable to get anything done to the dogs or the risk for anyone in the vaconity! He warned the authorities repeatedly that if not handled these dogs WOULD kill someone! YES they were pitbulls! But no I dont blame the breed! But if ANY animals are this dangerous it shouldnt matter that they are not in city limits! This was the reason for no action being done after the incident with my father! A life could have been saved! This could of been a child! Andd it could of been prevented! Unacceptable!" - KATV Commenter
Also, in 2012, Deborah Rene Wilson Roberts, 45-years old, was mauled to death by her own two pet pit bulls in Jefferson County, Arkansas. The dogs had previously attacked Roberts.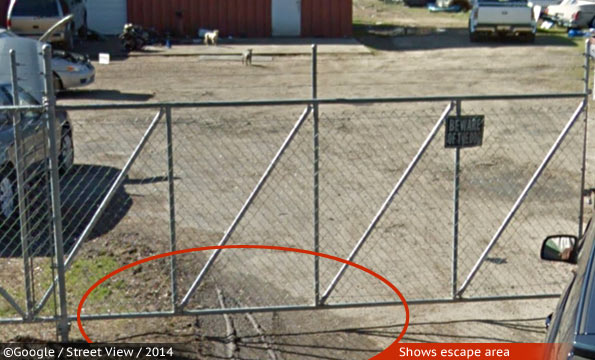 View the DogsBite.org Google Map:
Arkansas Fatal Pit Bull Maulings
.
1
Thus freeing the county from any liability.
2
Not one major media source used Woods' quotation -- intentionally written by Woods to be used as a quotation by the media -- in the March 21 press release.
3
There indeed are time discrepancies. Just after our March 24 update it was released that neighbor William Lever's mother was one of the first to see the attack (unclear how long the mauling had been going on before she saw). Her call to 911 lasted over 8 minutes.
4
Was there more than one business at the location the pit bulls were guarding? One has to ask because so many auto body repair and paint shops are used as fronts.
Related articles:
02/20/15: 2015 Dog Bite Fatality: 63-Year Old Arkansas Man Killed by Family Dogs
11/09/14: Criminal Trial: Arkansas Mother and Daughter on Trial for Fatal Dog Mauling of...
10/24/14: 2014 Dog Bite Fatality: Woman Killed by Family Pit Bull in Cave City, Arkansas
01/03/14: 2013 Dog Bite Fatality: Woman, 75, Killed by Bullmastiff in Arkansas Gated Community
11/19/13: 2013 Dog Bite Fatality: Boy Dies After Attacked by Pit Bulls in White County, Arkansas
06/13/13: 2013 Dog Bite Fatality: Child Temporarily Staying with Aunt Killed by Neighbor's Dog
09/11/12: 2012 Dog Bite Fatality: Jefferson County Woman Attacked by Own Pit Bulls Dies
Photos: KATV.com and Google.com