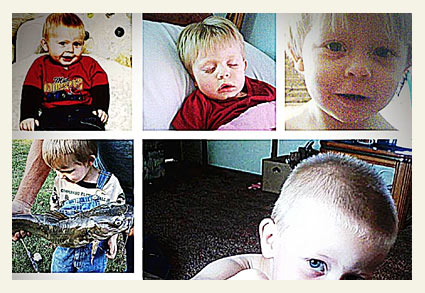 No Criminal Charges
UPDATE 11/19/13: County detectives have completed their investigation into the mauling death of 4-year old Levi Watson, who was fatally injured by up to three pit bulls on November 8. According to the White County Sheriff's Office (WCSO), no charges will be filed against the dogs' owners or the child's mother. WCSO and prosecuting attorneys reviewed the evidence in the case and determined that it did not support criminal charges for either party. All three dogs were put down.
11/09/13: Family Members Mourn
In an evening update from KARK 4 News, no new details were shared about the deadly attack of Levi Watson of Bradford. Information, however, was learned about the boy's family. His father has 14 brothers and sisters, thus the number of aunts, uncles and siblings are extensive. Chelsea Watson, who has been outspoken on Facebook, is Levi's half-sister and the younger of the two women in the video. Relatives continue to try to piece together the moments before the attack.


11/09/13: Police Confirm Pit Bulls
White County authorities have identified the 4-year old boy killed by up to three dogs on Friday and confirmed that the attacking dogs were pit bulls. The child's name is Levi Watson; he lived with his mother Deborah Sizemore in Bradford, Chief Deputy Phillip Miller with the White County Sheriff's Department said in a statement Saturday. The dogs' owner is Bradford resident Justin Corbit. According to his Facebook page, Corbit graduated from Bradford High School in 2009.
Levi Watson, 4, is the 376th American killed by pit bulls since we began the Archival Record.
11/08/13: Young Boy Killed by Dogs
White County, AR - In a developing story, a young boy died of injuries inflicted by dogs on Friday at a White County residence. The boy was "visiting" a residence on Piker Lane in Bradford when the attack occurred, according to the White County Sheriff's Department. Chief Deputy Phillip E. Miller said the boy was about 4-years old and was visiting the home with his mother, when the boy exited the house and was attacked. Three dogs were present, Miller said, none were leashed.
KATV.com adds that the boy exited the home and entered into a fenced-in area where the dogs were kept just before 3:30 pm. That is when the dogs attacked. The child was taken by ambulance to the White County Medical Center in Searcy where he later died. Deputies confiscated three dogs from the residence; Miller would not confirm their breeds. Two adults were home at the time of the attack, the boy's mother and the dogs' owner. Authorities have not released the boy's name.
Recent Arkansas fatalities:
06/13/13: 2013 Dog Bite Fatality: Child Temporarily Staying with Aunt Killed by Neighbor's Dog
09/11/12: 2012 Dog Bite Fatality: Jefferson County Woman Attacked by Own Pit Bulls Dies
08/13/11: 2011 Dog Bite Fatality: 4-Year Old Boy Killed by Grandfather's Rottweiler in Ozark
Photo: Facebook