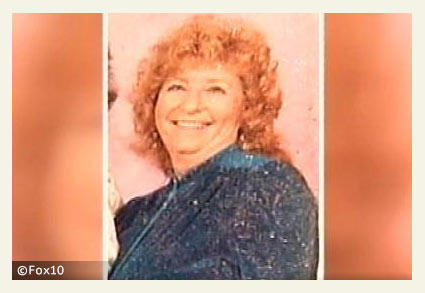 The victim, Nancy Newberry of Phoenix, Arizona.
History of Aggression
Phoenix, AZ - A woman bled to death after being attacked by a family pit bull on Friday. Nancy Newberry, 77-years old, lived at a home with her husband and daughter and three family dogs. The attacking dog was a 4-year old male, neutered pit bull that belonged to her daughter. The dog reportedly had a "history of aggression and biting people," but had never attacked a person in the home before. Her husband, Dick Newberry, said the "dog just snapped" and attacked his wife.
The victim was giving the pit bull "medicine wrapped in meat" when the animal suddenly bit her in the abdomen, a place where she had previously had an operation, according to her husband. "And boy, the blood was coming right out of there like you couldn't believe...and I grabbed a towel and put it over there...and she just slumped to the floor," Dick said. The couple had been married for 57-years. Dick said she was his "whole life." He does not know "what the hell" he will do now.
      His daughter pulled the dog off his wife, but she already had wounds in her stomach, Newberry said. She later died at the hospital, where she was taken with life-threatening injuries.
Nancy Newberry suffered a heart attack a few years ago, was on blood-thinning medication and had problems with clotting, her husband said.
"Her heart just couldn't take it," Newberry said. "She was in no condition to get bit like that by a dog."
Newberry said the dog had "always been a little aggressive" and had "nipped" a couple of his daughter's friends. - AZCentral, March 15, 2014
The medical examiner will determine the exact cause of death. The family put the pit bull down.
View Related video
View the DogsBite.org Google Map:
Arizona Fatal Pit Bull Maulings
.
Related articles:
02/28/14: 2014 Dog Bite Fatality: 3-Year Old Child Killed by Family Pit Bull in North Carolina
01/30/14: 2014 Dog Bite Fatality: 4-Year Old Girl Killed by Family Pit Bulls in Bloomington
12/20/13: 2013 Dog Bite Fatality: High School Teacher Dies After Dog Attack, Former Mayor...
09/24/13: 2013 Dog Bite Fatality: Boy Killed by Pit Bull-Mixes at Babysitter's Home in Gilbert
08/23/11: 2011 Dog Bite Fatality: Tucson Man Succumbs to Injuries After Attack by Pet Pit Bull
Photo: MyFoxPhoenix