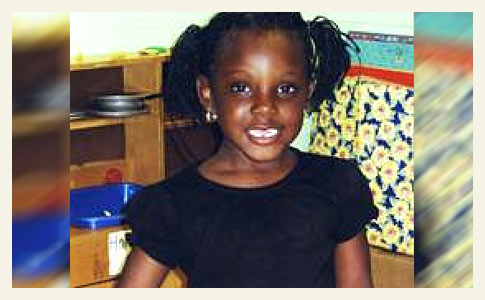 Anastasia Bingham, 5-years old, was killed by a pit bull while playing in the snow.
No Grand Jury Indictment
06/26/10 UPDATE: Officials report that a Hinds County Grand Jury reached no conclusion on assigning guilt in the February mauling death of Anastasia Bingham. DNA testing on a pit bull discovered at the scene showed that the dog did not attack the girl. DNA taken of a dead pit bull found near the scene proved inconclusive. Authorities say that the little girl's family is being uncooperative and that it may have been a relative's pit bull that was involved in the attack.
"Hinds County investigators said they received confidential tips that stated that there were three other pit bulls, owned by the child's relatives, that were killed and dumped in a wooded area off Saw Mill Road in rural Hinds County.

"They have not been as cooperative as they could have been and given as much information as they could have given," said Hinds County Sheriff Malcolm McMillin.

Deputies also received anonymous reports of dog fighting in the area."
Though Anastasia's senseless death may go unpunished, a new animal ordinance was adopted on behalf of her death and may prevent a future serious or fatal pit bull mauling. The new Hinds County ordinance requires owners of pit bulls and wolf hybrids to have a permit, keep the animal enclosed in a 10 x 10-foot pen with 6-foot sides, a roof cover and cement flooring to keep the animal from digging out. The owners are also required to carry $100,000 in liability insurance.
02/18/10: Officials Declare Pit Bull Killer
Initial tests show that the quarantined pit bull is the lone killer of Anastasia Bingham. Sheriff Malcolm McMillin said, "The owner of the dog could possibly be charged with manslaughter; we're working that out now." The pit bull was among several kept on a property across the street from the little girl's home. Another pit bull was also found dead near the scene. Officials do not know how that dog died. The test conducted was for the presence of human blood, not a DNA test.
"What we were looking for in the tests was the presence of human blood in either of the dogs," he said. "We did get confirmation (Wednesday) that there was human blood in the live dog."

Investigators had taken swabs from the dog's mouth over the weekend.
DNA testing was not performed, McMillin said, because the cost is "prohibitive." - Hinds County Sheriff Malcolm McMillin
02/17/10: Dog Owner (Dogfighter) AWOL
The owner of the pit bull that killed Anastasia is reportedly the grandson of the property owner where several pit bulls were being stored. Anastasia's family members have given authorities the name of the individual. "We know we're going to catch (him)," Sheriff Malcolm McMillin said, "It's just a matter of time." Hinds County District Attorney Robert Shuler Smith said the dog owner could face a depraved-heart murder charge or culpable negligence in connection to her death.
The dog owner may face animal cruelty charges as well. There are indications that the pit bull suspected in the attack was used for the purposes of dogfighting. That dog is currently being held at the Mississippi Animal Rescue League. Other pit bulls from the property -- seen in early photos and videos -- were quickly removed by unknown persons and their whereabouts now is unknown. Yet another indication that the dogs were being kept and bred for the purposes of dogfighting.
02/15/10: County Supervisor Calls for Ban
The pit bull that authorities believe killed Anastasia last Friday -- two days before her 6th Birthday -- will likely be euthanized this week. In response to the child's brutal mauling death, Hinds County Supervisor George Smith said he would propose banning pit bulls in the county. In 2008, in the same county, 3-year old Tony Evans Jr. was also killed by a a neighbor's pit bull. Smith said that since Evans' death, there has been discussion of banning pit bulls, but nothing has been done.
When asked by a reporter, "What do you say to that person, 'Well, I have a pit bull and it's never hurt anybody -- and I obey the law.'" Smith responded: "I would say to them, I understand that. These pit bulls have never done anything that we know of and look what happened." (Kudos to Supervisor George Smith!) This is a primary reason why jurisdictions regulate these dogs. The "unpredictability" of a pit bull and the inability for the public to know which pit bull is safe or not.
02/12/10: Young Child Found Dead in Snow
In a disturbingly accurate video that shows the deadly crime scene, police officers, family members and the remaining chained pit bulls on the adjacent property, one can begin to imagine the horror this young child faced. On a morning when Anastasia should have been in school, which was canceled due to snow, she instead suffered the most horrific manner of death conceivable to man. She was attacked, bitten, and ripped apart1 by the powerful jaws of a pit bull.
02/12/10: Attack Victim: Anastasia Bingham2
Terry, MS - In a developing story, another child has been mauled to death by a pit bull. Sheriff's deputies say 5-year old Anastasia Bingham walked out of the mobile home she lived in at 1911 Green Drive around 7:30am to go to a friend's house across the street. The pit bull attacked her between the two homes. It's believed the dog was kept with some other pit bulls in a small patch of woods behind a nearby house. The pit bulls do not belong to the little girl's family, police said.
1
A separate report by the Clarion-Ledger indicates that the pit bull ripped out Anastasia's neck.
2
The victim's name was also spelled as "Anataisa Bingham" in news reports.
Related articles:
02/06/10: Pet Pit Bull Unleashes Explosive Attack on Owner and Two Others in Hoboken
11/09/09: 2009 Fatality: 16-Month Old Killed by Pit Bull of Babysitter's "Boyfriend"
07/23/08: 2008 Fatality: Mississippi 3-Year Old Boy Killed by Pit Bull