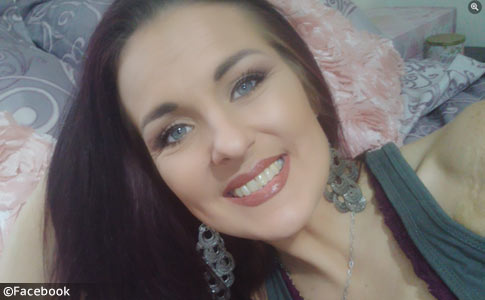 Amber LaBelle died after being attacked by a pit bull-mix at her Myrtle Point apartment.
Coos Bay Man Sentenced
UPDATE 11/12/22: Just over one year after a woman was killed by a dog that was under the care of her boyfriend, the man was found guilty of criminally negligent homicide in connection to her death. On September 24, 2021, Amber LaBelle, then 42, was viciously attacked by a large dog that Jeremy Robertson had left at her home while he ran errands. On October 27, 2022, Robertson was found guilty of criminally negligent homicide, a Class B felony, for the attack.
The dog, a male 120-pound pit bull-American bulldog-mix, had a history of violence, including attacking two children several months earlier in Springfield, a city over 100 miles away from Myrtle Point, where the dog attacked LaBelle, killing her. On November 10, Robertson was sentenced to two years and two months in state prison, to be followed by three years of probation upon his release. Robertson was also ordered to pay $1,750 to pay for the cost of LaBelle's funeral.
---
09/27/21: History of Aggression
The large dog that attacked and killed 42-year old Amber LaBelle was a 120-pound pit bull-American bulldog-mix, according to Coos County District Attorney Paul Frasier. A police officer shot and killed the dog after the animal tried to attack him while he performed first aid on LaBelle. Both of LaBelle's daughters, ages 5 and 8, witnessed the vicious attack, Frasier said. This was not the first time this particular dog had attacked an individual either, according to the district attorney.
"We have received information that this is not the first incident where this particular dog had attacked other individuals," Frasier said. "It is our understanding that this dog attacked two minor children in Springfield in July of this year." Investigators have so far determined the dog was owned by Sara Nicholes of Springfield. "For some reason yet to be determined, she had placed the dog in the care and custody of a person named Jeremy Robertson," Frasier explained.
On the day of the attack, Robertson left the pit bull with LaBelle to run errands -- Robertson and the dog had spent the previous night at her apartment. "The dog had been put in a bedroom with the door shut and secured," Frasier said. Then LaBelle's ex-husband dropped off their children for visitation. LaBelle opened the bedroom door "and was promptly attacked by the dog," Frasier said. "The attack was witnessed by the two children." One was able to leave the apartment to get help.
Shuffling Dangerous Dogs
Though we have not commented on this issue in some time, the above scenario is quite common for dangerous dogs/dogs with bite histories. Nicholes placed her 120-pound biter into the care "and custody" of Robertson, LaBelle's boyfriend. Robertson couldn't leave the biter at his own home, he had to bring the biter to LaBelle's apartment, where she would also be taking care of her two young children the next day. The dog had previously bitten two minor children in July.
The only aspect missing from the story is which shelter agency adopted the biter out to begin with? According to Frasier, Nicholes resides in Springfield, which is 125 miles from Myrtle Point. Springfield is also in the greater Eugene area. The dog could have come from a number of Eugene animal shelters or rescues. The dog could, and probably did have, multiple owners prior to Nicholes as well. Dogs with bite histories often cycle through multiple owners and jurisdictions.
---
09/26/21: Woman Killed by Dog
Myrtle Point, OR - A 42-year old woman is dead after being violently attacked by a dog. The attack occurred Friday, September 24, at about 10:00 am in the woman's apartment in the 1700 block of Spruce Street. Police identified the victim as Amber LaBelle. Police said the dog was known to LaBelle, and it was not a random attack. The Reddit thread contains a screenshot of comments left on one of the news article threads, which strongly indicates the fatal attacker was a pit bull.
"Another neighbor was holding a huge pit bull back from trying to get at Amber more." -- Pit bulls typically "repeatedly" attack their victims.
"I immediately went to Amber," the commenter writes, "she was laying on the floor unresponsive. Blood was everywhere, I tried to locate all her injuries to apply pressure to stop the bleeding. An officer came and he and I carried her outside," the commenter writes. "I did everything I knew how to do from all of my training. The paramedics and officers, everyone worked together to help Amber." LaBelle was airlifted to the medical center at RiverBend, where she died of her injuries.
Audio dispatch log files from Myrtle Point Fire do not contain breed information, but they do portray a scene of chaos. God bless the police officers and fire crews who respond to these horrific life-threatening dog maulings, largely carried about by pit bulls. "I don't know if the dog is contained at this time," the dispatcher states. One person in the background yells, "This is insane!" An explosive, unprovoked attack by a pit bull is "insane," yet these attacks occur routinely.
Evening Updates
A late Sunday update by KEZI states the attack was perpetrated by a grey pit bull and that LaBelle was home with her two daughters at the time. Josef Dieckman, LaBelle's ex-boyfriend and the father of her children, spoke to KEZI. "One thing that I would want people to know is the very last thing she did on this Earth was save the lives of her children," Dieckman said. "I will be eternally grateful for that." LaBelle yelled for her girls to get out of the house when the dog first attacked.
According to neighbors, LaBelle did not own the pit bull. She was watching the dog for its owner, marking the fourth person to die under these conditions this year. In April, Jayden Henderson, 7, was killed while caring for her neighbor's two pit bulls in North Carolina. In June, Rebecca McCurdy, 28, was killed by two pit bulls while house sitting the owner's home in Oklahoma. Last month, Rhoda Wagner, 60, was killed by three pit bulls she was dog sitting in Pennsylvania.
Listen to part of the audio dispatch log files from Myrtle Point Fire from Broadcastify.com.
View the DogsBite.org Google State Map:
Oregon Fatal Pit Bull Maulings
.
Related articles:
08/05/21: 2021 Dog Bite Fatality: Woman Killed by Pit Bulls She was Dog Sitting in Pennsylvania
06/26/21: 2021 Dog Bite Fatality: Woman Dog Sitting Pit Bulls Found Dead in Osage County...
---
Baseline reporting requirements:
Law enforcement departments across the United States should release consistent "baseline" information to the media and the public after each fatal dog mauling,
including these items
.