How UK Officials Currently Identify Pit Bull Terrier Types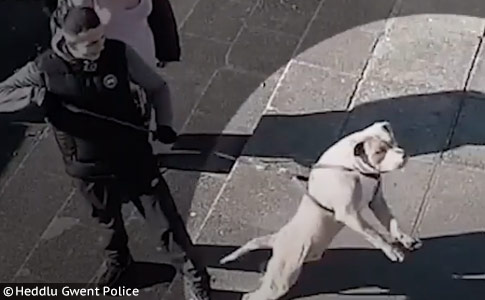 Brandon Hayden seen with "Beast" in the days leading up to the fatal dog attack.
Watch CCTV Video
Caerphilly, South Wales - On November 8, 2021, a recently acquired hulking "designer" pit bull breed -- known interchangeably as an XL pit bull or XL bully -- horrifically attacked and killed 10-year old Jack Li, who had been playing at the dog owner's home. The dog was destroyed by firearm officers -- it's unknown how many bullets it took. In this country, we know that police officers fired a barrage of bullets into the 130-pound XL pit bull that killed Mia DeRouen in 2014.
It took 12 shots to kill the dog, which remained aggressive after officers arrived, Houma Police Chief Todd Duplantis said.

"This was a very large dog. A monster," Duplantis said in a Wednesday afternoon news conference held at police headquarters. At 130 pounds, the dog was about four times larger than DeRouen. - Huoma Today,  March 27, 2014
The owners of the UK dog, nicknamed "Beast," were convicted under the Dangerous Dogs Act, which bans pit bulls. "Beast," however, was not designated an illegal breed, despite its nearly perfect pit bull proportions, though on a larger, bulkier scale than what the 1977 ADBA conformation standard likely envisioned. The UK uses this standard, which makes no mention of height or weight, to make the determination if a bull breed qualifies as illegal under the Act.
In early June, Brandon Hayden, 19, and Amy Salter, 28, were sentenced to jail for being the owner of a dog dangerously out of control causing injury and death. Hayden was sentenced to four years and six months in prison, and Salter received three years. During the sentencing hearing, CCTV footage was played to the court showing the behavior of the dog and its owners in the days leading up to the dog killing Jack. "Beast" is clearly seen as a status dog in the video footage.
It is unusual to see this type of CCTV footage, where an owner is so clearly using his dog as a status dog. Part of the intent of the Dangerous Dogs Act 1991 was to greatly reduce status and weapon dogs, often employed by gangs and anti-social youths to intimidate and assault people. Despite the dangerous dog law, in 2009, a quarter of the animal attack incidents recorded by the London Ambulance Service were identified as an assault, according to the UK government.
'Weapon' dogs and 'looking hard'

Causing fear or intimidation by having a powerful looking dog is one of the reasons for the increase in 'weapon' dogs among young people. Bull breeds are generally the dog of choice for those wanting to improve their status by owning a dog, and dog ownership of this type is predominantly by young males. Between 2007/08 and 2008/09 the number of Pit Bulls seized by the police increased by 65 percent, and young males aged 20 to 24 account for the greatest proportion of those accused of dangerous dogs offences. - Weapon dogs: the situation in London, November 2009
It's also important to point out the "great derailment" of the 1991 Act. In 1997, under the pressure of animal welfare groups, Parliament watered down the Act by adding an amendment giving magistrates discretionary powers to give illegal breeds back to their owners, "subject to certain restrictions, if the owners are deemed responsible enough to keep the dogs under control," reported the Telegraph in 2010. After the amendment, the population of pit bulls rose again.
Kenneth (now Lord) Baker believes the 1997 amendment was a mistake. 'The intention of the Dangerous Dogs Act was to eliminate breeds like pit bulls in this country,' he says. 'For the first five years it worked very well, but as soon as the Government gave in to animal charities the whole thing was doomed. There is no need for anyone to have these dogs, and to suggest that you can somehow educate the owners -- well, I just don't think that's realistic if you look at who the owners are.' - Telegraph, April 15, 2010
UK Increases Penalties (2014)
After outcries from the public, Parliament increased penalties under the Act from two years to up to 14 years for a fatal attack and from two years to up to five years for an attack that causes injury. Prior to 2014, the criminal charge of having a dog "dangerously out of control" only applied to dogs in a public place or a place where it was not allowed. The 2014 amendment allowed prosecutors to charge owners if their dog attacks a person in their home or on any private property.
"Irresponsible dog owners will not only face longer prison sentences, but will also be liable for prosecution regardless of where an attack takes place, even in their own home. This will give protection to those who provide vital services in the community -- postal workers, nurses, utility workers -- as well as people visiting family and friends," states the Government website. The 2013 death of Jade Anderson, which occurred on private property, heavily factored into the 2014 law.
The dogs that fatally attacked Jade were not banned breeds either, but were two Staffordshire bull terriers (not exempt from pit bull ordinances in the US), an American bulldog, and a bullmastiff. As stated in the 2009 UK literature, "Identifying dogs that would be banned under Section 1 of the Act is not an easy process. Due to cross breeding of all bull breeds, many dogs, especially the Staffordshire Bull Terrier (SBT) cross breeds, are visually very similar to a banned Pit Bull type."
As early as 1999, American bulldogs were being imported and cross-bred in the UK to produce status dogs and fighting dogs that skirted the 1991 Act. If readers recall, the American bulldog, formerly named the American pit bulldog, was not even recognized by the United Kennel Club (UKC) until 1999. Presently, there is no official breed standard for the American bulldog at the American Kennel Club (AKC). The breed is accepted as an AKC Foundation Stock Service only.
Breed-Specific Legislation Inquiry (2018)
In 2018, an inquiry into the breed-specific portion of the Dangerous Dogs Act was launched by Neil Parish MP, Chair of the Environment, Food and Rural Affairs Committee. Hearings were held and written evidence was sought by the committee. DogsBite.org participated by submitting our primary recommendation, to broaden the definition of a pit bull, specifically to include American bulldogs, along with our fatal dog attack statistics and recent scientific medical studies.
Parish heavily opposed the breed-specific component, as was evident in the committee hearing, as well as the committee's final report to the Government. We recommend watching the first 20 minutes of the hearing as Parish questions Deputy Chief Constable Gareth Pritchard, Lead for dangerous dogs, National Police Chiefs Council and Inspector Patrick O'Hara, Dog Training School & Status Dog Unit, Metropolitan Police Service about the breed-specific portion.
---
---
Police agreed that removing the breed-specific portion would be removing a tool for police. "By removing that tool, you should be very, very careful that you will restrict the police's ability to therefore take other action where perhaps the evidence that we have would not be quite strong enough to support activity in that area," O'Hara states during the hearing. "It is not just about getting rid of BSL; there has to be something in place that is enforced," Pritchard states.
After reviewing the Environment, Food and Rural Affairs Committee's final report, the Government also agreed that the breed-specific portion was important. "The Government notes and agrees with the EFRA Committee's comment that it would be irresponsible to amend the breed ban immediately without adequate safeguards. The Government considers that the prohibition on possession of such dogs should remain in place for reasons of maintaining public safety."
Within the written transcript of the hearing, we call out several portions that relate to the history of status dogs in the UK and how the determination of pit bulls is conducted. Notably, in April 2022, Parish was forced to resign as MP after admitting to watching pornography in the House of Commons in what he described as a "moment of madness." So, as the 2022 debate over the Dangerous Dogs Act is rekindled this summer in the UK, we will no longer be hearing from Parish.
Deputy Chief Constable Gareth Pritchard

We have talked about the status dogs and the problem in the 1990s, where that was a dog used to intimidate and cause fear, used by gangs. We believe that has reduced. The fashions of dogs change. People buy different dogs. The breeding has changed, but we still need to focus on the serious injuries. We are interested in the DEFRA research and the development, and looking at alternative ways across the world. We are interested in the literature review and any options. It is not just about getting rid of BSL; there has to be something in place that is enforced, strong and clear to the community. - EFRA Committee, June 27, 2018
Inspector Patrick O'Hara

Officers are trained by way of a dog legislation course. It used to be a seminar, but it has very much been professionalized and brought into the College of Policing as best practice. There are only three training centers in the country that currently train that, and those are the forces that typically deal with the most cases. For an officer to qualify to go out and subsequently do that job, the officer has to be externally assessed by somebody else in another force.

We used the American Dog Breeders Association standard, as published in the Pit Bull Gazette volume 1, issue 3, 1977. That is the guide that has been accepted in the courts ever since 1993 with the case of R v. Knightsbridge Crown Court, ex parte Dunne; Brock v. DPP. That essentially cemented in stone the criteria that we would use for assessing whether a dog fell within the definition of a pit bull-type dog.1

We have to acknowledge that this not a breed identifier. This is a conformation standard to look at whether the dog conforms to the physical and behavioral characteristics of a dog of the type known as a pit bull terrier. The notion that you can simply pull out a breed standard, as you would for a German shepherd, and then compare that to the same kind of thing you look at in a pit bull is not necessarily correct. Within that particular case, it was presented that the dog was not a pit bull but a mongrel that closely resembled a pit bull. There were a number of cases that preceded that High Court judgment, and they regarded as highly significant the fact that the dog did resemble a pit bull terrier and were not able to accept the evidence that it was in fact a mongrel.

It is not a case of taking a couple of measurements of the head. There are around about 54 points that you look at in a dog to see whether it has those conformational standards of a dog of the type known as the pit bull terrier. It is a much more involved procedure than perhaps has been explained to you. - EFRA Committee, June 27, 2018
Parts of  Conformation Standard

In an otherwise well-proportioned dog, the head will appear to be about two-thirds the width of the shoulders and about 25% wider at the cheeks than the neck at the base of the skull. Back of the head to the stop should be about the same distance as from the stop to the tip of the nose. The bridge of nose should be well developed which will make the area directly under the eyes considerably wider than the head at the base of the ears. Depth from the top of the head t[o] the bottom of the jaw is important. The jaw is closed by the Temporar Fossa muscle exerting pressure on the coronoid process. The deeper the head at this point … the more likely the dog is to have leverage advantage both in closing the jaw and in keeping it closed … In general, such a head will be wedge shaped when viewed either from the top or side, round when viewed from the front... - ADBA, 1977
Expanding Breed List
After Jack was killed by "Beast," an XL pit bull or XL bully depending on your preference, last fall, the Mirror published an editorial urging that better laws be put in place regarding the breeding and ownership of dangerous animals. "The case for action is clear and urgent," they stated. The Mirror also called on elected officials to expand the breed list. "As a first step the Dangerous Dogs Act must be updated to widen the number of breeds which it is illegal to own," they stated.
The Mirror is calling for:

1. Update the Dangerous Dogs Act. At the moment only four breeds of dog are banned - Dogo Argentino, Fila Brasileiro, Pit Bull Terrier and the Japanese Tosa. This list should be widened to make it illegal to own, breed or sell other dangerous types of dogs.

2. Bring in a new law requiring owners to register certain breeds of dogs which could be potentially dangerous. Similar laws exist in France and Austria.

3. Anyone wanting to own a potentially dangerous breed of dog should be made to attend a training course and the dog should assessed for its behaviour.
More recently, in May 2022, after 3-year old Daniel Twigg was killed by a cane corso at his home in Rochdale, demands mounted again to update the 1991 Act, and "the Mirror is campaigning for cross breeds to be added to the list of banned animals," reports the Mirror. The article quoted Rochdale MP Sir Tony Lloyd, who had previously campaigned for tougher laws on dangerous dogs. "We need to be looking as to whether the list of dangerous breeds is up to date," he said.
Recent Debates in the UK
The June 6, 2022 breed-specific legislation debate was held after over 100,000 people signed a petition to repeal the breed-specific portion of the 1991 Act. The correspondence posted at the parliament's website, is what one would expect. "The Government should therefore immediately repeal breed specific legislation." Another debate was held on July 7. Wayne David, Labour MP for Caerphilly, where Jack was killed, led an Adjournment Debate in the House of Commons.
Jack's mother, Emma Whitfield, is also advocating for changes to the Act. After watching the CCTV footage of "Beast" being used to intimidate passersby, Whitfield believes the owners sentences were "not even close to justice." When Beast killed Jack, however, the dog was not being used as a weapon or for intimidation. Whitfield told the Mirror, "If that dog can't be deemed intimidating, I really don't know what can." Whitfield started a petition to appeal their sentences.
A Status Dog Phenotype
A large, imposing pit bull is a "relic" concept, not a new one. There is a classic 2008 thread of die-hard pit bull fans arguing with the son of Land of Giants Kennel owner, which started producing 125+ pound pit bulls in the 1990s. The dogs were billed as the "Worlds Largest Game Bred American Pit Bull Terriers" [sic] and were trained in protection work. Sound familiar? The modern supersized XL pit bull "Hulk" from Dark Dynasty K9s often seen engaged in protection sports.
Pit bull-mastiff crosses, known as bandogs -- yet are often marketed under exotic names, like "presa canario" or "cane corso" -- became popular to breed, especially in California, after Diane Whipple was killed by actual presa canarios in 2001. Prior to her death, the Lucero bandogs (Working Class K9) of California, also used for protection, were rising in popularity. Then in 2004, American bullies exploded onto the scene, which come in four different sizes, including XL.
The primary purposes of the XL American bully, is to be a status dog that is bred and marketed for bite work and human aggression. Whitfield hit the nail on the head, "If that dog can't be deemed intimidating, I really don't know what can." The FCI (gold standard), UK Kennel Club and AKC do not recognize the American bully, nor do they even recognize the American bulldog.2 How does a government ban or regulate a cross-bred dog that is not even recognized by major kennel clubs?
Perhaps, we look to a proportional standard through observation, since science is observation and a phenotype is an observable characteristic? Bull breeds bred for exaggerated jaw strength, an exaggerated wide "smile," so they can grip and breath if their nose is blocked, exaggerated musculature, and exaggerated thickness ("bulliness") could be defined as a status dog phenotype. This would include: XL pit bulls, XL bullies, bandog variations and large American bulldogs.
As these bull breeds evolve, they should be still detectable under the Act as a bull breed "type" that poses an unreasonable risk to public safety.
Pictured below are six bull breed-crosses that have injured or killed people in the UK since 2016.3 Most fell under the non-banned breed designation. Some of these dogs are massive in size. "The fashions of dogs change. People buy different dogs," Pritchard stated during the EFRA hearing. True enough. But the bull breeds -- particularly, pit bull, American bulldog and mastiff crosses -- continue to be the dog of choice for those wanting to improve their status by owning a dog.
---
---
Summary
Crossing bull breeds to evade the Dangerous Dogs Act 1991 has been occurring for over 20 years now. In this time, multiple pit bull-type breeds have emerged too, including the American bulldog and American bully, which continue to remain largely unrecognized by major kennel clubs because they are considered cross breeds not pure breeds. American bully breeders dilute this further by using up to five or more bull breeds in order to achieve the four different sizes, from pocket to XL.
The fact that identifying pit bull-type dogs -- as defined under the Act -- has been brought into the College of Policing in the UK, and that there are about 54 points that police officers take into account to see whether a dog has the conformational standards of the type of dog known as the pit bull terrier, certainly is a more involved process that what an average UK citizen might understand, including those who would like to see the dangerous breed list expanded or repealed.
The Dangerous Dogs Act 1991 currently prohibits dog breeds with fighting dog phenotypes, specifically, the "type known as the pit bull terrier," the "type known as the Japanese tosa" and "a type appearing to him to be bred for fighting or to have the characteristics of a type bred for that purpose," namely the Dogo Argentino and the Fila Brazilier. What if a bull breed status dog phenotype could be defined, one that would include an "8-stone" XL pit bull or XL bully like Beast?
---
1
Court concluded that the meaning of 'type' within Section 1(1)(a) of the Dangerous Dogs Act was wider than the issue of 'breed' and that whether or not a dog was 'of the type known as the pit bull terrier' within the Act's confines was a matter of fact. In reaching a decision on whether a dog was a pit bull, the court could take into account the breed standard of the American Dog Breeders Association (ADBA) even where the evidence did not suggest that a dog conformed to every criterion of the ADBA's standard for being a 'pure' pit bull. - Analysis of UK Dog Fighting, Laws and Offenses, by Harding S and Nurse A, School of Law, Middlesex University, November 2015.
2
AKC recognizes American bulldogs for Foundation Stock Services only.
3
While writing this piece, another person was killed by an XL bully in the UK that a family member described as being, "bigger than a lion." In an owner-directed attack, Joanne Robinson, 43, was mauled to death by Rocco, one of the two XL bullies in her home. The dog viciously attacked her partner, Jamie Stead, 42, as well. Stead suffered devastating injuries to his face, hands and chest, and has reportedly undergone skin grafting procedures.
4
2022 - Non-banned breed, "Cookie-Doe," an alleged American bully, more properly an XL pit bull, fatally mauled Keven Jones, 62. The owner, who was also breeding the dog, was the victim's son, Josh. 2021 - Non-banned breed, "eight stone pit bull," killed 10-year old Jack Lis in Caerphilly and is the subject of this video. The dog was recently sold to family by a breeder. The agitating owner, Brandon Hayden, 19, was sentenced to 4.5 years in jail. 2021 - Non-banned breed, XL pit bull attacked a mother and her child at Bushy Park on Easter Sunday while the child was hunting for Easter eggs. 2019 - Unclear if this was a non-banned breed, an XL pit bull attacked Mary Rollinson, 73, in Leeds. The dog's owner, 23-year-old Daniel Cleary, was sentenced to two years and seven months in prison. 2017 - Non-banned breed, XXL pit bull/bully attacked 2-year old Ella. The owner and breeder, Andrew McGowan was later jailed for 18 months. Authorities seized 11 dogs from McGowan's home. 2016 - Non-banned breed, XL pit bull or American bulldog-cross, killed David Ellam, 52, seven days after police returned the dog to its owner because it was not classified as a dangerous breed. Aaron Joseph was later sentenced to 10 years in jail.
Related articles:
05/27/23: American Bully XL Dogs Should be Banned - The Spectator
03/25/22: 2022 Dog Bite Fatality: 7-Month Old Killed by Large, Muscular Dog in Martinez
02/18/22: 2022 Dog Bite Fatality: Hulking Pit Bull-Type Dog Kills Woman, Injures Another...