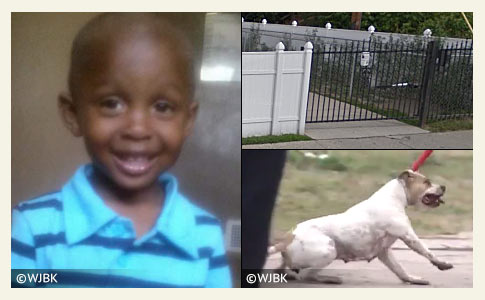 Xavier Strickland, 4-years old, was killed by pit bulls in Detroit in December 2015.
Owner to Face Trial
UPDATE 01/07/16: The owner of a pack of pit bulls that killed a 4-year old boy on December 2, will stand trial in the death of a child. At the end of the preliminary examination, Judge Lydia Nance-Adams ruled Geneke Lyons, 41, will proceed to trial on the charges of second-degree murder, involuntary manslaughter and possessing dangerous animals causing death in connection to the death of Xavier Strickland. The judge also continued the $1 million dollar bond for Lyons.
The horrific mauling death, described as the pit bulls disemboweling the boy, was captured on surveillance cameras on Lyons' property. Judge Adams and two court workers watched the 16-minute video during the court proceedings. Assistant Wayne County Prosecutor Parisa Kiani said Lyons' fencing was inadequate, allowing the dogs to escape, and that Lyons knew what was happening on his property at all times. Kiani described the dogs as "security equipment."
Lyons remains incarcerated and is scheduled to be arraigned in circuit court on January 14.
12/23/15: Mother and Witness Testify
The mother of 4-year old Xavier Strickland testified in court today about the horrors she witnessed on December 2, as four pit bulls savagely killed her son. Lucillie Strickland said she knew just moments before the deadly attack that it was coming. "I just knew that it was gonna go down. Because when the dogs looked, they just started running straight at us," she said. Yesterday, the judge and two court workers watched surveillance camera footage showing the horrific attack.
Just before the pit bulls beelined Lucillie and her son, the two had started to step backward, expecting a confrontation. Both her and her son tripped and fell as they were backing up, she testified. By that point, the dogs were on them. She "started kicking and punching them away," she said. She still had Xavier protected under one arm when the pit bulls "snatched him away from me," she said. The dogs dragged him by the hood of his coat across the street and under a fence.
"They pulled him to the fence to the other dog in the fence, and the other dog grabbed his hood on his coat and pulled him under." - Lucillie Strickland
Also providing testimony today was Cherisse Williams, who witnessed the brutal attack. "The dogs were all over him like they were snatching his clothes off," she said. "There is really no words to describe what I saw. Looking at Xavier, his eyes were open, looking at the sky," she said. Other parts of today's testimony were too graphic to air, according to ClickonDetroit. The preliminary examination continues on January 7, where children in the neighborhood are expected to testify.
12/22/15: Horror Surveillance Video
Today the preliminary examination began for the owner four pit bulls that disemboweled a 4-year old boy in Detroit on December 2. Geneke Antonio Lyons, 41, is charged with second-degree murder, manslaughter and possessing dangerous animals causing death in connection to the brutal mauling death of Xavier Strickland. Today in court the judge and courtroom workers watched the surveillance video of the entire horrific attack handed over by the defendant.
Earlier prosecutors said they had evidence to show the dogs saw "child as meal." The defendant's own surveillance video is that evidence.
The preliminary examination will determine if there is enough evidence to try Lyons on all charges. No doubt the video dealt Lyons' defense case a crushing, unrecoverable blow. Mark Bernstein, who is representing Xavier's parents in a civil lawsuit, described the footage as "16 minutes of horror" and will likely be played in trial. When that happens, there will be "a sense of outrage," he said, and hopefully mobilize the community to ensure "that this never, ever, ever happens again."
The Detroit News adds that the video came from four cameras at Lyons' home. Spectators and the media were not allowed to see the video, but they were able to see the expressions of those who could. The courtroom stenographer placed her hands over her mouth in horror as the pit bulls devoured the boy; the deputy had to look down to avoid parts of the graphic imagery. Bernstein added that the public will be able to view the video when it becomes evidence during the trial.
The preliminary hearing continues tomorrow. Lyons remains incarcerated on a $1 million bond.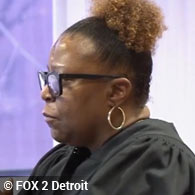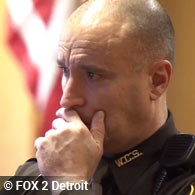 12/07/15: Murder Charge, Civil Lawsuits
The Wayne County Prosecutor's Office has charged a Detroit man with murder after his four pit bulls disemboweled an innocent little boy last week as he walked down Baylis Street with his mother. Geneke Antonio Lyons, 41, is charged with second-degree murder, manslaughter and possessing dangerous animals causing death in connection to the horrific death of 4-year old Xavier Strickland, according to a news release from the Wayne County Prosecutor's Office.
"I want him to feel the pain I feel. I want him to feel the pain my son felt when those dogs were eating him." - Clarence Strickland, Xavier's father
The boy's parents also filed two lawsuits against the dogs' owner and the property owner. Both lawsuits were filed in Wayne County Circuit Court by his parents, Lucillie and Clarence Strickland, who are seeking damages. The couple is represented by Mark Bernstein of the Sam Bernstein Law Firm. Bernstein also represented Steve Constantine who survived catastrophic injuries in a pit bull attack last year. A judge later awarded Constantine a "symbolic" $100 million civil judgment.
The lawsuit filed by the Stricklands contains new information. For the first time, we are learning that multiple pit bulls dragged the boy across the street, about 30 feet total. The boy was "dragged across the street, under a fence, and into the yard of defendants and killed by multiple pit bulls," states the lawsuit. Lucillie also suffered severe and permanent injuries inflicted by a different pit bull owned by Lyons, in addition to witnessing the brutal murder of her son, states the lawsuit.
Lyons is no stranger to the legal system. In 1993, he was convicted in Wayne County Circuit Court of a felony possession of between 50 and 225 grams of cocaine. In 2005, Lyons was indicted on money laundering charges after he was stopped and arrested in Shamrock, Texas. Police seized $106,254 in cash he had stashed in his Jeep. Lyons then sued the state of Texas in an attempt to recoup the money seized, but lost in 2011. Those criminal charges were later dropped in 2013.
Lastly, the residence where the attack occurred on 15500 Baylis Street is owned by Genique Real Estate Management Company LLC, according to the city of Detroit's tax assessor website. It is a Michigan business that was registered under Geneke Lyons back in 2005, the Michigan Business Entity Search website shows. It is unclear what type of "real estate" activities the business engages in, but that will likely be closely scrutinized as the criminal and civil cases move forward.
12/06/15: Powerful Editorials Follow Death
In the wake of the savage pit bull attack that struck down 4-year old Xavier Strickland on December 2, Detroit newspapers quickly responded with bold editorials, asking the city to once again examine Detroit's enduring pit bull problem. Detroit has long been known as the dogfighting capital of the U.S. Dogfighting, pit bulls, the ceaseless backyard breeding of pit bulls and stray pit bulls are all part of the city's fabric. Dislodging this will not be easy, but it is what needs to be done.
Children are facing enough challenges in Detroit. The fangs of wild dogs should not be among them. - The Detroit News
On top of this, Senate Bill 239, which will prohibit all local governments in Michigan from enacting or enforcing breed-specific laws, sailed through the senate in October. Of the four senators representing Detroit, two voted against the bill, one in favor and the fourth, Sen. Bert Johnson, who was attacked by a pit bull in 2011, was absent. Yet, Johnson already clarified his position by voting in favor of SB 239 during the Senate Agriculture Committee hearing in September.
Currently, SB 239 is in the House Local Government Committee; a hearing is expected this week. Will anyone appear to oppose it? Or, will the room simply consist of Sen. David Robertson's office, who sponsored the bill, and the default lobbying group, Utah-based fighting dog advocates, Best Friends Animal Society? Silent supporters will also be present in the room, including the ASPCA, who in lieu of testimony ("do not wish to speak") will officially record their support of SB 239.
"I Wonder How Fast He Can Run?"
Over at the Detroit Free Press, columnist Rochelle Riley urged the city to adopt a pit bull ban, which could have been adopted 9-years ago. Riley laments the loss of former Detroit City Council member JoAnn Watson, who proposed the ban in 2006. Riley's choice words include "cowardice," when referring to city leaders who have talked about a ban for nearly three decades. Riley also remarks on pit bulls being "part of the fabric" of Detroit and that it is time for "new fabric."
It's time to revisit the ban ordinance that JoAnn Watson proposed back in 2006. How many more children have to die... - Rochelle Riley, Detroit Free Press
Riley also unleashes on the bill's sponsor. "I'd like to send state Sen. David Robertson, R-Grand Blanc and sponsor of Senate Bill 239, photos of Xavier Strickland's remains. No, I'd like him to drive down to Detroit and walk around the east side without a police escort," she writes. "I wonder how fast he can run?" Riley believes that local officials are best suited to make their own animal ordinance decisions to protect their residents, not state legislators, far removed in Lansing.1
---
---
12/03/15: Devastated Mother Speaks Out
The mother of 4-year old Xavier Strickland spoke to ABC 7 about the horrific mauling death of her son. Lucillie Strickland said these same pit bulls have bitten her 9-year old before. On Wednesday, as she walked with her son to an elementary school where she works as a volunteer, at least one of the four pit bulls escaped beneath a gap in the gate and yanked her son away. The dog dragged him back under the gate and along with three other pit bulls viciously attacked him.
"[Police] told me to stand back. They shot the dog. The dog that was on top of my son, he had to keep shooting it." - Lucillie Strickland
In devastation and tears, Lucillie said that she hopes the dogs' owner suffers after the brutal and nightmarish death of her son. "You should suffer, like we are suffering," she said. "We have lost our 4-year old son. You should be ashamed of yourself," she said. The ABC 7 video also shows the kennel run behind the gate of the pit bull owner's home on the corner of Baylis Street and John C Lodge Service Drive. The dogs' owner, still unnamed, continues to remain in police custody.
The Detroit Free Press adds more details about the previous biting incident. According to Xavier's uncle Ramone Cage, the first incident involved his niece. "The dog was biting her coat and book bag and she was able to get out and run home," Cage said. "My sister said she talked to someone and the police had already went to him, but since the dogs didn't actually injure my niece, they just warned him. [The owner] said he was going to put them up but apparently he didn't," Cage said.
12/02/15: Pit Bulls Savagely Kill Detroit Boy
Detroit, MI - In a horrific attack, four pit bulls savagely attacked and killed a 4-year old boy as he walked down a residential sidewalk with his mother. The pit bulls escaped beneath their owner's gate, snatched the boy away from his mother then yanked him back under the gate and brutally mauled him. Arriving officers shot and killed three of the dogs and took the fourth into custody. The child was rushed to the hospital in a police scout car, but did not survive his hideous injuries.
"Please help me get the dogs off my baby!" a 34-year-old neighbor said the child's mother yelled. "They have my baby!" - Detroit Free Press
The violent attack occurred about 12:30 pm on Baylis Street along the Lodge Freeway. After the pit bulls dragged him under the gate and began ripping his flesh off, neighbors hurled bricks at the dogs to help free the boy. The attack continued until Detroit police arrived. They entered into the backyard of the home and open fired on the pit bulls, killing one; two others fled into the neighborhood. They were located and shot by police, according to Detroit Police Lt. Pride Henry.
According to witnesses, the pit bulls had gotten out the same way multiple times in the past. So far it is unknown if any of the dogs had a history of aggression, which is often a crucial element in bringing criminal charges. In many places it would not be enough that the man owned a "pack" of four pit bulls, that his pit bulls had previously escaped the same way then one day launched an explosive, predatory attack killing a child. The element of previous knowledge is still needed.
Evening Updates
By evening, the child was identified as Xavier Strickland. He was walking down the sidewalk with his mother Lucillie Strickland when he was murdered by four pit bulls. It was a backyard breeding operation, 2 adults and 2 younger offspring. The ClickonDetroit video also shows the three dead pit bulls in garbage bags being slung into a truck. Detroit Police Chief James Craig comments, "This is no different than what our officers deal with when they are dealing with armed suspects."
Currently, the dog's owner has been arrested for negligent homicide and is in police custody.
---
Graphic Medical study: Pitbull Mauling Deaths in Detroit, by Cheryl L. Loewe MD et al., The American Journal of Forensic Medicine and Pathology, Vol 28, December 2007.
View the DogsBite.org Google State Map:
Michigan Fatal Pit Bull Attacks
.
1
Unfortunately, Riley did not fully understand SB 239, which prohibits ALL forms of breed-specific laws. It is not limited to only "breed bans."
Related articles:
06/09/16: Criminal Trial: Detroit Pit Bull Owner Convicted on Two Counts of Manslaughter
09/25/15: Detroit Man Suffers Catastrophic Injuries in Violent Pack Attack by Pit Bulls
07/14/15: Criminal Trial: Couple Charged with Second-Degree Murder After Cane Corsos...
11/04/14: 2014 Dog Bite Fatality: Pit Bulls Kill Modesto Man, Critically Injure Another