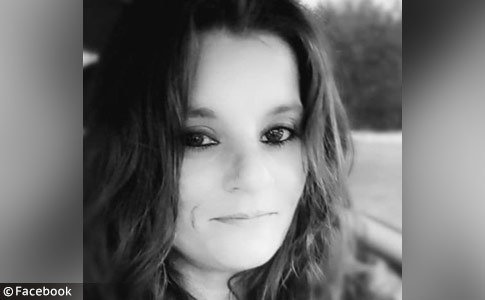 Kyleen Waltman, 38, was viciously attacked by three dogs in Abbeville County.
Dog Owner Arrested
Abbeville County, SC - On March 22, we were alerted to the GoFundMe for Kyleen Waltman. She suffered catastrophic injuries by three dogs on March 21. Doctors had to amputate both of her arms up to the shoulder. "She had to have her colon removed and now her esophagus may have to be removed" as well, states the fundraiser. News reports quickly emerged. Her sister, Amy Wynne, who created the fundraiser, told WYFF, "This is the most horrific thing I've ever seen."
The attack occurred at about 10:30 am Monday, while Waltman was walking home on Ball Road in Honea Path. Waltman's other sister, Sheena Green, said a man found Waltman in a ditch still being attacked by the dogs. Green said the man had to fire a gun in the air to get the dogs off Waltman. She was airlifted to a trauma center in Greenville. The dogs have since been identified as two pit bulls and a mixed-breed. Abbeville County Animal Control took possession of the dogs.
"Now she is fighting for her life at the hospital. They had to take both of her arms off. She was about dead when they found her. She'd [done] bled out. She died three times before … They were going to take her leg off. They took her colon out. She's still undergoing surgery right now." - Sheena Green

By Tuesday evening, Tanya Gilmer, Waltman's best friend, said that she remained in critical condition, but was stable. "[The dogs] pretty much ripped all the meat from her arms, and she has a hole in the back of her head. She has lost her colon. She's lost both of her arms. She's going to have to lose her esophagus, and they did save her legs," Gilmer told WRBL. Gilmer said that she and Waltman have been friends for 30 years. "I love Kyleen like she is my sister," she said.
By Wednesday, authorities had arrested the dogs' owner, Justin L Minor. He was charged with three counts of owning a dangerous animal that attacks and injures a human; failure to vaccinate for rabies and unrestrained dangerous animals. Abbeville County's online court records show that Minor has a number of traffic violations and a pending case involving the possession of narcotics. Wynne said, with the damage her sister suffered, Minor's charges don't seem strong enough.
Minor bonded out on Thursday. As of Wednesday night, Waltman remained in a coma, but doctors plan to take her out of sedation Thursday. Waltman is a mother of three and a grandmother to one. She is being treated at Prisma Health Greenville Memorial. Wynne said doesn't believe Kyleen would want to live under these conditions. "Knowing Kyleen, she's not going to want to live," she said. "She's not going to want to live like this. She's got too much pride to rely on someone else."
---
---
Related articles:
02/01/22: Texas College Student, 22-Years Old, Suffers 'Catastrophic and Permanent Injuries' Due to Violent Dog Attack at Coppell Home