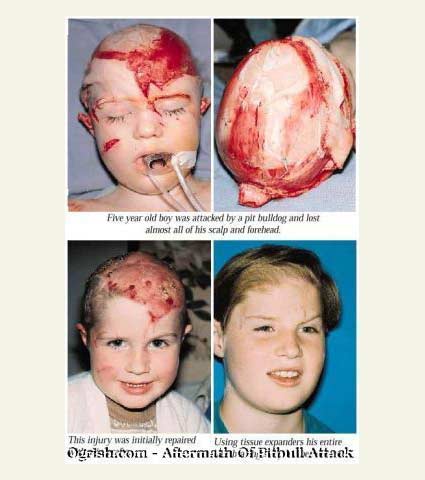 Photo text: "Five year old boy was attacked by a pit bulldog and lost almost all of his scalp and forehead."
Unnamed Victim
DogsBite.org - On October 31, a blogger named "thinkinfyou" wrote a post titled, "Fear, Loss and Much Needed Legislation." The post details a deadly attack inflicted by a pit bull on the writer's Chihuahua named Spotty. The four-month old pit bull apparently "feasted" on Spotty as its owner stood by and watched. This attack marks the third pit bull incident experienced by the writer, one of which includes being bitten. We've included a portion of the blog post below.
Also within the post is an undated photo of a pit bull attack victim. The five-year old boy suffered the loss of most of his scalp. If any of our readers know the name of this victim or any details pertaining to this attack, please leave this information in the Comments section. The photo was at one point published to Ogrish.com, a "shock" website that now points to LiveLeak.com. Depictions of pit bull injuries are frequently posted to "shock" websites, as these injuries are horrific.
We must also note that the pit bull attack victim website, pit-bulls.christianunfair.org, shows this same photo, but links to a story that does not quite match the photographed boy's injuries. This child, who could be a young man by now, may be American, Canadian, British, Australian or from a different country. Pit bull maulings that result in permanently disfiguring injury occur across the world everyday, which is why some countries ban the importation and ownership of pit bulls.
Fear, Loss and Much Needed Legislation
"The sight of walking out into my backyard and finding my fence ripped open and seeing my dogs right outside of the gate was enough to get me running, but as soon as I got to the opening, the horror that my eyes beheld stopped me in my tracks. This pit bull puppy had my chihuahua underneath him and when he heard me walk up, he lifted his head slightly to reveal that my dog's neck was gone. I panicked and started screaming, while the dog's owner came running to the scene. I felt a sense of relief feeling that she would be able to control her dog, but that was quickly replaced by terror, when the dog picked up my dog like it was just a stick and ran with him sagging out of his mouth. Not knowing what to do, I ran inside called the cops, and went back out the front door hoping to find her and her savage beast gone, but to my surprise, she had caught her dog and was allowing him to feast off my dog shaking and ripping flesh from him, right in my front yard. The sight of this was too much for my eyes and my stomach, for I started puking right there."
Related articles:
10/08/09: Collection of Pit Bull Scalp Attack Victims - DogsBite.org
02/06/09: Ecuador Joins International Trend: Bans Pit Bulls and Rottweilers as Pets