The Ohio Dog Bite Book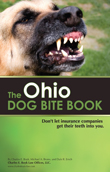 Toldeo, OH - Ohio attorney Dale Emch recently wrote a letter of support on behalf of Tom Skeldon, the Lucas County Dog Warden. Pro-pit bull groups have once again targeted Skeldon as a "breed racist" in hopes of getting him removed. Tom Skeldon is the nation's number one authority on the enforcement of pit bull laws. What comes with his expertise is a long history with fanatical pit bull groups.
Dale Emch, along with members of his firm, Chuck Boyk and Mike Bruno, are co-authors of "The Ohio Dog Bite Book." The free book can be ordered by visiting their website. DogsBite.org often runs across members of Charles Boyk Law Offices, providing valuable, free information to victims of dog attacks, as well as supporting individuals like Mr. Skeldon who hold community safety in the highest regard.
Dale Emch also writes The Toledo Blade's Legal Briefs column and previously worked as a reporter and editor at The Blade. A notable article he authored in 2007 pertains to landlord liability: Is landlord liable if pit bull attacks?
Related articles:
08/23/08: Public Safety Hero Tom Skeldon Under Fire by Pit Bull Advocates
05/01/08: Lucas County Dog Warden Nails Aspect of Pit Bull Problem