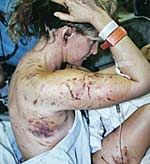 County Didn't Protect Public
San Diego, CA - Writer Angela Lau, paints a poignant picture, and one that goes straight to the heart of the matter: No one is responsible for vicious dog attacks, not the owner, the dog, the county nor the legal system.
In November 2006, Dr. Nancy Matthews, a 47-year-old Valley Center equine veterinarian, was mauled by two boxers that had already bitten two other people. She fought off the dogs as her two sons watched. The dogs threw her to the ground, tore at her scalp, arms, legs and back, and chewed off muscles.
The dog owner, Pedro Torres, pleaded guilty to a felony and was sentenced to 90 days in jail and 4 years of probation by a Vista Superior Court judge. It was a rare decision. Dawn Danielson, the director of the county's animal services says:
"In my 25 years with this department this is first time I have ever seen an owner actually do jail time after his/her dog severely injured a person."
This is of little comfort to Matthews. She is suing Animal Services, alleging that the department failed to investigate previous bites by the dogs and take steps to protect the public. County counsel George Brewster quickly moved to quash the lawsuit. He says that the county is not at fault, he says:
"It was a very bad situation. But we are saying there is no mandatory duty breached by the county. The culprit in this case is the owner of the dogs."
While this may be true, the other culprit in this case is the county and a legal system that only penalized this dog owner to 90 days in jail. This hardly qualifies as forcing a dog owner to "take responsibility."
It is only when counties and other government agencies get hit with multi-million dollar lawsuits that they may have a vested interest in adopting progressive dog policy: A policy that provides victim recourse and penalizes dog owners according to the crime. In Nancy's case, this might be equivalent to multiple felony charges -- no less than 10 years of prison time.