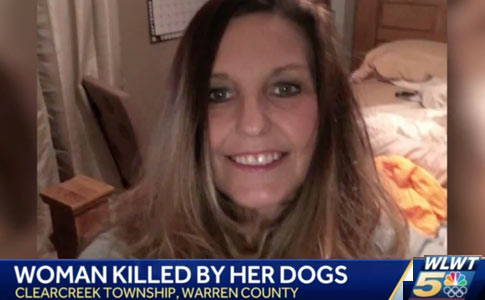 Mary Matthews, 49-years old, was killed by her two rescue great danes on Friday.
Family Speaks Out
UPDATE 11/07/19: After publishing our post, we received confirmation from two separate sources that the female black great dane named "Caitlyn" was not involved in the attack that killed Mary Matthews on November 1. In mid January, the owner of Caitlyn rehomed the dog to Matthews. Six days later, the owner picked Caitlyn back up. After learning of Matthews' death, the owner wrote, "When I got her back she was kept outside in winter, was freezing, and severely underweight."
Save Rocky the Great Dane Rescue and Rehab (SRGDDR) also contacted us. They confirmed that they adopted the fawn, male great dane, "Bo Jackson" to Matthews in January. "She got him January 6th. Adopted him January 16th," Amy Rainoshek stated in an email to us Wednesday. The February 25 post was a "courtesy post" for Caitlyn's owner, Rainoshek wrote. But the post was not designated a "courtesy post" on November 4 when we made six copies of it, each timestamped.
Caitlyn was "never in this rescue," Rainoshek wrote. "We had no knowledge" of the January placement, she wrote. "We knew nothing about Caitlyn until February 25th" when her owner "wrote us and asked us to courtesy post Caitlyn." It would have been helpful if the courtesy language had been present, especially since the post was written in first person. In our earlier post, we never stated "who" rehomed Caitlyn to Matthews because that was unknown to us.
The Black Great Dane
Numerous media reports state that the black great dane was "vicious" and had bitten people in the past, including Matthew's husband. These referrals of the black great dane all stem back to the police incident report, which states that Dale, Matthew's husband, "advised the black dog is 'vicious' and had reportedly bit several people including himself." Dale "had evidence of prior bite marks to his right forearm," states the report. News media outlets also confirmed this with Dale.
Late Wednesday, as we were writing this update, the mystery of the black great dane was solved. WLWT aired a segment of Matthew's two adult children and provided photographs of the dogs. This "should" satisfy those who continue to believe the black dog was a "mislabeled" pit bull-cane corso mix (an earlier dog owned by Matthews). What should be self-evident to all readers by now is that Matthews, who was a chronic alcoholic, had also started "collecting" rescue great danes.
Finally, recall that while there were multiple bites inflicted by Matthews' "collection" of rescue great danes over time, the only documented bite occurred in 2018 and was inflicted by a different great dane than those seen in the photographs. Sadly, and by choice, Matthews had a succession of unstable rescue great danes in her home that she could not manage or properly care for. After her mauling death, her husband Dale told media outlets, "I wanted to get rid of him, but she wouldn't."
---
11/04/19: Rescue Dogs Kill Owner
Warren County, OH - Clearcreek Township Police said a woman was found dead in her home Friday after being attacked by her two dogs. Police had originally been dispatched to the home on a report of a possible overdose. Mary Matthews, 49-years old, was found lying on the bathroom floor unresponsive. Her husband Dale Mark Matthews and his son discovered her body. Earlier that day, Dale had been released from the Warren County Jail, according to the police report.
The attack occurred in the couple's home in the 7400 block of Waterway Drive in Clearcreek Township. Matthews was found covered in blood and deceased when police arrived. Police found bloodstains in many of the rooms and a pair of torn up bloodstained sweatpants were located in front of the living room couch. The couch also had blood and dog fur all over it. Police found a chunk of flesh on the couch too. Numerous beer cans and medication bottles littered the home.
A baseball bat "heavily blood-stained" in the front and back was also found near the living room couch with a bloody towel laying next to it.
On the back deck, police discovered two great danes; one was black and the other tan. The police report stated the deck was so covered in feces that the floor of the deck was not visible. Dale told police the black great dane was "vicious" and that it had bitten several people previously, including himself. Police noted in the report that there had been numerous calls to the couple's home in the past and that it was "well known" that both Dale and Mary suffered from chronic alcoholism.
Though Matthews was eventually able to get the dogs outside, due to her history, along with the evidence that Matthews had changed clothes several times and had used towels to mop up her own blood or to stop her own bleeding, she may not have been clear-minded enough to understand how badly injured she was. She never called police for help. Dale also admitted to police that Matthews typically started her day by taking prescription medicines and drinking beer.
The Rescue Great Danes
Dale (also known as Mark) told police they rescued the great danes two years ago -- prior to this, the couple had owned a pit bull-mastiff, according to Matthew's Facebook page. However, screenshots of the two great danes indicate the adoption was in January 2019. Dale told WLWT that he wanted to get rid of the vicious black dog, but that his wife refused. Dale had been in jail from October 30 to November 1 due to a warrant regarding failing to appear for child support.
Doyle Burke, chief investigator for the Warren County Coroner's Office, said both dogs were known to police and the dog warden before this attack. "They've bitten our victim in the past," he told Cincinnati.com, "These dogs were known to be aggressive." Warren County Dog Warden Nathan Harper said both dogs were euthanized Saturday. Harper also said (conflictingly) that his office was called to the couple's home in 2018 for bites involving a different great dane.
Two screenshots were sent in to us Monday. One is a congratulations message to Matthews from Save Rocky the Great Dane Rescue and Rehab (SRGDRR) for adopting Bo, a tan male great dane on January 16. A day earlier, Matthews states in a post, "I'm a great dane sucker rescuing my 2nd since my Daphne passed, this is Caitlyn, the newest member of our household." Caitlyn is a black female great dane, but she may have never even arrived at the Matthews household.
A February 25 post by SRGDRR states that Caitlyn was still looking for a home. Caitlyn has a mountain of medical and behavioral problems, including immune-mediated thrombocytopenia (IMT). As her behavior worsened, the dog bit two adults and three middle schoolers. Caitlyn was diagnosed with "generalized anxiety, fear aggression toward dogs, territorial aggression toward humans, and conflict-induced aggression" at the Purdue University's Vet Clinic, states the post.
Seeking Verification & More
On Tuesday, we contacted Clearcreek Township Police to see if we could gain a copy of the incident report that was released to media outlets yesterday. We also asked if they could verify if Caitlyn was the name of the black dog involved in the attack. Matthews' death remains under investigation, so we may be unable to obtain any more details about the dogs. Most importantly, however, the black female pit bull-mastiff mix "Darby" was not involved in the fatal attack.
This year, a wider variety of breeds have been involved in fatal attacks than usual, including two coonhounds killing their 67-year old female owner, two "show" Doberman pinchers killing their 66-year old female owner and two boxers killing their 52-year old female owner. Since 2005, only one other fatality involved a great dane. In 2009, Barbara Chambers, 59, was attacked by her male "prize-winning" great dane in Texas. She suffered serious injuries and died one month later.
Related articles:
02/12/19: 2019 Dog Bite Fatality: Owner of Doberman Pinscher Show Dogs Found Dead...
02/28/19: 2019 Dog Bite Fatality: Greenville Woman Severely Mauled by Her Own Dogs Dies...
09/09/19: 2019 Dog Bite Fatality: Hudson Valley Woman Killed by Her Pet Coonhounds
---
Baseline reporting requirements:
Law enforcement departments across the United States should release consistent "baseline" information to the media and the public after each fatal dog mauling,
including these items
.