Friday, March 24, 2017
The Family Pit Bull Attacked the Baby 'Out of The Blue'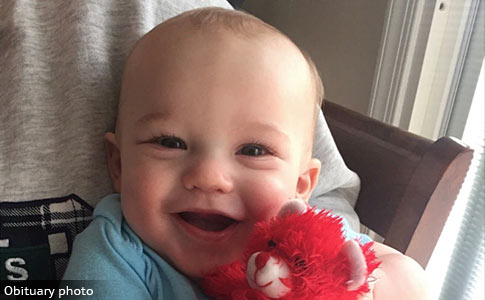 Jase Fohs, 8-months old, was killed by a family pit bull in Lusby, Maryland.
Family Pit Bull Confirmed
UPDATE 03/24/17:
At the news conference Friday, Calvert County Sheriff Mike Evans said the dog that killed an 8-month old baby was a family pit bull, 6 to 8-years old. The family had raised the dog since it was a puppy. The animal attacked the baby "
out of the blue
," he said. The dog had no history of aggression, Evans said. The family friend watching the baby, a female neighbor who unsuccessfully tried to stop the attack, was taken to the hospital with minor injuries, Evans said.
"The family friend attempted to remove the dog from the baby by choking it and striking it with a rawhide bone and her shoe."

- SoMdNews
Evans said the dog was around the baby his whole life. "This is a very sad day for our community. Our prayers and thoughts are with this family and everyone involved," Evans said. Calvert County Commissioners' President Tom Hejl also
spoke at the conference
. He said it was one of the worst
tragedies the county has suffered
; it will affect the entire community. He also expressed support for
breed-specific pit bull restrictions
and hopes this attack will spur conversation in Congress.
"If you have a dog unprovoked attack an eight-month-old child than it is [nature and not nurture]."

- Commissioners' President Tom Hejl
To place this quote into more context, after being asked why he would support pit bull restrictions, Hejl said, "just because the nature of the animal and what history has told us about the animal. If you have a dog unprovoked attack an eight-month-old child than it is [nature and not nurture]," reports SoMdNews. The nature of this attack involves a family pit bull about 6 to 8-years old that suddenly and violently attacked a baby. The dog continued attacking until it was shot and killed.
Brief History of Maryland and Pit Bulls
Since 2005, there have been four fatal dog attacks in Maryland -- all four involved pit bulls.
1
In 2006, a group of
family pit bulls killed a man
in Lusby. In 2012, the highest court in Maryland
declared "pit bulls inherently dangerous
," modifying the state's common law, which caused a fierce debate for two years. In April 2014, legislators
muted the high court's ruling
by passing a meager statutory law that only applies strict liability for dog bite victims in cases of loose dog attacks.
The persistent denial of the pit bull breed's heritage by its promoters -- namely self-interested
animal welfare groups, veterinary groups
and pit bull owners -- caused this recent tragedy and countless others. Despite a
mountain of legal
and
medical evidence
to the contrary, starting as early as 1986, the denial of the breed's heritage in
bull baiting and dogfighting
persists. These groups also deliberately spread false myths, many in the variety of, "It's all how you raise 'em."
Tracey v. Solesky
No. 53, September Term 2012, Opinion by Cathell, J.


In Maryland the vicious mauling of young children by pit bulls occurred as early as 1916

. Bachman vs. Clark, 128 Md. 245; 97 A. 440 (1916). In that case, a ten-year-old boy, John L. Clark, was playing on the north side of a street when a pit bull ("bull terrier") came across the street from its owner's property and attacked him, inflicting serious injuries. The pit bull refused to release the boy until a witness picked up a "scantling" and struck the dog, killing it. Similar to the testimony in the present case by the boy's mother, in that old case the mother described the aftermath of the attack on her child as follows:
...[H]e was unconscious, in such a condition that she did not know whether he was living or dead ... Blood all over him. Id. at 247, 97 A.2d at 440.
Over the last thirteen years, there have been no less than seven instances of serious maulings by pit bulls upon Maryland residents resulting in either serious injuries or death that have reached the appellate courts of this State, including the two boys attacked by the pit bull in the present case. Five of the pit bull attacks in Maryland have been brought to the attention of this Court, and two have reached the Court of Special Appeals ... [Read ruling in full]
---
03/23/17: Family Dog Kills Baby
Lusby, MD - An 8-month old baby boy is dead after being attacked by a family dog, according to a
Calvert County Sheriff's Office press release
. The deadly attack occurred on Prancer Court in Lusby at about 1 pm Thursday. Deputies responded to the scene within a minute of the call and shot the dog, which was still attacking the baby when they arrived. The initial investigation revealed that a family friend was watching the baby boy when the family dog attacked the baby.
Captain Dave Payne of the Calvert County Sheriff's Office said the attacking dog appears to be a pit bull, reports SoMdNews.
Deputies were dispatched to the Prancer Court home at approximately 1:03 pm. After arriving to the location within one minute, deputies witnessed the dog actively attacking the baby. Deputies had to shoot the animal in order to stop the attack, states the release. Deputies immediately determined the baby died as a result of the attack. The investigation is ongoing. Calvert County Sheriff Mike Evans will be conducting a press conference at noon Friday at the sheriff's office.
---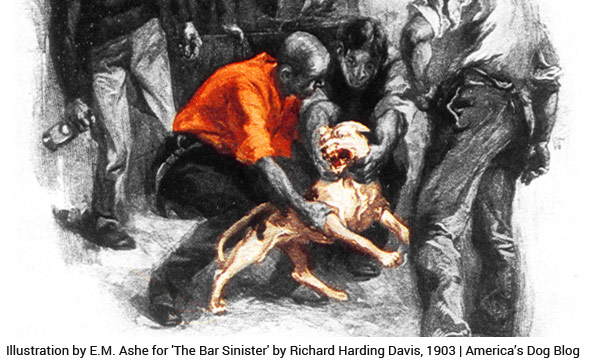 Related articles:
10/20/16:
Back Story of the Montreal Pit Bull Ban -- How the Pit Bull Lobby Operates...
10/10/16:
Special Report: Level 1 Trauma Center Dog Bite Studies in All U.S. Geographical...
01/08/15:
2015 Dog Bite Fatality: Maryland Man Mauled to Death by Adopted Rescue Pit Bull
06/02/14:
Maryland Legislature Mutes Landmark Ruling, Tracey v. Solesky, During 2014...
11/05/13:
2013 Dog Bite Fatality: Baltimore Woman, 56, Killed by Her Pet Pit Bull
04/30/12:
Maryland Court of Appeals Holds Pit Bull Owners and Landlords Accountable...
---
Baseline reporting requirements:
Law enforcement departments across the United States should release consistent "baseline" information to the media and the public after each fatal dog mauling,
including these items
.
Labels: 2017 Dog Bite Fatality, Court of Appeals, Fatal Pit Bull Attack, High Court, Maryland, Pit Bull Kills Family Member, Tracey v Solesky, Unpredictable Attack

Please donate to support our work
DogsBite.org is a 501(c)(3) tax-exempt public charity organization. Learn more »
posted by
|
permalink
|
6 comments
|

email
|

blog rss
|

comment rss

6 comments:

Ka D | 3/23/2017 6:08 PM | Flag
How sad and stupid and preventable. There's a reason it's called pit roulette. I don't understand how people still think it's worth the risk to prove what 'great' dogs these are.

K-Hart | 3/24/2017 4:29 PM | Flag
Unfathomable. This hurts my heart. Another innocent baby's life taken by a "family pet". I feel terrible for everyone at that scene, to know it was immediately evident the child had died as a result of the attack. It's sickening.
I'm sure the pro pit psychos will blame the sitter for being negligent, the family for abusing the dog, and of course the baby for provoking the beast into its red line death mode.
Does this not prove what we all know? Background, age, gender, history of aggression, etc makes no difference in pit bull attacks. They are horrible, awful killers that don't deserve to breath the same air as children. I hate pit bulls.

BeKind StopbreedingBullyDogs | 3/24/2017 6:48 PM | Flag
Pit bull roulette. Descriptive.

Many people don't suffer, but it's instinct: inside, invisible and impossible to predict, that controls whether you live or die

BeKind StopbreedingBullyDogs | 3/24/2017 6:55 PM | Flag
Some time ago I asked the pit breeders on a game dog forum about a pit attack on a child. I expected to hear "that dog was trained to attack."

Nope.
This honest pit bull EXPERT explained,
"Kids are dog sized.
Pits attack and kill dogs.
That's what pits do."

Pits were and are created to mature to SUDDENLY attack UNPROVOKED and PROLONGED. Dog fighters call this behavior "starting" or "turning on". This you could learn if you read books by Richard Stratton, Joseph Colby, Douglas Link. Some bully dogs turn on as puppies, most around a year or two, some not until old age. Then wham.

Who benefits from these despicable man-made birth defects? Dog fighters do.

Essentially all pits come from good game-insane mauling dogs.
Pits who did not "turn on", who did not mature to become game insane maulers were culled as embarrassing failures.

Once a game insane pit has attacked, there may be nothing the average human can do to save the victim, even if the victim is a large adult.

Be prepared. One tool to acquire and keep available when suffering from pit pollution in your home or neighborhood would be a battery powered chainsaw. If the pit attacks, you end the attack.

Remember the dog fighters'/ pit bull experts' saying: "you can take the dog out of the fight, but you can't take the fight out of the dog."

K-Hart | 3/25/2017 5:27 PM | Flag
I just read the link you posted on Twitter about the absolute lunatic who blamed the babysitter for the baby's death. (As I predicted the nutters would do.) The level of depravity the pro mauler crowd will sink to is unbelievable. They are incapable of rational thought. Why can't they be the ones getting their throats ripped out? Instead, babies, children, and innocent adults are the victims of their psychosis.

joelande | 3/28/2017 5:31 PM | Flag
I think you've left out one of the major groups of deniers- pit bull breeders and dog fighters.

These people are the ones responsible for creating these dogs. They specifically breed for aggression and they make money from it and want to be able to keep on doing it. So they try to deny the aggression.

and other breeder organizations support the denial and the lies.