Friday, April 29, 2016
Fatal Pit Bull Attack in San Diego, California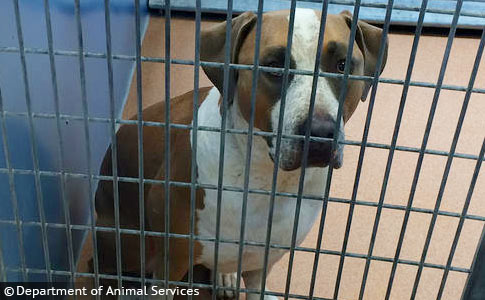 The rehomed male, neutered pit bull-mix in quarantine after killing a 3-day old baby.
Passed Assessment Test
UPDATE 04/29/16:
On July 7, 2015, a
6-year old boy in North Carolina
was killed by a male, neutered pit bull that was rehomed by the Asheville Humane Society 3-weeks earlier. The pit bull had passed the SAFER temperament test before being adopted. Now, just 8-months later in San Diego, a male pit bull-mix rehomed by the San Diego Humane Society has fatally attacked. That dog also passed an assessment test prior to being adopted then killed a baby 5-months later.
1
Currently, there is
no way to reliably test
for unpredictable pit bull aggression. State-of-the-art temperament tests like SAFER only provide a benchmark by detecting "obvious" behavioral issues. These tests greatly rely upon who is conducting them as well -- a person with 2-years of behavioral experience or 25?
This 2.5-year old pit bull-mix
came into the shelter on November 10 and was adopted out just 8-days later. We repeat again what we stated after Joshua's death:
The "state-of-the-art" temperament assessment test, SAFER, cannot measure unpredictable aggression nor can any current test. This is the risk every person accepts, knowingly or not, when adopting a pit bull.
After the death of 3-day old Sebastian Caban, the president and CEO of the San Diego Humane Society, Gary Weitzman,
issued a letter to staff members and volunteers
. It states, in part, the attack was unforeseeable and "there was not a fragment of aggression seen in this dog before tragedy struck." This statement emphasizes just how unreliable these tests are in
assessing unpredictable aggression
. "Seen in this dog," is only in the context of
seeing the dog for 8-days.
---
Animal Expert Provides Insights
UPDATE 04/27/16:
Sebastian Caban, 3-days old, was fatally bitten on the head by a family pit bull-mix while he laid in bed with his parents and the dog. What followed was a carefully executed breed manipulation plan by Deputy Director Dan DeSousa to confuse the media and public, along with an outpouring of media claiming the deadly attack came in response to the mother coughing. We reached out to Alexandra Semyonova, an
animal behaviorist and author
, for her observations.
Additionally, as we prepared this update, it was
announced what we had suspected
all along. The family pit bull-mix is a rescue. The San Diego Humane Society -- a private organization that has a
partnership with county animal services
-- adopted the dog to the
baby's parents 5-months ago
. The reason why we suspected this pit bull-mix had been rehomed is because it was neutered. This is a rarity amongst pit bull owners unless the animal was rehomed by a reputable shelter.
Alexandra Semyonova
It's quite sad that yet another killing of yet another child by a pit bull type is being diverted to a discussion of exactly which category of pit bull type dog is involved, and to a discussion of 911 dispatch response time.
The real problem here is not the 911 dispatch response time. It is not exactly which of the various pit bull type dogs killed this infant. It is not about figuring exactly what triggered the pit bull mix to execute its inherent motor pattern. Neither is this latest infant death about children and 'any dog', which will be the next damage control response pit bull advocacy predictably comes up with. The tragedy of this child's death is about exposing a newborn baby to the type of dog that has been responsible for more child killings than all other breeds and types of dogs combined since the 1980s. A type of dog whose genetically determined, inherent response to startle (no matter what kind), in fact to any strong stimulus, is to attack the head and neck, grip, hold, shake, and not let go.
Yes, many types of dogs have bitten children, but we are not talking about a bite here. We're talking about an instant killing, not preceded by any warning signals, not triggered by anything that would offend any normal dog, and so vicious that the parents of the child had trouble getting the pit bull mix off their baby.
As an expert on the domestic dog, I'm appalled at Deputy Director Dan DeSousa's immediate response. He is apparently as aware of the statistics as I am, and is above all concerned about keeping yet another pit bull type out of those statistics.

1

He is willing to slander any and all other types of dogs in order to do this. If he really cared about dogs -- or even about pit bulls -- he would react differently. We don't help dogs by playing name-games that will lead to ever more children being killed by a particular type, then saying any dog would do it. We don't help pit bull types by denying the danger they present, thus cooperating in setting them up again and again to fail in family homes. This aside from the loss of human life that results from this game, since DeSousa apparently doesn't care much about that either.
I am also appalled at the focus on the 911 dispatch response time. These parents took a loaded Kalashnikov to bed with them because it's the Internet fashion of the moment. The Kalashnikov shot their baby in the head when the mother coughed with her finger on the trigger. Just as with a machine gun shot to the head, a neonate is lost the instant any pit bull type dog has gripped its head, even if police were in the room at the moment the trigger went off. It's misplaced -- and an attempt to avoid responsibility for their own terrible choice -- for these parents (and everyone else) to be trying to blame the overworked and understaffed 911 dispatch response center.
The normal domestic dog is a conflict avoider. At startle or threat, it will try first of all to increase distance and assess the situation. It will seek to compose an appropriate response, preferring a response that does not involve violence. If startled by a child (or anything else) in a position where it can't instantly increase distance, a normal dog might lash out with an open-jawed bat to an approaching body part. A normal dog might do a pressureless grab at that body part. A puncture wound, some torn skin, a bruising could result -- but not a death. The normal dog will flee the situation as soon as a flight route opens up. It will not respond to startle by jumping up and gripping the head of anything that happens to be close by, applying full jaw pressure, and refusing to let go.
This response is unique to the pit bull types, including the various pit bull mixes. A normal dog would have jumped off the bed and, if jealous, slunk off to pout. Jealous normal dogs don't go into a sudden, gripping death-hold attack. Yet again we see that the pit bull types are not like other dogs. 'Any dog' education will not help these pit bull killings of children to stop, and we need to quit pretending it will. People like DeSousa, who are charged not only with animal welfare but also with public safety, need to stop the games they're playing.
As for the 'any dog' thing, it's true that any dog that inflicts serious wounds in a startle situation shows it isn't safe to keep among us. Where a dog -- any dog -- shows lack of preference for conflict avoidance, lack of acquired bite inhibition or willingness to abandon bite inhibition in ANY conflict, and lack of willingness to quit until the other is dead, it is my opinion that it is neither safe for us nor good for dogs in general to keep that dog alive. And so here is the final appalling part of this story: the law should not be such that a man like DeSousa has any choice but to humanely euthanize any dog that has killed, even if that dog was one of the pit bull types he seems above all enamored with.

- Alexandra Semyonova, animal behaviorist and author
Semyonova has graciously allowed us to post an excerpt from her book, The 100 Silliest Things People Say About Dogs, pertaining to the myth of whether a dog can or can't be jealous -- Myth 44. Purchase your copy of the book today. Also visit Semyonova's website: Nonlinear Dogs.
---
UPDATE 04/25/16:
Death Due to Bite Injuries
The San Diego County Medical Examiner's Office has identified the 3-day old baby boy that was attacked and killed by the family pit bull-mix last Thursday. Sebastian Caban of San Diego died due to dog bite injuries to his head, states the
medical examiner's news release
. The manner of death was ruled an accident. The "decedent was mauled by the family dog after the dog was startled awake when sleeping on the bed with the mother and decedent," states the news release.
Other developments include the baby's
parents calling 911 twice before giving up
and taking the injured baby to the hospital themselves. Over the weekend, NBC 7 reported that between 7:15 pm and 7:45 pm on Thursday, April 21, Sebastian's parents made two unsuccessful 911 calls, one 28 seconds long, the other 34 seconds long. Neither call was answered by dispatch. During this same period, a total of 73 calls came into dispatch seeking assistance, San Diego police confirmed.
---
Special Update: Fire Dan DeSousa
UPDATE 04/22/16:
We would like to point out to readers that what this post should be primarily about is a 3-day old baby lying in bed with the family pit bull and his parents. This is inexcusably unsafe with most dogs, but especially with pit bulls and other powerful breeds. That is a kind way of stating it. The criminal way of stating it is
endangerment
, which is likely why the Child Abuse Unit was called out. This aspect had to be investigated for a child this young -- just 3-days old.
San Diego County Animal Services
Instead of focusing on this important safety aspect, we must discuss the deliberate manipulation by Dan DeSousa, Deputy Director of Animal Services, to protect the pit bull breed by mislabeling this dog. There are only a few AC departments in the U.S. that consistently demand to be called out like this, DeSousa of San Diego County Animal Services is one of them. By deliberately manipulating this dog's breed, reports began stating that this dog is a "great dane-terrier mix."
Deputy Director Dan DeSousa should be fired for deliberately manipulating this dog's breed to confuse the media and public after a 3-day old baby was killed by a family pit bull.

-DogsBite.org
Let's start from the earliest report at 11:30 am (PST), where the dog is a "
2-year-old American Staffordshire terrier
," according to DeSousa." In the next report, at 1:56 pm, the dog is a mix. The dog is a "2-year-old, neutered male
American Staffordshire terrier-mix
, DeSousa said." By 2:31 pm, the dog became a "
great dane-American Staffordshire terrier mix
," according to DeSousa. Then near that time, "a two-year-old
mixed breed American Staffordshire terrier
named Polo."
2
There are two parts to DeSousa's manipulation. Part one is calling the dog an American Staffordshire terrier, which is
exactly the same breed
as the American pit bull terrier -- many people in the public do not know this. DeSousa, from the get-go, purposefully tried to confuse the media and public. Part two of the manipulation is more sinister. The first part of a "mixed breed" label indicates the predominant breed, for instance a pit bull-boxer is predominantly a pit bull.
Within three hours of media reports, DeSousa tried to make the confusing Staffordshire label the least predominant breed by placing it second. (This is after the media released photographs of the dog.) By 2:39 pm, the breed label became the ultimate goal of DeSousa, 100% denial of any pit bull heritage. The dog became a "
great dane-terrier mix
," according to DeSousa. This was all deliberately orchestrated to
hide the truth after a neutered family pit bull killed a newborn baby.
DeSousa's Plan Did Not Prevail
The upshot is that you
cannot fool all the people all the time
. By 5:30 pm (all California times listed), the Associated Press, which is syndicated nationally, picked up the story along with the photograph of the dog and correctly labeled it an
American Staffordshire terrier-mix
. This label is 100% interchangeable with a pit bull terrier-mix. After looking at the dog's photo, the Associated Press -- at least this particular writer -- could not call this animal a "great dane-terrier mix."
---
Editorial note: We posted this update at 10:05 pm (CST). By 10:30 pm, some of the links above had already removed the "great dane-terrier mix" descriptor, as news reports began updating across the country due to the syndicated AP article, which correctly listed the breed. We changed some of these links to screenshots. As the evening wore on in California, the term "pit bull-mix" started being used by the media too. DeSousa successfully derailed, at least initially, what this blog post should have been about: Basic safety with a newborn and the impact of thousands of photographs posted on social media with pit bulls sleeping next to a baby. "Protecting the breed" at all costs, including deliberately misleading the media and public after a baby's death, was the primary concern for Dan DeSousa and San Diego County Animal Services. Basic safety practices with a newborn was never mentioned once by DeSousa or anyone at Animal Services. Not once.
---
---
04/22/16: Family Pit Bull Kills Newborn
San Diego, CA - A 3-day old baby was fatally attacked by a family pit bull, San Diego Police said Friday. The deadly attack occurred Thursday night on Flanders Drive in the Mira Mesa area. The dog is now in the custody of San Diego County Animal Services, police said. Dan DeSousa, Deputy Director of Animal Services and longtime pit bull sympathizer, said the dog is a 2-year old male, neutered pit bull, but insisted on calling the animal an "
American Staffordshire Terrier
."
3
The baby's mother and father were watching television in bed with their newborn and the dog, reports Sgt. Tuu Nguyen with the Child Abuse Unit of the San Diego Police Department. You read that statement correctly -- the 3-day old baby was in bed with the pit bull and the baby's parents. When the mother suddenly coughed, Nguyen said, "the dog made contact with the baby leading to traumatic injuries." The parents rushed the baby to the hospital, where it was declared dead.
"At this time it appears to be a tragic accident. It's such a horrific, tragic case."

- Sgt. Tuu Nguyen, San Diego Police Department
The San Diego Union-Tribune
reports that
child abuse detectives were called
to the couple's home on Flanders Drive off Camino Ruiz about 8 pm Thursday to investigate. Nguyen said no other children were taken from the home or placed under other care. The investigation will be completed after an autopsy confirms the cause of death, Nguyen said. Police called county animal control officers half-past midnight to impound the pit bull. The dog will be held in quarantine for 10-days.
San Diego County Fatal Pit Bull Attacks
During the 11-month period from December 24, 2011 to November 11, 2012, pit bulls from San Diego County killed four people. In one of these cases, the dog was
found in Balboa Park in San Diego
then taken across the border to Tijuana. Within a week the dog killed its owner's 4-year old granddaughter, América Viridiana. This same period also includes a fifth death, the fatal mauling of
Remedios Romero-Solares
and was attributed to "American bulldog-mixes" by DeSousa.
How did DeSousa and San Diego County Animal Services respond to this disaster?
By giving away pit bulls for free
in a special promotion titled, "
Dare to BULL-ieve
." The taxpayer-funded promotion began in mid October of 2012, after three fatal pit bull attacks in the previous 10-months and just days after the
serious mauling of a little girl
in the county. Polltakers by a wide margin, 69% to 31%, voted that the county government should
not
promote "free pit bull" adoptions.
4

View the DogsBite.org Google State Map:
California Fatal Pit Bull Attacks
.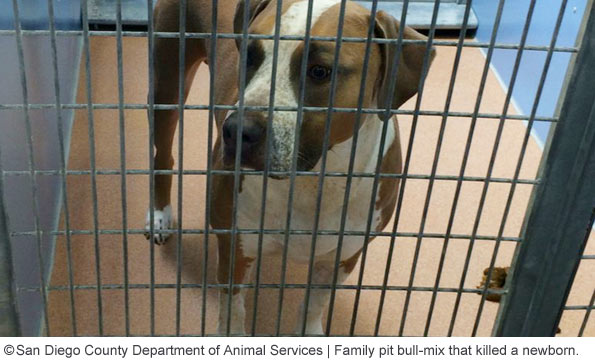 1
It is unclear which temperament test the San Diego Humane Society (SDHS) conducts; it does not appear to be SAFER. The SAFER test was developed by Dr. Emily Weiss then later became the ASPCA branded temperament test. One news group described the SDHS behavioral test as assessing if the dog is "good with children or cats."
2
In an ABC 10 News interview, DeSousa makes his bias clear: "It's a tragic incident for everybody involved. What I don't want is for people to stereotype a dog and say, 'This dog did this because it looks like a pit bull." DeSousa also stated, "It is up to the family to decide if they want this animal back." As of April 27, the baby's parents have not yet decided this. The decision to euthanize "should" have been immediate, but it rarely is with pit bull owners.
3
DeSousa also quickly "humanized" the pit bull by ensuring that its name was included in media reports. In this case, the media and public knew the pit bull's name before the baby's name. It seems that after the "Year of Hell" in San Diego County, 2011-2012, when pit bull-type dogs took the lives of four people, DeSousa developed a new "disaster response" PR plan. 1.) Deliberately mislabel the breed to confuse the media and public, 2.) Invent a "mix" and place it first as the predominant breed, and 3.) Humanize the attacker by releasing the dog's name. But DeSousa did make an error by releasing the dog was neutered. It stands in direct contrast to the false claim often trumpeted by pit bull owners that "only male unaltered pit bulls kill." Learn more about owning a dangerous breed.
4
DeSousa is now calling the dog an "American Staffordshire terrier-mix." As readers of this website know, pit bulls and American Staffordshire terriers are the exact same breed. DeSousa is just trying to "protect the breed" by deliberately confusing the media and the public after a neutered pet pit bull fatally attacked a newborn baby. To further our point, in yet another article, DeSousa calls the dog, a "Great Dane-American Staffordshire Terrier mix," again to diminish the pit bull's role in this fatal attack, to confuse the media and the public AND this is all while we are looking at two extremely clear photographs of the dog. DeSousa deliberately used "Great Dane" as the first mix too, which indicates that is the "primary" breed. Pit bull is without a doubt the primary breed in this instance.
5
Yes, San Diego County taxpayers. You helped pay for that 10-minute "Remark-a-BULL" and "Adorable-a-BULL" promotional video and all other "Dare to BULL-ieve" program costs, along with giving away pit bulls for free.
---
The Reliability of Temperament Tests
Aggressive Behavior in Adopted Dogs that Passed a Temperament Test by E'Lise Christensen, Janet Scarletta, Michael Campagnaa and Katherine Albro Houpt, Applied Animal Behaviour Science, Volume 106, Issues 1-3, August 2007.
Reliability, validity and feasibility of existing tests of canine behaviour, by Mornement et al., Anthrozoology Research Group, Animal Welfare Science Centre and Monash University, AIAM Annual Conference on urban animal management, 2009.
---
Related articles:
08/06/15:
2015 Dog Bite Fatality: Recently Adopted Out Pit Bull Kills 6-Year Old Boy...
01/08/15:
2015 Dog Bite Fatality: Maryland Man Mauled to Death by Adopted Rescue Pit Bull
12/07/12:
2012 Dog Bite Fatality: San Diego County Woman Killed by Pack of American...
08/28/12:
San Diego County Pit Bull Responsible for Death of 4-Year Old Tijuana Girl
06/19/12:
2012 Dog Bite Fatality: Pet Pit Bull Kills Infant in San Diego County
03/09/12:
2012 Dog Bite Fatality: Letter Carrier Dies After Pit Bull Attack in Escondido
01/18/12:
2011 Dog Bite Fatality: Victim of Catastrophic Pit Bull Injury Dies on Christmas Eve
Labels: 2016 Dog Bite Fatality, Adopted Dog Kills, Breed Mislabeling, California, Dan DeSousa, Pit Bull Kills Family Member, Rescue or Rehomed Dog Kills, San Diego County, Temperament Test

Please donate to support our work
DogsBite.org is a 501(c)(3) tax-exempt public charity organization. Learn more »
posted by
|
permalink
|
26 comments
|

email
|

blog rss
|

comment rss

26 comments:

Bailey | 4/22/2016 8:10 PM | Flag
The mother coughed? Coughed? Are you kidding me? I've never known any normal animal to have such an averse reaction to a cough. And then it didn't murder the person who coughed, but the baby? I know pits are unpredictable and the farthest thing from a normal animal, but geez, everything about this sounds too weird. If any animal is set into kill mode because of a cough, that animal shouldn't be allowed in human society period.

And furthermore, who the hell lets a dog, let alone a frankenmauler pit, near a 3 day old baby?

Disgusted with Pits | 4/23/2016 12:02 AM | Flag
Perhaps the dog was spooked. A three-day old baby? Probably just came home from the hospital and the dog didn't quite know what to make of it yet. I'm completely against that breed, for this very reason. They're good dogs until they're not, then it's too late. That breed needs to be extinct. Yes, I blame the breed. I'm sure these parents didn't raise their dog to be a killer then allow it near their baby.

Dayna Hamilton | 4/23/2016 7:57 AM | Flag
A 3 day old infant is incredibly vulnerable. I never let my dogs sleep on the bed, even so, when I brought home my babies from the hospital I was extremely cautious with my Newfoundland/Border Collie mix. This is what pit bull advocacy/lobbyist groups are doing. They are convincing people that 'if raised properly', these are safe dogs with children, when the opposite is true.

Sarah | 4/23/2016 2:22 PM | Flag
The comments on the news stories are something else - pure conjecture that the owners must have been abusing the poor dog and "there's more to the story," which if it's not in MaulTalk already, ought to be.

Something I've noticed about pit bulls and the owners is a heightened tendency to be all over each other - how many times have you seen loving owner photos on FB of the family pit lying on top of the owner, or the owner and the pit spooning on a couch? Remember the pit mix that killed Suzanne Story, and the photo of it basically standing on the former owner? I think the bigger, heavier breeds tend to literally throw their weight around and the humans who are drawn to them enjoy it too, so you get a lot of wrestling/cuddling behavior being initiated by the dog. Most people with big dogs have a basic sense that it's not a great idea and limit it, but pit bull owner culture is so warped by the drive to prove they're safe that they can't see reality beyond the PR - that all dogs need to respect physical boundaries around humans, and aggressive breeds need that in spades.
A grown dog should be affectionate and loving, but it shouldn't be clambering all over you and licking you relentlessly. Dogs that do that are neurotic and pushy, not cute and sweet.


mary conner | 4/24/2016 3:20 AM | Flag
One pit bull attack after the other. When will the pit advocates get their heads out of the sand? I blame this on the breed and the parents for exposing this innocent baby to a pit bull in the first place. Oh I forgot, I also blame all the pit advocates, shelters included, for advertising this breed as a safe family pet. Shame on them.

Jaloney | 4/24/2016 11:24 AM | Flag
Horribly evil deception should be a CRIME and the animal control head should be Fired ASAP. Stop protecting pitbulls and start telling the truth about the number one BABY KILLER!

truthbirdtoo | 4/24/2016 1:08 PM | Flag
So the pit bull was neutered -- red flag number 1. Regular old pit bull owners consistently fail to spay and neuter. One must assume this is a younger couple and the dog is a RESCUE. That is the reason why the dog is neutered; they adopted it from a rescue agency neutered. Or, they even adopted it from a San Diego County shelter. DeSousa could say with real knowledge, "the dog has never shown aggression before" if he had access to the dog's records (AKA if the dog had already been in the shelter system). If the dog was rehomed to this family, there would be more reason than ever for DeSousa to obfuscate the breed's name: to lessen the blow to the rescue agency (assuming this information ever comes out at all). Red flag number 2. We don't know if the mother actually coughed or where the dog was on the bed. The number of "we don't knows" about this case are daunting. That is red flag #2, the number of unknowns. Some of this will be resolved after the coroner's report. Red flag number 3. The 911 calls made by the parents happened at about 7:30 pm. They ended up driving the baby to the hospital. Child Abuse Unit arrived at 8 pm, but police do not have the dog hauled away by animal control until after midnight. For four hours, the dog was just secured in the home -- like police did NOT know if a bite had occurred at all. They had to wait on word from the hospital.

BeKind StopbreedingBullyDogs | 4/24/2016 10:14 PM | Flag
Seems to me that pits do not respect the personal space of others. That's essential for dog fighting.

Some accounts of pits killing humans mention the pit licking the victim after death. (Cathy Wheatcraft, Cindy Whisman).yuck!

They are just as aggressive away from home, even entering the homes of others, to attack and kill.(Robin Elgie)

Non bully dogs know when they are on the property of others, and respect that. If a young adult large non bully normal dog enters an older small dog's yard, the smaller old dog can snap, nip and correct the larger younger dog, and the larger younger dog will back off and not fight.


Christy D | 4/26/2016 7:12 AM | Flag
There are so many wrongs here. I couldn't help but make a list:
1. Owning a pit bull or any other large game/attack breed.
2. Having a large breed dog in a tiny apartment.
3. Having a large breed dog and no fenced in yard.
4. Having any dog near a newborn.
5. Having no boundaries with a large breed dog and the owner's bed.
6. Blaming 911 for the baby's death.

truthbirdtoo | 4/26/2016 9:56 AM | Flag
Amen Christy.

Small Survivors | 4/27/2016 3:20 PM | Flag
Very insightful update! I am going to remember that what makes dogs safe and appropriate companions is that they "prefer a response that does not involve violence." They prefer to avoid conflict. They prefer to flee when confused or scared. And they have "acquired bite inhibition."

The exerpt on jealousy is excellent as well. I bought a digital copy of the the book, and it is full of great insights like this exerpt.

Linda Matthews | 4/27/2016 4:17 PM | Flag
After our pet was killed by pits in our yard the male actually laid down on top of the dogs body He would leave and pee on everything then come back and literally lay down on her dead, bloody, body Notice I said he the pit and she the victim dog. I am 61 years old and have done rescue work I have no experience with pits They never used to be in the general population. I knew as I helplessly watched waiting on animal control that I was seeing something that was completely outside of how normal dogs behave. I don't believe this dog was behaving out of character for the breed. I will do my utmost to educate myself and protect my family with what I am able to learn I will be prepared to stop another attack if it comes without endangering myself. I will never have a false sense of thinking I know pits because I know dogs. Period. they are different. Period. They are deadly. Period.
Now where do we go as a society?

B Cazz | 4/28/2016 4:54 PM | Flag
This quote deserves repeating again and again:

The normal domestic dog is a conflict avoider. At startle or threat, it will try first of all to increase distance and assess the situation. It will seek to compose an appropriate response, preferring a response that does not involve violence. If startled by a child (or anything else) in a position where it can't instantly increase distance, a normal dog might lash out with an open-jawed bat to an approaching body part. A normal dog might do a pressureless grab at that body part. A puncture wound, some torn skin, a bruising could result -- but not a death. The normal dog will flee the situation as soon as a flight route opens up. It will not respond to startle by jumping up and gripping the head of anything that happens to be close by, applying full jaw pressure, and refusing to let go.

joelande | 4/29/2016 1:25 AM | Flag
they set this up

There's a reason that these abandoned pit bulls end up in shelters. They have already had issues

But No Kill is only interested in selling ASAP and they set up the inevitable attacks

These shelters and their boards of directors need to be held accountable

I want a cute purse | 4/29/2016 1:13 PM | Flag
I don't understand how something so fact based as the dangers of Pitbulls is so subject to emotion and opinion. It's simple as math... When a pitbull attacks, was it ever worth the red-faced debate? The "look how snuggley my Pit is" pics? Burying your child?


Your Quiet Neighbor | 4/30/2016 8:14 AM | Flag
Want to hold the shelters and rescues accountable? File lawsuits. Big ones. It's BSL -- Breed-specific litigation -- in action.

PutMeInCharge41Day | 4/30/2016 9:34 AM | Flag
I hope this family and the family of the child killed by the other "adopted" pit bull get great lawyers and pursue legal action against these shelters.

I think that is the only way we could see less of these dogs put back out in the public.



Ruby Rose | 5/01/2016 10:20 AM | Flag
The pounds also lie. Last winter I took my grandsons to the pound looking for a collie. Every dog there was a pit or a pit mix. The only one which didn't bark viciously at us was obviously part lab and about 8 months old. The girl insisted on bringing it out for us to see. I told her I didn't want it because it was obviously part pit. She insisted it was a lab. No retriever ever had a jaw like that. She also excused the other dogs vicious behavior by saying they had been caged for a while and as a result they developed 'territory defense' or something like that and that is common behavior in caged animals. In other words they were protecting their territory. This was not my 1st rodeo. In days past dogs in the pound would bark excitedly at people who walked through but they did not viciously lunge at the cage in a very intimidating manner. So we went into a 'visiting' room which was set up like a living room with couch and chairs. I've had labs before and they can be overly exuberant especially when they are young. This dog was all over the place. I was happy to read the other comments and learn a term for this behavior which is so common in pits- it had no personal boundaries. It was rude and pushy and the kids were afraid of it. I never had any intentions of bringing it home and the visiting room experience only reinforced my decision. The girl working there was a very young (teenager) volunteer. She had been mislead, or perhaps taught to lie about these dangerous dogs. A person with less experience with dogs might have believed her lies and brought the dog home thinking they had a lab. The pounds should be held accountable for these deaths. My recent experience has shown me they are misleading at best and flat out liars at worst.

Your Quiet Neighbor | 5/01/2016 12:22 PM | Flag
Lawsuits. Big lawsuits. They will stop the shelter pit-pushing epidemic in its tracks.

Ditto for the so-called rescue groups. Sue 'em into the ground.

Da Ninja | 5/01/2016 7:55 PM | Flag

Would-be adoptors of dogs need to be a new kind of Adopter now - you have to go to a Shelter psychologically loaded for bear. If you DON'T, if you don't prepare for the pity/sympathy/outsider mentality/emotional bribery 'push' directed at you, you will be bringing home a dog that can kill you with absolute delight when and if it wants to, and that self same dog is capable above all others of decapitating your child simply because it sates its genetic heritage in doing that. Being able to say 'no' to a dog that is pushed upon you is absolutely vital. YOU are doing the Shelter a favor, not vice versa. Wrongly done, whether through misidentification or through pressure or both, that favor could cost you your LIFE or lend you a lifetime of guilt and horror if that Death-gene loaded gun of a dog takes the face or life of your child.

Calling Shelters misleading liars is about right, and emotional kidnappers of the unwary and the unready; they should indeed pay for it.

joelande | 5/04/2016 5:33 PM | Flag
I can tell you from personal experience that many animal shelters employees are indeed taught to lie, coached on what lies to tell, and encouraged to do it.

This has increased hugely since the increase in No Kill shelters and pit bull lobbying.

The sad thing is that many of the workers and volunteers manipulated in this way are young girls or young women who have kind hearts, and don't seem to understand they are being used to do bad things to all involved, including the dogs

The boards of directors and managers of these shelters need to face full responsibility for what they are doing and be charged with consumer fraud.

I do want to stress that there still are many shelters and rescue groups that do not do this and do not deal in fighting breeds, and they should be sought out and supported, as those dogs deserve wonderful homes and the people running those kinds of shelters care about both people and animals.



Packhorse | 5/07/2016 5:59 PM | Flag
Today I saw a person wearing a t-shirt that said, "Ignore the Bull****. Adopt a Pit Today."
How lovely that these folks must think innocent kids like this are "bull****."

Unknown | 1/03/2017 3:34 PM | Flag
Child endangerment, period....if I were DA, I would do everything in my power to go for manslaughter charges. The was a knowingly and willful decision on the part of the parents, pure stupidity and negligence.

Unknown | 2/28/2017 6:26 AM | Flag
The Whole problem with Animal Control is they are staffed by Fervent Animal Lovers...which is a good thing in some ways .
But the very Bad thing that happens with them is they will always want to believe the Dog is never at fault , it can only be a Human problem.
I think this idea came from Past History and ideas that may have been true 30 years ago ,but simply doens't apply now.


Stinky AmPit | 6/26/2017 5:45 AM | Flag
San Dumbo Diego Humane Society wastes taxpayer money with their bull-shit propaganda campaigns.

Stinky AmPit | 6/26/2017 5:48 AM | Flag
Pits are for criminals.