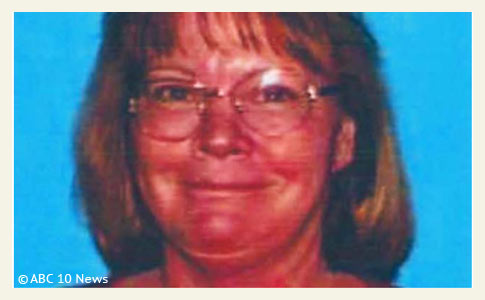 Postal worker Diane Jansen, 59, died of a stroke after being attacked by a pit bull.
Victim Dies After Dog Attack
Escondido, CA - A postal worker that was attacked by a pit bull on March 1 has died, reports The San Diego Union Tribune. The San Diego County medical examiner's office identified the victim as 59-year old Diane Jansen. She died Sunday at Palomar Medical Center. The cause of death was listed as left basal ganglia hemorrhagic stroke due to hypertensive atherosclerotic cardiovascular disease with dog bites listed as a contributing factor, according to the medical examiner's report.

"The animal, which was not on a leash, was in a residential garage with several children just before it went after the postal worker, according to police Lt. Chris Wynn, who said the dog "just shot out of the ... partially closed garage door."
10News learned three juveniles were in the garage and no adults were present. One juvenile came out to stop the dog..." - ABC 10 News, March 8, 2012
When rescuers reached Jansen, who had sustained multiple dog bite injuries to her legs, "her speech was slurred and she became unresponsive." Jansen was taken to Palomar Medical Center, where she was diagnosed with intracerebrral hemorrhage. Hospital officials removed Jansen from life support Saturday, March 3 and she died the following day. Officers from the police department and human society investigated the incident and found that no crime had occurred.
U.S. Postal Service spokeswoman Eva Jackson confirmed the incident to The San Diego Union Tribune on March 7th, but did not discuss further information due to ongoing investigations.
View the DogsBite.org Google Map:
California Fatal Pit Bull Maulings
.
Related articles:
04/19/11: Pit Bull Bite Causes Massive Heart Attack; Ashland County Man Dies
11/28/10: Pit Bull Dog Aggression: East Texas Man Dies Fighting Off Pit Bulls
06/13/10: Oceanside Letter Carrier Dies After 'Non Bite' Injury from Rottweiler