Wednesday, November 17, 2010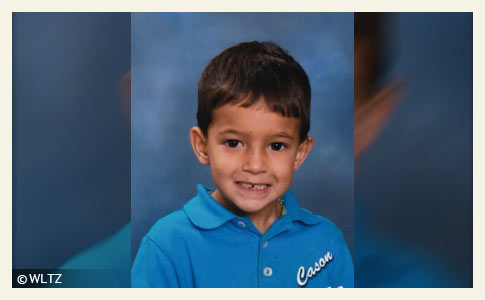 Cason Bryant, 5-years old, was killed by a pack of mixed-breed dogs.
Funeral Arrangements Set
UPDATE 11/17/10:
Russell County Sheriff-Elect Health Taylor says his office determined that 5 of the 12 mixed-breed dogs attacked the child. All of the dogs were voluntarily handed over to be euthanized. All but one of the dogs belonged to the victim's neighbor, who remains unnamed, the other belonged to the victim's family. Criminal charges are unlikely against the neighbor despite his failure to keep his 11 dogs contained.
In an article published yesterday, Taylor said that he believes that the neighbor's dogs [
who escaped their owner's property
] got into a fight with the Bryant's dog and the little boy [
who was in his yard
], "was in the wrong place at the wrong time." Taylor added, "Somehow in that fight the child was either in the middle of them when they started fighting or had tried to get his dog off of them and that's how eventually the dogs turned on the child."
Taylor called the incident an "unfortunate tragedy."
1
11/15/10:
Victim: 5-Year Old Cason Bryant
Phenix City, AL - In a developing story, a 5-year old East Alabama boy was mauled to death by a pack of "wild dogs"
2
Monday. Russell County Coroner Arthur Sumbry said Cason Bryant
3
was attacked by as many as 12 dogs. The child suffered numerous bite injuries and was pronounced dead at 2:32 pm at The Medical Center in Columbus, Georgia. An autopsy is currently underway, preliminary results are expected soon. Authorities continue to investigate.
1
It is NOT an "unfortunate tragedy" when 11 dogs escape a property and at least 4 participate in the killing of a human being. This is indeed criminal, but not so under Alabama's "pro-dangerous dog lobby" state laws.
2
In the video, Sheriff Heath Taylor states that the child was not mauled by a pack of "wild dogs." The boy was attacked by his neighbors dogs that had escaped their fenced property.
3
The victim's name was initially reported as Casey Bryant.
Related articles:
12/14/09:
1996 Fatality: 4-Year Old Wheeler Boy Killed by Loose Chow-Mix Dogs
08/19/09:
2009 Fatality: Senior Couple Killed by Pack of Dogs in Oglethorpe County
07/01/09:
Pack of Wild Dogs May Have Killed Elderly Man in Alabama
Labels: 2010 Dog Bite Fatality, Alabama, Casey Bryant, Fatal Pack Attack

Please donate to support our work
DogsBite.org is a 501(c)(3) tax-exempt public charity organization. Learn more »
posted by
|
permalink
|
6 comments
|

email
|

blog rss
|

comment rss

6 comments:

shanedieselblack | 11/17/2010 5:44 AM | Flag
It's always some unidentifiable "wild dogs" over there in The South. Looks like alot of people just don't want to identify the offending dogs as pit bulls to protect their own interests (Many are breeders and sellers of pit bulls).

Dorothea Malm | 11/17/2010 9:51 PM | Flag
The way the sheriff is handling this is DISGUSTING. How can anyone infer from the evidence that this was a dog fight that the boy's dog participated in? This was 11 marauding dogs that targeted the boy and the dog.

How can you be in the wrong place at the wrong time in your own yard?

This is the third mauling this year that involved people hoarding a pack of dogs.

truthbird | 11/17/2010 11:19 PM | Flag
The videos of the sheriff seem heartfelt. I think he genuinely feels sorrowful about the terrible incident. In one video he mentions that the two families are good friends as well, making the incident even more "tragic" (in his eyes). When you look at Russell County Sheriff-Elect Health Taylor's language more closely, however, it starts to spell a very different story. "11 dogs," no biggie (perfectly normal), "off property attack," no biggie (the child was in the wrong place at the wrong time). I'm still wondering if Taylor may be going after the victim's family for neglect. After all, it's criminal to let your own child play in his yard. The chips are stacked in Taylor's favor too. "The general rule in Alabama is you're only held criminally liable in a case in which it's an animal known to be vicious or dangerous," Russell County District Attorney Ken Davis said, referring to state law. "Generally, that means they've bitten someone before or there was a previous attack." Although Alabama is strict liability for civil recourse; it's a one bite free state for criminal recourse. There is no provision to "blame the deed" or "blame the owner." This is a rotten, rotten case and as you mention, another case this year involving a HOARDER.

cravendesires | 11/18/2010 3:01 PM | Flag
i need an interpreter.

whose dog got into a fight with whose dog on whose property? and whose property was cason on when he was killed?

it sounds like the boy was in his yard. how can you be in the wrong place at the wrong time on your own property?

far too many pronouns in this article to be completely sensical.

and can anyone explain to me why anyone in the united states outside of an indian reservation is allowed to own 12 dogs and not chain or kennel them? some of these attack details read like they occurred in a third world country.

truthbird | 11/18/2010 4:51 PM | Flag
Someone left this comment:

Posted by OutragedAmerican on Nov. 17, 2010 - 7:28 p.m.
"This is an outrage. "the dog got into a fight with the Neighbor's dogs?" Uh NOOO
The neighbor's ELEVEN dogs came onto this little boy's PRIVATE property and mauled him and the dog that was PROTECTING HIS BOY and his PROPERTY.
"SOMEHOW'????????? No. The owner was NEGLIGENT and allowed his dogs out to COMMIT A HOMOCIDE.
"The little boy was in the wrong place at the wrong time?" ARE YOU KIDDING ME? HE WAS IN HIS YARD. He was not collateral damage - HIS CLOTHES WERE RIPPED OFF. He was the targeted prey of these maurauding dogs.
So Phenix City puts dog owner's rights over the rights of the child, the rights of his family, the rights of private property?
Where are the interviews with neighbors? Why do we not know what kind of dogs these were or if this was a breeding operation. Were these fighting dogs?
CHARGES SHOULD BE BROUGHT AGAINST THE DOG OWNER.
This is the USA. We are not savages. We respect and cherish our children, not to mention the sanctity of a person's private property.
WE DO NOT PUT THE RIGHTS OF DOG OWNERS OVER CHILDREN!"
--
http://www2.wrbl.com/news/2010/nov/16/officers-wrapping-investigation-dog-attack-killed--ar-1098186/

truthbird | 11/18/2010 5:00 PM | Flag
Cason Lange Bryant June 24, 2005 - November 15, 2010 PHENIX CITY, AL— Cason Lange Bryant, 5 of Phenix City, AL went home in the arms of our Lord on Monday, November 15, 2010 at his home in Phenix City. Funeral services will be held 11 am EST Friday at Vance Memorial Chapel in Phenix City with Dr. Ray Cummings officiating. Interment will follow at Lakeview Memory Gardens. The family will receive friends this evening (Thursday) from 5 to 8 pm EST at the funeral home. Cason was born June 24, 2005 in Columbus, GA to Ray Edward Bryant and Jennifer Alicia Marchant Bryant of Phenix City, AL. He was a kindergarten student at Philadelphia Baptist Church in Smiths Station. Cason and his family attended Golden Acres Baptist Church in Phenix City. He enjoyed spending time with his sister, Madison and playing video games. Cason had many hobbies as a very young boy, his favorite was T-Ball and all kinds of water sports...

http://www.legacy.com/obituaries/ledger-enquirer/obituary.aspx?n=cason-lange-bryant&pid=146682860&fhid=10431#ixzz15g4y5dlY