Tuesday, August 5, 2008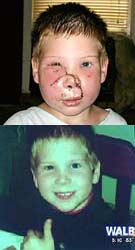 Victim Returns Home
UPDATE 08/05/08:
Larry Pullen is home from the hospital after being viciously attacked by the neighbor's pit bull. He no longer looks like he once did. WALB reports that the photos of Larry before the surgery were too graphic to show. Larry lost seven pounds while at the hospital and is currently eating only baby food.
The parents had wanted him to start kindergarten this week; this likely will not happen. The parents also say the attack is straining their finances. They can barely afford the gas to get to Larry's doctors, much less his medical bills. We hope the pit bull owner is not judgment proof. Fortunately, the dog owner and "dogsitter" have been charged.
08/02/08:
5-Year Old Boy Gets 200 Stitches
Ty Ty, GA - A five-year old boy is recovering after more than four hours of reconstructive surgery to repair wounds from a pit bull attack in his own front yard. The boy is currently at the Central Georgia Children's Hospital. Jackie Medders, the boy's grandmother, said she watched in horror as her grandson was attacked by a pit bull.
"He come just like mad -- and I just curled up over the baby," said Medders.
Five-year-old Larry Pullen, Jr. and his two-year old brother Tony were playing outside in the yard. Their dad, Larry Pullen, Senior was next door cutting his neighbor's grass when he heard the screams. "It ripped from here, all the way down, it took his whole face off," said property owner Lisa Wallace.
After getting the boy away from the dog, Mr. Pullen realized his younger child was missing, only to find him steps away from the pit bull. His arm was chewed up pretty bad trying to save his two year old. But the dog didn't stop there. He then charged the officers on the scene. After several gun shots, the dog finally went down, and died. By this time, little Larry Jr. had already been rushed to the hospital.
"I made a decision, the dog had his three year shots, but since the child was bitten in the face, we made the decision to take it to diagnostics lab to have it tested for rabies," said Regina Wells, Animal Control Officer. But there are still questions about how the dog
got out
of the house. "It was shut, the backdoor was shut. There was no way the dog was going to get out," said Matt Kelly, (the dogsitter).
The dog's owner has been out of town for over two weeks. Matt Kelly was left as the babysitter, and now has three citations regarding the incident. It is unknown whether the "dogsitter" will be liable for little Larry's massive medical bills. Medders is still shaken up after lying over her grandson, trying to protect his life. "It was just an instinct that I didn't want him to die. He had done enough," said his grandmother.
Related articles:
07/25/08:
Pit Bull Mauls Wilkinsburg Child
07/16/08:
Baseball Bat Stops Pit Bull Attack in Gary

Please donate to support our work
DogsBite.org is a 501(c)(3) tax-exempt public charity organization. Learn more »
posted by
|
permalink
|
5 comments
|

email
|

blog rss
|

comment rss

5 comments:

Anonymous | 8/03/2008 8:06 PM | Flag
Here is another case of a child bitten by a pit bull...the family was walking their newly adopted pit bull, when the child stepped on an ant pile, and began screaming and flailing about...so the dog mauled him.

http://www.abcactionnews.com/news/local/story.aspx?content_id=066b591b-25dd-4fa4-b291-583aef94f153

Its time to hold shelters accounatble for placing these ticking time bombs into the community as "pets".

Anonymous | 8/06/2008 5:31 AM | Flag
Ticking time bomb is an overused term, I prefer...

"Canine IED"

Anonymous | 8/06/2008 5:45 AM | Flag
"It was shut, the backdoor was shut. There was no way the dog was going to get out," said Matt Kelly, (the dogsitter).

Perhaps Matt is now aware that Pit Bulls are 14 times more likely to break containment and attack compared to other breeds. This should be part of Dogsitting 101 curriculum.

Anonymous | 8/06/2008 12:08 PM | Flag
Another kid bitten by the family dog who has never exhibited aggression before:

http://toledoblade.com/apps/pbcs.dll/article?AID=/20080806/NEWS03/592968083/-1/NEWS

Anonymous | 8/06/2008 3:13 PM | Flag
This little boy quite likely has nerve damage to his face, and could face a lifetime of painful reconstructive surgery which will never repair the damage. Because of a dog.