Tuesday, April 8, 2008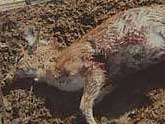 Pet Deer Farm Suffers Massive Loss
Quincy, IL - Three pit bull mixes, killed more than 30 pet deer in a pen. Authorities are trying to determine if the dogs' owner ought to be held responsible. The herd was valued at 40-60 thousand dollars. After discovering the carnage, the farm owner said, "it looked like a massacre."
Dee Leonardi said, "I just kept looking thinking okay, there is a few dead, there's a few dead, and then there were more and more and more, it was just devastating to see all of them. "
Three neighboring dogs, all pitbull mixes, got into the pen at night and killed 34 of the 36 deer. Capt. Jimmy Shinn said that it was devastating to arrive on the scene. He said it was pretty evident, that "it wasn't animals that were hungry, that were looking for something to eat, it was basically a slaying is what it was."
With the fence being up to eight feet tall, the deer couldn't escape. The Leonardi's bedroom window is only 50 feet from the pen, but they didn't hear any noise. The family has been raising deer for eight years. The herd was valued at 40-to-60 thousand dollars. They had hoped to sell a few to build a college fund for their children.
Joe Leonardi shot and killed the three dogs and will not be charged, the decision has not been made whether the dog owner will be charged.

Please donate to support our work
DogsBite.org is a 501(c)(3) tax-exempt public charity organization. Learn more »
posted by
|
permalink
|
8 comments
|

email
|

blog rss
|

comment rss

8 comments:

schultz | 4/08/2008 2:48 PM | Flag
i didn't think it was possible to top the murder of 14 goats in texas.
i bet you pit bull owners are proud. there isn't a dog breed/dog type that can touch the world records your piranha dogfish set.

i would like to see the leonardis sue this f*@%!n* a$$h0!@ pit owner for everything he owns. hopefully by this time next year, the moron will be living under bridge or better yet, taking a dirt nap himself. this should be a capitol offense. the death penalty is under rated and under utilized.

Anonymous | 4/08/2008 7:04 PM | Flag
2000 rabid malteses could have done this too.

Former Boy Scout | 4/08/2008 7:58 PM | Flag
These useless, piece of crap pit bulls wiped out this man's business but the decision has not been made whether the dog owner will be charged? What the hell?!!! What else do they need to know?!!!

David | 4/08/2008 8:58 PM | Flag
Something like this would just have to make a person sick.
The mayor of our town "Wabash IN" said he thought you could make a poodle mean. It is very sad to see this happen. I know we are going to do all we can to bring this to stop.

Anonymous | 4/09/2008 5:39 AM | Flag
Ya'll don't get it...The supposed good traits found in Pit Bull are caused by genetics. The countless mauling episodes are caused by lack of nurturing!

David | 4/09/2008 6:04 AM | Flag
schultz
I will be leaving him a copy of the news story today. I'm going to tell him just what you just said. I'll leave off the part about being an idiot, I'm sure he already knows I think that.

Paul Kersey | 4/09/2008 10:06 AM | Flag
This type of dog has outlived its usefulness.

David | 4/09/2008 8:46 PM | Flag
I left 5 copies of this story around town this morning. Along with a "Staying Safe From Dog Attacks" flyer at each place.