Thursday, February 28, 2008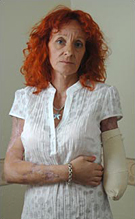 Rottweiler Tears Off Woman's Arms and Devours Leg
UK - Mandy Peynado lay face down frozen in terror as a rottweiler began eating her alive. She could feel his teeth crunching into her bones as he chewed her arm off. When he finished with that limb, he started on another. Today Mandy, 48, speaks about her 90-minute nightmare for the first time.
"I didn't scream despite the pain -- because that would have made things worse. I just focused on trying to stay alive throughout it all. I said to myself, 'I'm not dying today, not here and not in this way'."
Her terrifying ordeal began one morning in December of last year as she worked alone at the kennels. Mandy shudders as she recalls, "I let this dog Diesel out to go to the toilet. Diesel had never shown any signs of aggression before. He was obedient. He would heel or sit when you asked him to. You could pat him and tickle his tummy.
Diesel was apparently used to his morning routine until a "switch-click" occurred. It started by a strong tug on Mandy's sleeve. There was no snarling, no barking, no noise, she said. He had my sleeve and his weight pulled me to the ground. I thought he was playing. But as I struggled to get to my feet he plunged his teeth into my arm.
"He started to really yank it about. I don't know if it was pulled out of the socket but I heard it crunch. It was all done so quietly. I was just trying to stay calm and not scream. I knew no one was around to hear."
She prayed to stay alive until the first customer was due -- one hour and ten minutes later. After the dog tore off her arm, he dragged her 50 yards across the grass. All the other dogs, still locked in their kennels, were barking. Mandy said they were going crazy -- she knew they wanted to help her. That's when Diesel went for her other arm.
He ripped away at her armpit. But the worst of it, she said, was the crack of her bones being crunched. The rottweiler then began dragging her again; out of sight of the office. Mandy knew if help arrived no one would see her. So she hooked her legs round a flowerpot to prevent the dog from dragging her any further. Yet this only made the dog drag her and the flower pot.
A short while later, as he started in on Mandy's leg, he "switch-clicked" back, stopped the attack and padded away. At 9.50am, a customer arrived and saw Mandy's crumpled body lying in a heap. The rottweiler -- who was later put down -- was sitting quietly in a corner at the time. Mandy was taken by air ambulance to nearby Salisbury District Hospital. He left arm was a mangled stump but a top team of surgeons managed to save her right arm.

Please donate to support our work
DogsBite.org is a 501(c)(3) tax-exempt public charity organization. Learn more »
posted by
|
permalink
|
4 comments
|

email
|

blog rss
|

comment rss

4 comments:

Anonymous | 2/28/2008 6:47 AM | Flag
It's cockerspaniels and Chihuahuas that you have to really watch for!

Dee | 2/28/2008 2:49 PM | Flag
Good GOD! Good GOD!

Anonymous | 12/21/2009 5:31 AM | Flag
What an amazing woman! I would have screamed and cried and probably died! She is remarkable.

4af37614-9308-11e0-9304-000bcdca4d7a | 6/09/2011 9:21 PM | Flag
"Good GOD!" is right! After reading this truly...TERRIFYING account, I left compelled to comment about it, but words fail me...

I have never wondered what it would be like to be a prey animal being attacked and eaten by a terrifying and alien predator. Dear lord, I suddenly empathize with what our ancient ancestors must have gone through. I'm not saying that to be funny...I mean, this story has shocked and unnerved me at a very deep level.

I wish Many Peynodo all the best. I hope she has access to good medical care and support. Oh Liebchen, I wish I could think of something better to say...