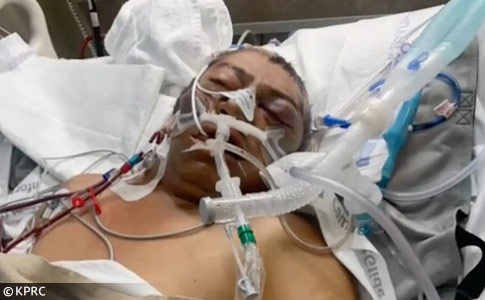 Nicolas Vasquez died after suffering multiple amputations due to a severe dog attack.
Man Dies of Injuries
Huffman, TX - A man died Sunday after being attacked by three loose dogs on June 9 in northeastern Harris County. Before his death, doctors were forced to amputate both of his lower legs. Calvin Stoy, a neighbor, heard dogs barking and the moans of a man just after 9:00 pm. Stoy found Nicolas Vasquez, 51, lying in a ditch off Havard Road. "Both legs were torn up bad, hands and arms. He had bites on his head. He was in really bad shape. He lost a lot of blood," Stoy said.
A GoFundMe was established for Vasquez, who was known by friends as "Mickey." On the night of June 9, "Mickey was brutally attacked and almost eaten alive by 3 aggressive dogs as he was on his way home from the neighborhood corner store as he's done for years," states the fund's organizer. "As a result of this dog attack he's lost both of his legs, currently on life support fighting for his life in the ICU, waiting for a liver transplant due to organ failure," states the fundraiser.
A June 21 update indicated that Mickey had passed away. According to his sister-in-law, Maria Castillo, this was the second time the same dogs attacked Vasquez this month. Harris County Animal Control seized all three dogs. The Harris County Sheriff's Office reported they found a hole in the owner's fence and the dogs had blood on them. Four days later, Sheriff Ed Gonzalez asked the public for help with the investigation of Nicolas Vasquez's vicious dog attack in a Tweet.
@HCSOTexas needs your help with the investigation of a dog attack of Nicolas Vasquez. Mr. Vasquez was attacked by three dogs on Thursday June 9, 2022 and is in critical condition. The attack occurred at the intersection of Havard Road and Knoll Lane in Huffman. 1/2. If you or anyone you know has had any interaction with the dogs or the dog owners please contact Deputy Turner with the Harris County Sheriff's Office Violent Crime Unit. 2/2 - Sheriff Ed Gonzalez, June 13, 2022
A person on the Huffman-Talk Facebook group announced his death on June 19. Kelly Vasquez, the victim's niece, told KRIV that by the time Stoy found her uncle lying in the ditch, "[the dogs] pretty much were eating him at that point." Vasquez suffered bite injuries all over his body. After both lower legs were amputated, doctors had to amputate one of his arms too, she said. "His body couldn't take it anymore," she said. Kelly's mother, Castillo, hopes for "justice from the law."
By June 20, news reports indicated that one dog belonged to one neighbor and the other two dogs belonged to a different neighbor. It was the latter pair of dogs that had bitten Vasquez on the ankle less than two months earlier. Stoy and Kelly said the dogs had a history of chasing people and being aggressive. The Harris County Sheriff's Office said that investigators will meet with the Harris County District Attorney's Office to determine if any of the dogs' owners will be charged.
By June 21, one of the dogs began being identified as a Labrador-mix. Despite neighbors saying these dogs had been an ongoing problem, Harris County officials said they had no previous reports on the dogs. In 2020, Veterinary World published a study of risk factors for dog bites in unincorporated Harris County, which includes Huffman. Pit bulls had the greatest frequency of bites (25.07%), and the greatest frequency of severe injuries (49.57%), the study found.
There were 6683 dog bites reported to HCVPH between the years of 2013 and 2016, with stable incidence rates over time. The incidence was highest for both children and older adults. Dogs with the primary breed of Pit Bull had the greatest frequency of bites (25.07%), with the second highest breed being Labrador Retrievers (13.72%)...

Dog sex, dog breed, and confinement status were all found to be significant predictors of severe injury in the multivariate logistic model ... Pit Bulls had the greatest frequency of severe injuries (49.57%), followed by Labrador Retrievers (12.92%) and German Shepherds (7.69%). The odds of a severe injury by a Pit Bull is 213% higher than the odds for dogs of all other breeds (excluding German Shepherd and Labrador Retriever)....
---
---
---
Join Texas Dog Bite Victims' Advocacy - Join our Texas email list to stay informed
View the DogsBite.org Google State Map:
Texas Fatal Pit Bull Attacks
.
Related articles:
03/22/22: 2022 Dog Bite Fatality: 4-Year Old Boy Killed, Relative Injured in Dog Attack in Baytown
11/23/21: 2021 Dog Bite Fatality: Houston Police Suspect Woman, 48, Killed by Own Dogs
---
Baseline reporting requirements:
Law enforcement departments across the United States should release consistent "baseline" information to the media and the public after each fatal dog mauling,
including these items
.