Victim Called Pit Bull a "Cane Corso" and "Bandog" on Social Media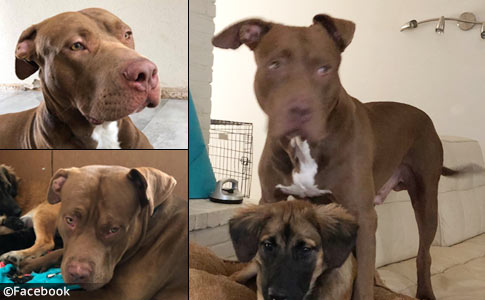 Images from the victim's social media pages also identified this dog a "red nose" pit bull.
Dog Mauling Suspected
Houston, TX - A 48-year old woman was discovered dead in the yard of her home at 12410 Rockampton Drive last Friday at 10:50 am. The victim was identified by Houston Police as Tiffany L. Frangione. Homicide detectives W. Huff, J. Nguyen and J. Wallschlaeger reported that patrol officers responded to a call of a deceased person at the residence and found Frangione in the backyard. "She had suffered puncture wounds to her neck," according to a release by police.
The preliminary investigation indicated that Frangione let her dogs out into the backyard and they began fence fighting with the neighbor's dogs. It is suspected that Frangione attempted to intervene and was possibly attacked and killed by her own two dogs. The Harris County Institute of Forensic Sciences has ruled the death accidental and listed the cause as "blunt force trauma of the neck with penetrating injuries and mechanical asphyxia," reported the Houston Chronicle.
Though police have not released the breeds of dogs involved, KHOU reported them to be a female "Alaskan husky-mix"1 and a male "cane corso-mix." That information may have come from Frangione's Facebook page, where she mislabeled her own dog while trying to unload some puppies. The male dog, as seen on the owner's Facebook page, is predominantly pit bull. This dog is not predominantly cane corso (mastiff), as is evident in the UKC and Italian breed standards.
As we have stated in numerous previous posts, a designer "XL" pit bull, or large pit bull, has become the de facto standard for many pit bulls, thanks to the unhinged and unmoderated "American bully" breeding community. Just being a large pit bull, in no way means the dog is not predominantly pit bull. This case bears resemblance to the 2019 mauling death of Morgan Crayton, 31, who was killed by her pit bull that Hampton police identified as a "92-pound pit bull."
Instagram Page
The male dog at issue, "Rachirius Maximus," has its own Instagram page as well. This dog was born on January 13, 2018. The Instagram handle is @rachiriusthebandog, which is nothing more than a pit bull-mastiff mix. A "bandog" has nothing to do with a pure bred mastiff, including a pure bred cane corso. This large red-nose pit bull-mix may very well be the product of a pit bull-mastiff breeding, but that does not change the fact that the dog is predominantly pit bull, not a mastiff.
The Instagram page also indicates that "Rachirius Maximus" had issues with the neighbor's dogs and the fencing, hashtags #rednosebaby #meanneighbors and #alliwanttodoisplay There is no "mastiff" or "cane corso" hashtag present. Another post shows "Rachirius Maximus" lying down by the wooden fence. "Not Happy With My Human... She Made The Neighbors Fix The Fence!! No longer can see Thru," states Frangione. Hashtags #fenceissues and #imuptosomething.
Frangione also posted about the background of this dog on August 28, 2018. "I Came to the United States With My Two Brothers All The Way From Dubai. I Was Brought to Silently Guard A Sheiks Compound. But Found Myself Conflicted Between the job I was Hired To Do and My Loving Kind Nature. I Chose to Leave My Past Of High Profile Bodyguard Duties and and start my New Life Loving and Protecting My New Masters." [sic] Hashtags #dubaiborn #rednosebaby.
Owner-Directed Fatal Attacks
Over the 16-year period of 2005 through 2020, at least 568 Americans were killed by dogs. 81 of those deaths involved an owner-directed attack, when a dog killed its primary caretaker. Pit bulls were responsible for 62% of these deaths. The combination of large molosser breeds -- pit bulls, rottweilers and mastiff-type guard dogs and war dogs, the types used to create "baiting" bull breeds and fighting breeds -- were responsible for 79% of these owner-directed fatal attacks.
1
It is also unclear why the other dog -- which has a full black mask and ears that do not resemble husky ears -- is being called a husky-mix, as opposed to a type of shepherd-mix.
---
Join Texas Dog Bite Victims' Advocacy - Join our Texas email list to stay informed
View the DogsBite.org Google State Map:
Texas Fatal Pit Bull Attacks
.
Related articles:
06/01/21: 2020 U.S. Dog Bite Fatality Statistics - Discussion Notes
06/10/20: Pit Bull Described as 'Mild-Mannered' Brutally Kills Female Owner in Nova Scotia
09/30/19: 2019 Dog Bite Fatality: Woman Killed by Her Own Pit Bull in Virginia
---
Baseline reporting requirements:
Law enforcement departments across the United States should release consistent "baseline" information to the media and the public after each fatal dog mauling,
including these items
.