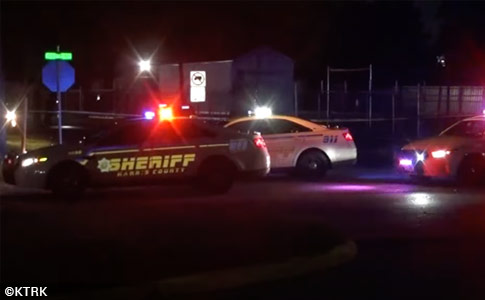 Police suspect that a man found dead Friday in Channelview was killed by dogs.
Man Found Dead
Channelview, TX - A man found dead near his bicycle early Friday morning is believed to have been killed by dogs. Harris County Sheriff's Office (HCSO) investigators said the body was found at about 1:00 am in the 15700 block of Garlang Street near Sheldon Road in Channelview, an unincorporated area in Harris County. Investigators said the man had multiple dog bite wounds on his body. The man was described as Hispanic and between the ages of 30 and 40-years old.
An autopsy will be conducted by the Harris County Institute of Forensic Sciences. There were no witnesses to the attack, police said. Detectives are asking area residents to review their surveillance cameras for evidence of the attack. Dogs are known to roam the area. "This area is known for having lots of dogs. I haven't seen any recent reports, but it is known to have stray dogs in the area," HCSO Homicide Detective Wallace Wyatt said during a press conference Friday.
KHOU spoke to neighbors who said they believe they know where the dogs came from. There have been multiple close calls with pit bulls coming from one house that is close to the attack site. Jerry Davila said the same pit bulls have come over to his restaurant. "They go look for food around our dumpster and we chase 'em off. Now, they're getting to where they attacked him. They've never attacked anybody. Now they have," said Davila, owner of El Tejano Restaurant.
Back in June, Nicolas Vasquez, 51, died after being attacked by three pit bull-mixes in Huffman, also an unincorporated community in Harris County. In 2020, Veterinary World published a study of risk factors for dog bites in unincorporated Harris County. Channelview and Huffman were in the top ten highest incident rates for dog bites. County-wide, pit bulls had the greatest frequency of bites (25.07%), and the greatest frequency of severe injuries (49.57%), the study found.
Also, "a strong correlation between dog bite incidences and stray dogs was found after controlling for the human population and income," states the study. The "stray dog admissions" map by zip code shows that Channelview was in the highest level of stray admission (the darkest purple). In the study, any dog without an owner ID on its bite case record was considered to be stray. Overall, stray dogs had a significantly fewer percentage of severe injury bites than non-stray dogs.
---
A look at the incidence and risk factors for dog bites in unincorporated Harris County, Texas, USA, Hasoon BC, Shipp AE and Hasoon J, Veterinary World, 2020 Mar; 13(3): 419–425
Related articles:
07/22/22: 2022 Dog Bite Fatality: Man Killed by Pack of Pit Bull-Mixes in Fort Bend County, Texas
06/28/22: 2022 Dog Bite Fatality: Man Dies After Dog Attack in Unincorporated Harris County
---
Baseline reporting requirements:
Law enforcement departments across the United States should release consistent "baseline" information to the media and the public after each fatal dog mauling,
including these items
.