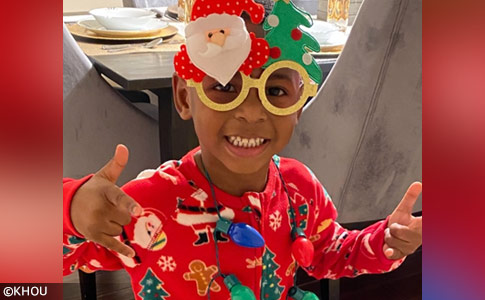 Pit bulls killed Drué Parker and injured a family member in a violent dog attack in Baytown.
Child Identified
UPDATE 03/22/22: One month after a 4-year old boy was killed by pit bulls while visiting his aunt's home, his mother identified him and spoke publicly to the media. Daijah McClay said her son, Drué Parker, had stayed with his aunt for the night at her home in the Bramor Subdivision. He was supposed to return home the next day. But just after waking up that morning, he encountered the pack of pit bulls living at the residence. Daijah said the dogs belonged to the aunt's husband.
"He just woke up," McClay said. "He was looking for my little cousin. She wasn't in the room. He opened the door. She was feeding the dogs as soon as you open the door. They said she told him to go back in the room," McClay said. That is where the attack began, before moving outside. Surveillance cameras from a neighbor captured the horrific mauling. "One jumped on him. Another one, and another one," McClay said. Animal control euthanized all four dogs after the attack.
The attack occurred around 7:40 am on February 23. Drué was rushed to Baytown Hospital, where he later died. Yahir Martinez witnessed part of the attack and called 911. "The kid was in the dog's mouth," Martinez stated at the time. "That's what those dogs are meant to do. Lock their jaw. They bite and they lock their jaw. Once they do its difficult for you to get them to unlock their jaw." Another neighbor said the pit bulls could not be removed until the little boy stopped moving.
---
02/23/22: Child Killed by Pit Bulls
Baytown, TX - A 4-year-old child is dead after being attacked by dogs at a residence this morning, Baytown police said. First responders were dispatched to a home in the 2700 block of Massey Tompkins Road at about 7:40 am for reports of a dog fight. Arriving officers found that a 4-year old boy had been attacked by the dogs. Emergency medical care was administered at the scene before the child was transported to Baytown Hospital, where he was later pronounced dead.
"Today, Baytown police officers worked a call that every officer dreads, the death of a child. We are heartbroken for the loss of this child. Our thoughts and prayers are with everyone in the community who has been impacted by this tragedy," said Baytown Police Chief John Stringer. A relative, who intervened to help the child, was also injured. The child that was killed by the dogs had been staying at the residence, police said. Animal control seized the multiple dogs involved.
Baytown Police and Fire audio archives at Broadcastify.com indicate the attack occurred at a home in the Bramor Subdivision. The dispatcher tells Fire and Police, "Pretty hysterical caller [saying] pit bulls killing each other," she said. "There is supposed to be five of them," she said. "They are concerned about the children going to the bus stop soon." Also, "It sounds like possibly one of the neighbor's stabbed one of the dogs." No other information has been released.
Evening Updates
KPRC spoke to Yahir Martinez who witnessed part of the attack and called 911. Martinez was shaken by the attack. "Being a baby and having pampers on, it was jaw-dropping," he said. "I guess part of his face was missing, that's what really got me." Neighbors described the four dogs -- two adults and two puppies -- as pit bulls that were known to be friendly. KPRC also showed home surveillance video that captured one of the pit bulls two minutes before the fatal attack.
KTRK also spoke to Martinez. He had just arrived at his boss' house when he heard a woman scream next door. "I did not hear the baby. The baby was totally unconscious. All you hear is the dogs growling and like biting. She was really upset," he said. "She did not know what to do." The child was the woman's nephew, who had been staying at the residence. KTRK also reported that the vicious attack was captured on the surveillance camera but was "too troubling to air."
---
Join Texas Dog Bite Victims' Advocacy - Join our Texas email list to stay informed
View the DogsBite.org Google State Map:
Texas Fatal Pit Bull Attacks
.
Related articles:
11/23/21: 2021 Dog Bite Fatality: 48-Year Old Houston Woman Mauled to Death by Her Own Dogs
07/19/21: 2021 Dog Bite Fatality: Woman, 59, Killed by Pair of Family Pit Bulls in El Paso Home
---
Baseline reporting requirements:
Law enforcement departments across the United States should release consistent "baseline" information to the media and the public after each fatal dog mauling,
including these items
.