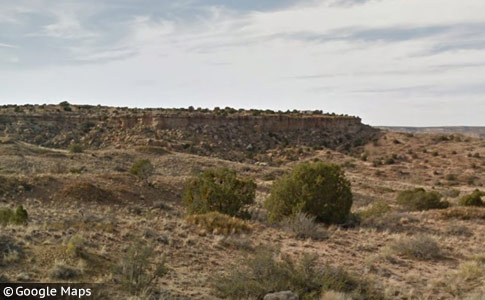 In mid-June, a person was killed by a pack of dogs on the Hopi Reservation.
Media Release
Village of Hotevilla, AZ - Another person has been killed by a pack of dogs on a U.S. Indian reservation. The fatal dog mauling occurred last weekend on the Hopi Reservation, which constitutes a land area of 2.5 thousand square miles and is surrounded entirely by the Navajo Nation. This death occurred less than two weeks after we published about this issue: Escalating Fatal Dog Maulings on Tribal Lands - Have Covid-19 Conditions Been a Contributing Factor?
"This latest attack is one of several over the past few months that include dog bites, amputation, and in this latest case, injuries so severe they lead to the victim's death," states a June 13 release by the Hopi Tribe's Department of Public Safety and Emergency Services. Tribal officials will not be releasing the victim's identity, age or gender. At the very least, the Hopi Tribe confirmed the person was killed by dogs, tribal authorities at the Wind River Reservation won't even do that.
The release also addresses Ordinance #61, which passed in 2016 and addresses small animal bites and attacks, preventing the spread of disease, and educating responsible pet ownership on the Hopi Reservation. Unlike the Navajo Nation's new ordinance that specifies criminal charges, including prison time for certain offenses for dog owners, the Hopi ordinance only has civil penalties and fines. The ordinance was published in the Hopi Tutuveni on October 17, 2017.
"A tragedy such as this affects our entire Tribe both on and off the reservation," said Hopi Tribal Chairman Timothy Nuvangyaoma. "It has also led us to develop a calculated response in enforcing the Hopi Animal Control Ordinance to help prevent occurrences from ever happening again."

The "Hopi Tribal Ordinance #61, Sub Section 8.00 Animal Bites" address the threat created by animals who are not restrained, and Sub Section 14.00 Disposition of Vicious Animals" allows for the euthanizing of unwanted dogs that roam the Hopi communities, in order to ensure safety of all residents. - Press release, The Hopi Tribe, June 13, 2022
Notably, the ordinance allows for "free roaming dogs and cats" on tribal lands. Subsection 12.00 states, "Registered dogs or cats may lawfully roam free on the Hopi Reservation, provided that their vaccinations and registration are current, there is no pending complaint about the animal on file with the Animal Control Officer, and the animal has not been found to be vicious or in heat." Pet owners are encouraged to have their dogs and cats vaccinated and spay and neutered.
In April 2022, an article in the Hopi Tutuveni asks, "Reservation Dogs -- Is this another Epidemic-like Situation on Hopi?" The article points out the "free roaming dogs and cats" part of the code and urges the passage of a new ordinance. "Some of the uncontrolled reservation dogs are forming semi-wild packs which are starting to attack family pets and residents," states the article. "It will only be a matter of time before someone is seriously hurt or killed by the wild pack dogs."
Kykotsmovi, Ariz. – March 31, 2022 "Reservation Dogs" is not just a popular TV series but it is an actual term used by some Natives living on the reservation. This term also describes a dog which wanders around the reservation with no care, has no home, no food, no water, and no master or anyone to care for them. And these dogs seem to survive the longest here on the Hopi reservation. It also seems that every Hopi village could be home to an estimated 50-60 stray dogs which multiplied by the count of 12 villages, could get us up to around 600-720 stray dogs throughout the Hopi reservation. And each month, even more puppies are being born to those same stray dogs. This reservation-wide problem seems to have become an epidemic that Hopi people have dealt with for quite some time even before the current world wide pandemic. - Hopi Tutuveni, April 6, 2022
The publication also contains this article: "Small Animal Control Returns After Two Year Hiatus." Mirroring what occurred on the Navajo Nation during the pandemic years, the Hopi "Small Animal Control Program is back up and running after almost 2 years of dormancy due to the pandemic." Like the Navajo Nation, there was a "dramatic increase" in the reservation's free-ranging dog population due to suppressed animal control and spay/neuter services during the pandemic.
"During the last two years there has been a dramatic increase in the population of owned and unowned dogs that roam the villages and communities posing a potential health and safety risk for spread of vector-borne disease and zoonotic disease and injury through dog bites," said Madeline Sahneyah, Public Health Compliance Program Officer and Manager of the Hopi Small Animal Control Program. "This event is one of many more needed to encourage residents to become responsible pet owners and abide by the requirements of the Small Animal Control Ordinance #61" … "Tribal members can rest assured that we are working on solutions for the dog problem. We are addressing the overpopulation of unowned and unwanted dogs that roam the villages and communities" ... "Residents who live here should not have to be fearful while going for a walk or just to go outside in general because of vicious dogs." - Hopi Tutuveni, April 6, 2022
The death of this individual on the Hopi Reservation marks at least the sixth Native American killed by dogs on a U.S. Indian reservation after the Covid-19 pandemic began, between May 16, 2021 to June 15, 2022. Four of these deaths have occurred in 2022 alone, after two years of uninhibited consecutive dog mating seasons during the pandemic. The only question that remains is how many more Native Americans will be killed by dog packs on reservations by December 31, 2022?
View the DogsBite.org Google Map:
Fatal Dog Attacks on American Indian Reservations
.
---
Learn about breed-specific laws on Indian reservations in our Breed Safety Laws section.
Related articles:
05/29/22: Escalating Fatal Dog Maulings on Tribal Lands - Have Covid-19 Conditions...
03/30/22: 2022 Dog Bite Fatality: 6-Year Old Boy Killed by Dog on Spirit Lake Reservation...
03/29/22: 2022 Dog Bite Fatality: Female Killed by Pack of Dogs on the Meskwaki Settlement...
12/16/21: 2021 Dog Bite Fatality: Pack of Dogs Kill Man on the Northern Cheyenne Reservation
05/29/21: 2021 Dog Bite Fatality: Teenager Killed by Pack of Dogs on the Navajo Nation...
---
Baseline reporting requirements:
Law enforcement departments across the United States should release consistent "baseline" information to the media and the public after each fatal dog mauling,
including these items
.