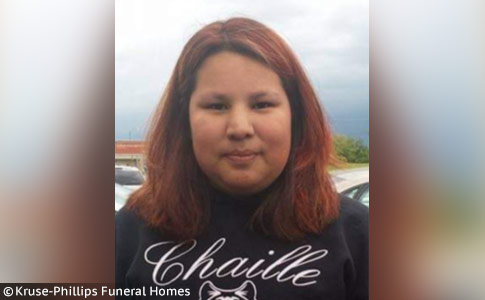 Chaille Morgan, 27-years old, was killed by a pack of dogs on the Meskwaki Settlement.
Woman Killed by Dogs
Tama County, IA - On Monday, the Meskwaki Nation Police Department published a post on Facebook alerting citizens to a fatal dog attack. In "all kaps," the notice states, "There was a vicious dog attack this afternoon by a large pack of dogs that resulted in the death of a young adult female community member. The attack took place in the area of Springs Road. Due to the sensitivity of the situation, MNPD will not be releasing any additional information until a later date."
All of the dogs involved in the vicious attack "have now been terminated," MNPD stated. The location of the fatal dog attack is on the Meskwaki Settlement, close to the Meskwaki Tribal Center, and a mile southeast of the Meskwaki Casino, off of U.S. Highway 30. The settlement is an unincorporated community in Tama County, Iowa, which includes more than 8,000 acres, according to its Wikipedia entry. There are about 800 individuals living on the settlement.
One commenter on the MNPD page, Ray YoungBear, indicates this dog pack was a cause for concern for community members. "I was so afraid of this," he wrote. "Three large-headed ones in the hills" had recently been dispatched too. The term "large-headed" dogs is nearly exclusively used for bully breeds -- pit bull and mastiff-type dogs. Rottweilers could be indicated as well. There are few, if any, functional Rez type dogs today that meet the parameters of being "large-headed."
In December 2021, Duke Little Whirlwind, 58-years old, was killed by a pack of dogs on the Northern Cheyenne Indian Reservation in Lame Deer, Montana. He was found dead, lying face down on a dirt road stripped naked -- the dogs had ripped off all of his clothing. In May of 2021, Lyssa Upshaw, 13-years old, was killed by a pack of vicious dogs on the Navajo Nation in Fort Defiance, Arizona. "Her clothes and pieces of flesh were scattered around," media reports stated.
Mauling Victim Identified
On Friday, the Meskwaki Nation Police Department identified the victim as 27-year old Chaille Morgan, of Tama. The Meskwaki Nation Police Chief also said there were no pit bulls among the pack of mixed-breed dogs that fatally attacked Morgan. The attack happened Monday near the Tribal Center in the area of Springs Road. Her obituary states that she attended South Tama Schools. The large pack of dogs involved in the attack has since been identified and terminated.
View the DogsBite.org Google Map:
Fatal Dog Attacks on American Indian Reservations
.
---
Learn about breed-specific laws on Indian reservations in our Breed Safety Laws section.
Related articles:
12/16/21: 2021 Dog Bite Fatality: Pack of Dogs Kill Man on the Northern Cheyenne…
05/29/21: 2021 Dog Bite Fatality: Teenager Killed by Pack of Dogs on the Navajo Nation...
---
Baseline reporting requirements:
Law enforcement departments across the United States should release consistent "baseline" information to the media and the public after each fatal dog mauling,
including these items
.