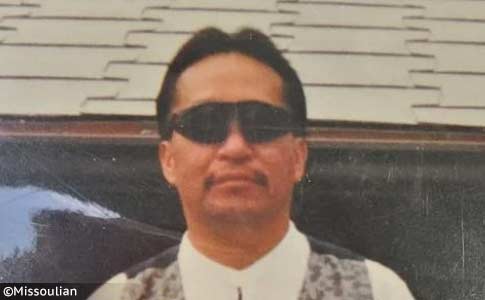 Duke Little Whirlwind, 58-years old, was killed by a pack of dogs in Lame Deer.
Death by Dogs Confirmed
UPDATE 12/16/21: On Tuesday, the Bureau of Indian Affairs (BIA) confirmed that a 58-year old Lame Deer man was killed by a pack of dogs on Tribal land. "BIA officers responded to a call about a man being attacked by dogs, but when they arrived there were no dogs present," the BIA said in a press release. Duke Little Whirlwind, 58, was found dead on a dirt road Sunday. The Rosebud County Sheriff and coroner also responded to the scene, reports the MT Standard.
"Following a preliminary autopsy, it was determined the cause of death was an attack by canines, with drugs and alcohol as contributing factors."
On Thursday, The Missoulian provided more details about Avalee Little Whirlwind's account, Duke's niece, who arrived at the scene with a .22 caliber rifle ready to kill the dogs that took her uncle's life. Her uncle lay lifeless under a tarp on the dirt road. She yelled at the BIA officers, demanding to know why they had done nothing about the dogs circling her uncle's body. At that point, the situation intensified and resulted in BIA officers placing Little Whirlwind in handcuffs.
The officers did nothing about the dogs, according to Little Whirlwind, something members of the Northern Cheyenne Tribal Council confirm. Hours later, when Duke Little Whirlwind's body was removed by the coroner and the officers left the scene, the dogs were left behind to prowl the blood-soaked street.

"They just ran around there all night," Little Whirlwind said.

The next day, the dogs' owners took four of the dogs out of town and shot them. Little Whirlwind said a female pit bull had recently birthed puppies and was the instigator in the attack. She demanded to go see the dogs' bodies and she photographed them. - The Missoulian, AJ Etherington, December 16, 2021
The BIA officers later told Little Whirlwind they understood she was upset and they let her go but confiscated her gun, reports The Missoulian. Little Whirlwind identified the instigator in the attack as a female pit bull that had recently birthed puppies. She photographed the four dogs suspected in the attack that were shot and killed by their owners the next day, including the female pit bull. The BIA continues to assert "there were no dogs present" when they arrived at the scene.
The 2019 Ordinance
Previously, we reported on the 2019 ordinance that the Northern Cheyenne Tribal Council passed authorizing "law enforcement authorities (primarily BIA law enforcement) to eliminate dangerous dogs from the Reservation." The BIA had initially asked for the ordinance as an opportunity to take care of the dog problem, then recanted and "told the Council they could not comply with the ordinance due to federal rules governing the use of their firearms," reports The Missoulian.
Tribal Council member Lane Spotted Elk said the BIA police chief told the Council that any discharge of their service weapons would lead to an internal investigation by the agency and that officers did not want to undergo that, reports The Missoulian. So, the ordinance went unenforced until mid-2021. At that time the Tribe invested in traps and hired personnel to capture the dogs to either take them to shelters or euthanize them. That process is quite slow, Spotted Elk explained.
Ancient Dog Breed Lost
Diane Spotted Elk, also a council member and Spotted Elk's cousin, noted that the long-standing and sacred relationship the Northern Cheyenne people have with dogs was based on a specific, functional dog type that the "Cheyenne people travelled the prairies and mountains with generations earlier." That dog breed or type has been extinct for over a hundred years. Pit bulls, chihuahuas, yorkies, German shepherds and blue heelers are not the sacred dogs, she explained.
---
12/13/21: Man Found Dead in Lame Deer
Lame Deer, MT - On Sunday, Duke Little Whirlwind, 58, was found dead on a dirt road in Lame Deer. His family believes he was killed by a pack of roaming dogs. "My brother George saw him lying there, all of his clothes ripped off, naked," Avalee Little Whirlwind, Duke's niece, told KTVQ. "He was face down, and those dogs were still running around." Whirlwind had stopped a few blocks away to pick up a bicycle, Avalee said. He was found dead by a neighbor shortly thereafter.
Little Whirlwind's body was transported by the Rosebud County coroner to Forsyth late Sunday, then transported to the state crime lab in Billings. An autopsy was scheduled for Monday. Tom MexicanCheyenne, who has lived in Lame Deer for over 40 years, said that despite a Northern Cheyenne tribal ordinance enacted in 2019, law enforcement has not done enough to curb the issue. Bureau of Indian Affairs (BIA) officers, according to him, say it's not their responsibility.
The 2019 ordinance states, "WHEREAS, the Northern Cheyenne Indian Reservation is currently overpopulated with dogs, some of which roam uncontrolled and are dangerous and have attacked people on the Reservation without provocation ... WHEREAS, the Tribe currently does not have adequate funds to administer an animal control program; and WHEREAS, until funds are secured for such a program, the Tribal Council wishes to adopt an ordinance which authorizes law enforcement authorities (primarily BIA law enforcement) to eliminate dangerous dogs from the Reservation." - Ordinance No. DOI-014 (2019)
Avalee said the owners of four dogs, allegedly involved in the fatal attack, shot and killed the animals early Monday morning. Instead of waiting on officials to take action, "They decided to do that themselves this morning, around 6:00-7:00 am," Avalee said. "They showed me the spot, and I took pictures of the dogs they killed. They took them out of town and shot them, four of them, because those dogs had blood on them and they knew those dogs had a part in it," Avalee said.
Perpetual Problem
Back in May, Lyssa Rose Upshaw, 13, was killed by a pack of dogs on the Navajo Nation. Lyssa was found curled up in a fetal position, "her clothes and pieces of flesh scattered around," reported the Navajo Times. Her death came a month after the Associated Press reported that Covid-19 had hindered animal control services on the Navajo Nation, which spans 27,000 square miles. During 2020, the pandemic forced Navajo authorities to shut down three of their four animal shelters.
Roaming packs of dogs -- owned uncollared dogs and abandoned dogs -- are a perpetual problem on many reservations. Cultural beliefs and a lack of resources, such as animal control officers and functional shelters, are often to blame. The lack of spay/neuter services and mobile spay/neuter units to service remote areas are also to blame. As soon as a dent is made in lowering the population of roaming dogs, many new puppies are born and the problem starts all over again.
Dog Owner's Post
One of the dog owners, Limberhand Nolan, posted to Facebook claiming that his dogs are the heroes. Alleging that Duke "got jumped, beat to death and left on side of the road." He continued, "We would of never knew he was there or how long he would of been there. If it wasn't for are dogs who found him and started licking the blood off him. Duke had bruises, he was hit with a weapon. The police report will tell you the same. Just wanted to get the true story out there." [sic].
As if severe dog bite injuries do not leave bruises? Nolan's theory also cannot explain why the man was stripped naked -- a routine occurrence in a fatal pack attack. NorthernCheyenne Elders replied, "Hey dummy take this post down your ignorant for saying this you don't know that I just seen this post the autopsy hasn't been complete yet & those were your dog's. Have some fucking respect !!! They attacked him!!! Licking ?!!! Why does he have to have a closed casket than?" [sic].
View the DogsBite.org Google Map:
Fatal Dog Attacks on American Indian Reservations
.
---
Learn about breed-specific laws on Indian reservations in our Breed Safety Laws section.
Related articles:
05/29/21: 2021 Dog Bite Fatality: Teenager Killed by Pack of Dogs on the Navajo Nation...
01/16/20: 2020 Dog Bite Fatality: Woman Killed by Pack of Dogs on Tribal Land at Taos Pueble
07/23/16: 2016 Dog Bite Fatality: Pack of Pit Bulls Kill Boy on Navajo Nation Reservation
---
Baseline reporting requirements:
Law enforcement departments across the United States should release consistent "baseline" information to the media and the public after each fatal dog mauling,
including these items
.