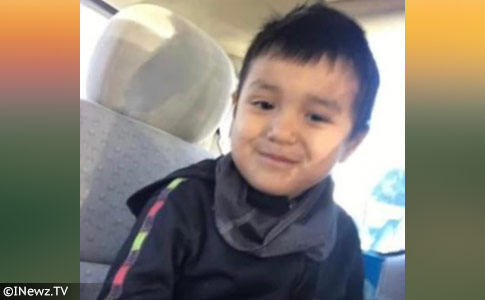 Francis Cavanaugh, 6-years old, was mauled to death by a dog on the Spirit Lake Reservation.
Boy Killed by Dog
Fort Totten, ND - A 6-year old boy is dead after being attacked by at least one dog on the Spirit Lake Reservation, according to investigators. The attack occurred on Sunday, March 27, at a housing development off of Highway 57 in Fort Totten, reports InForum. The FBI is investigating, but declined to release any details. It's unclear if the owner of the dog has been identified at this time. Like many reservations, Spirit Lake has been plagued with roaming dogs for years.
At least 700 dogs found roaming the reservation were taken in last year, according to Tribal Chairman Douglas Yankton. That did not even "dent" the problem, he said. There are so many dogs on the reservation, Yankton added, that it would be impossible to establish a registration system. The boy's dog mauling death occurred one day before a young woman was fatally attacked by a large pack of dogs on the Meskwaki Nation Settlement in Tama County, Iowa.
In December, Duke Little Whirlwind, 58, was killed by a pack of dogs on the Northern Cheyenne Indian Reservation in Montana. In May, Lyssa Upshaw, 13, was killed by a pack of dogs on the Navajo Nation in Arizona. Since 2010, there have been at least 14 fatal dog maulings on Indian reservations nationwide. The persistency of the number of roaming dogs on reservations -- many of which are owned, but un-collared and unchecked, or abandoned -- has deadly ramifications.
Native American reservations often have seriously underfunded animal control resources or lack them all together. The Spirit Lake Reservation only has one animal control employee. Like other tribes across the country, Spirit Lake also has a breed-specific ordinance that bans pit bulls and rottweilers, at least from their housing program. Yankton said that enforcement, however, is problematic. Owners become confrontational and evicting just increases the homeless situation.
Family Speaks to Media
In a video report, iNews TV identified the boy as Francis Cavanaugh. The group spoke to Fallon Greywater, the sister of Francis' biological mother. Fallon and her husband Keith have been the boy's parents since birth. Fallon said Francis was attacked by one dog, which was taken into custody (an unusual scenario, reservation attacks are nearly always pack attacks). Francis was outside with his older brother when the dog attacked. He had played with this dog in the past.
---
View the DogsBite.org Google Map:
Fatal Dog Attacks on American Indian Reservations
.
---
Learn about breed-specific laws on Indian reservations in our Breed Safety Laws section.
Related articles:
03/29/22: 2022 Dog Bite Fatality: Woman Killed by Pack of Dogs on the Meskwaki Settlement
12/16/21: 2021 Dog Bite Fatality: Dogs Kill Man on the Northern Cheyenne Indian Reservation
05/29/21: 2021 Dog Bite Fatality: Teenager Killed by Pack of Dogs on the Navajo Nation
---
Baseline reporting requirements:
Law enforcement departments across the United States should release consistent "baseline" information to the media and the public after each fatal dog mauling,
including these items
.