Judge Orders Pit Bull Owner to Pay Restitution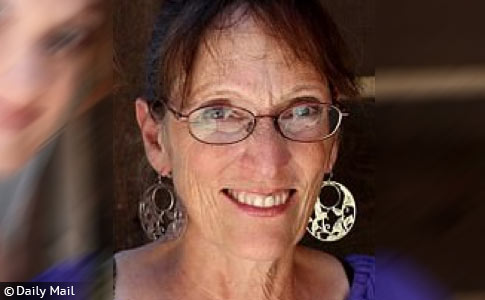 Melissa Barnes, 65-years old, died after being attacked by two pit bulls in Bozeman.
Restitution Ordered by Court
UPDATE 09/13/17: A judge ordered a man to pay $15,500 in restitution to a victim's family after his pit bulls fatally mauled his landlord this summer. On June 24, 65-year old Melissa Barnes was attacked by two pit bulls belonging to tenant Wayne Bartlett. She was airlifted to a trauma hospital in Billings and pronounced brain dead the next day. Barnes was kept on life support for several days longer for organ donation awaiting rabies test results for the dogs; neither were vaccinated.
During a restitution hearing Wednesday, Justice Court Judge Rick West ordered Bartlett to pay $15,504.74 with another $1,046.57 in interest. On July 24, Bartlett pleaded guilty to two counts of owning vicious and dangerous dogs and two counts of failure to have rabies vaccinations in Gallatin County Justice Court. A restitution hearing was scheduled after these proceedings. Bartlett told the Bozeman Daily Chronicle, he had no issue with the amount ordered by the judge.
About half of the amount Bartlett was ordered to pay, $7,000, will go directly toward out-of-pocket medical expenses Barnes' family members "currently" face. Deputy County Attorney Jordan Salo told the Daily Chronicle the amount is minimal. "There are still medical bills coming out, but the family didn't want to prolong this any longer," Salo said. We call it a "pittance" given the cost of an emergency airlift, life saving medical procedures and a delayed length on life support systems.
Not to mention funeral costs and family members who had to disrupt their lives and bank accounts to contend with this horrific sudden loss of life.
Bartlett said he could make a $500 payment each month, which would result in payments for 2.5 years. The first payment is due October 16. What we were not aware of -- we seldom hear about a restitution order of over $2,000 after a fatal dog mauling -- is that "restitution follows you through life," according to Judge West. "You cannot get rid of it through bankruptcy. You cannot get rid of it even if you were to die. The state would have to pay it. So it's not going to go away," West said.
Our hearts go out to Barnes' family members, who will never be the same after this sudden, violent and life-ending mauling by pit bulls that had been living on the victim's property for years. Bartlett may have had allegedly "good" pit bulls before they attacked that day, killing Barnes, but this unpredictability is a well-known trait in the pit bull terrier breed. Bartlett also elected to have a "multi-pit bull household," upping the danger risk exponentially, along with failing to vaccinate.
06/28/17: Mauling Victim Passed Away
On Tuesday, a Bozeman woman donated her organs and was taken off life support after being horribly mauled by two dogs over the weekend. Melissa Barnes, 65-years old, was left brain dead after two pit bulls belonging to a tenant attacked her Saturday. Doctors had to wait nearly three days after she was declared brain dead before taking her off life support because the dogs were not vaccinated. Doctors had to await the rabies tests results before donating her organs.
Our hearts go out to this woman's family. There is no preparation for what they saw in that hospital room; the aftermath of a multi-pit bull mauling.
The attack occurred on June 24 at 5499 Love Lane. The dog's owner, Wayne Bartlett, rented from Barnes and lived on the same property as her for six years. Comments left by Bartlett's girlfriend indicate that she lived upstairs. "She was the landlady upstairs," she wrote. Certainly Barnes was familiar with the pit bulls and vice versa. Bartlett's dogs -- Bane, a 6-year old male pit bull and Kitty, a 13-year old female pit bull-mix -- were put down, allowing the rabies tests to proceed at all.
Neither Bartlett or his girlfriend were home when the attack occurred. Their pit bulls and children were under the care of Bartlett's niece. The children went outside where Barnes was working in the yard and the dogs followed. What shortly ensued was a violent unpredictable pit bull mauling that left a woman dead. The unpredictability and severity of attacks by pit bulls is why over 1,000 jurisdictions in the U.S. regulate this dog breed and worldwide, jurisdictions in over 40 countries.
06/26/17: Victim Brain Dead After Mauling
Bozeman, MT - The Gallatin County Sheriff's Office confirmed a woman was declared brain dead after being attacked by two dogs Saturday. The confirmation comes after conflicting reports earlier today about whether or not she survived her injuries. Melissa Barnes, 65, was pronounced brain dead on Sunday, Sheriff Brian Gootkin said during a press conference today. Both dogs were euthanized and are being tested for rabies. The results of the tests will determine future actions.
The victim is an organ donor. This is why medical officials are waiting on the rabies results, Gootkin said. Neither of the dogs were vaccinated.
Sheriff Gootkin said the attack happened Saturday morning at a home on Love Lane. Barnes was doing yard work at the time. The dogs belong to a tenant that lives on her property. The victim was airlifted to a trauma center in Billings, where she succumbed to her injuries. Gootkin stated that only one of the dogs, a pit bull, has been confirmed as the attacker at this time. It's unclear if another breed was involved. The investigation is ongoing as the family awaits rabies test results.
Late Evening Updates
Late evening news reports identified the dogs' owner as Wayne Bartlett, who seemed genuine in his interview with KRTV. Bartlett was not home at the time of the fatal mauling, but three children, including his niece, were. Bartlett said he and his pit bull "Bane" have rented from Barnes for six years. "She's sweet, she's very hard-working, she works day and night, she's always really kind to me," he said. "My dog Bane has lived here just as long, never really had a problem with him."
Bartlett clarified that his other dog involved in the attack (white and brown dog) is a pit bull-mix.
---
The last time Montana came on our radar was during the 2015 legislative session. Utah-based fighting dog advocates, Best Friends Animal Society (BFAS), drafted a state preemption bill prohibiting local governments in Montana from adopting pit bull laws. SB 239 was sponsored by Senator Douglas Kary. The bill died on February 21, 2015 during its Second Reading. Senior BFAS lobbyist, Ledy VanKavage, vowed to "try again" with the legislation in future years.
Since 2005, there have been two documented dog bite fatalities in Montana. The state has a low population, about a million residents. In February 2006, a rottweiler killed a 4-year old boy in Ulm. The pit bull mauling death of this woman marks the second death. Over the 12-year period of 2005 through 2016, the combination of pit bulls and rottweilers accounted for 76% of all dog bite fatalities in the U.S. Both top killing dog breeds are now represented in the state of Montana.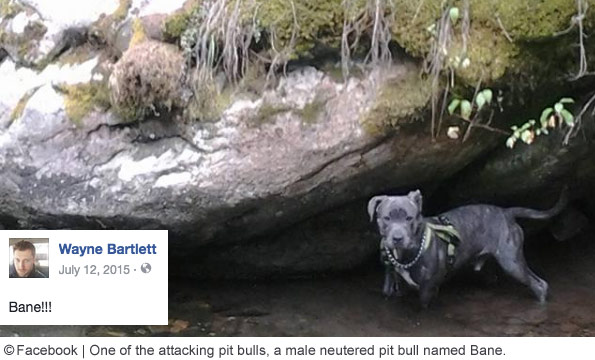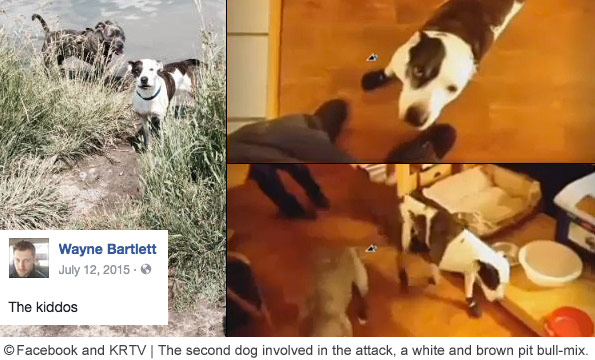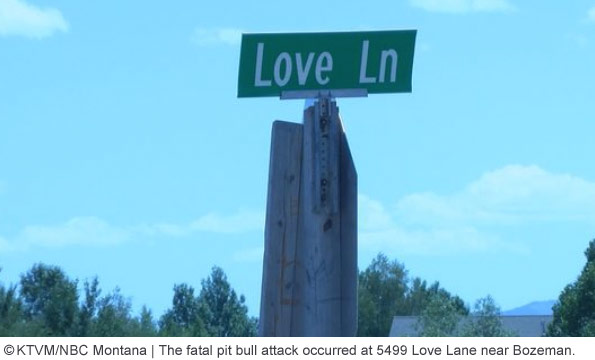 Related articles:
04/20/15: 2015 First Quarter Legislative Highlights: Local Control Dominates...
04/20/15: A Primer on State Preemption Laws and Charts for Advocates