Guest Author Carol Miller's take on pit bulls since she was attacked kicks off Dogsbite.Org's guest author series: Perspectives of Advocates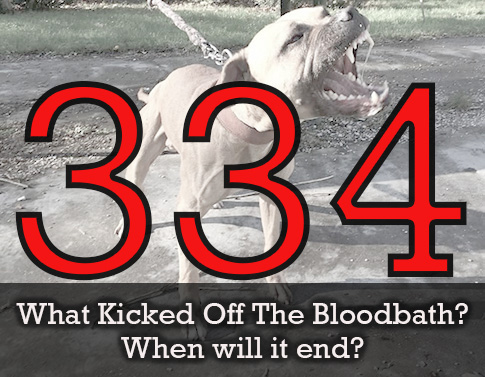 I have a number that I consider significant. Hang in there with me for just a few minutes. That number is how many Americans have been killed by pit bulls since the date of my own attack in 2007. Sadly, that number changes regularly. The number stands at 334 as of November 17, 2020.
That is 334 Americans killed in 13 years. If a manufactured product killed at this rate there would be a massive product recall but elected officials are reluctant to face the rage of breed-specific advocates so the deaths continue at an ever-increasing pace without meaningful regulation.
A great deal of research has been done on pit bull fatalities and that research goes back to the first documented pit bull fatality in the USA back in 1833. From that first fatality in 1833, it took pit bulls 174 years to kill 291 Americans (to the date of my attack) and in 13 years, pit bulls have killed an additional 334 Americans.
What happened in 2007 to kick off this bloodbath? The Michael Vick case brought pit bulls into the public eye and those looking for profit seized the opportunity. The rest is history. The date of my attack is my personal choice but pick any date you like. The numbers don't change much.
Survivors don't get their original peaceful lives back. We live with pain and PTSD. Many live with disfiguring injuries. The 334 didn't get the opportunity to see another holiday season or to see their children grow up.
What is wrong with elected officials who allow this to continue? What is wrong with breed advocates who refuse to acknowledge the suffering they create? What is wrong with those who claim to love pit bulls and continue to breed pit bulls despite the absolute knowledge that the dogs they produce in their back yards have almost no possibility of ending up in a stable and lifelong safe home?
Walk through any city-owned Animal Control facility or private shelter in America and look at the dogs harbored there awaiting the "perfect Owner." Cute little dogs have very short stays but pit bulls languish for months to years because there is no "perfect owner" for dogs that were surrendered for attacking family members or neighbors or killing other pets.
The peaceful public can't have much impact on this situation, only those who love pit bulls can stop the suffering.
Related articles:
Report: Dog Attacks on Livestock and Horses January -May 2008
The Archival Record of Fatal Pit Bull Attacks