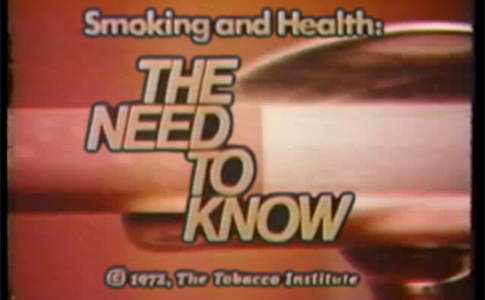 Smoking and Health: The Need to Know -- 1972, The Tobacco Institute.
Smoking and Health: The Need to Know
Have you ever wondered where pit bull propagandists came up with their arguments? Some of them are so kooky, I thought they just made them up themselves. But, after seeing a propaganda documentary produced by the Tobacco Institute it would appear that the pit bull lobby copied their arguments directly from the1970s era tobacco lobby . It seems that defending tobacco is much like defending pit bulls.
Take a look at this 1972 documentary film, Smoking and Health: The Need to Know produced by the Tobacco Institute. The goal was to refute the Surgeon General's 1964 Smoking and Health: Report. The Surgeon General's statement was the first confirmation that smoking tobacco definitely causes lung cancer, emphysema, and heart disease. The Surgeon General's Report reviewed over 7,000 research articles to come to their conclusion.
General background of tobacco research
1939 - First research that found a link between smoking and cancer
1954 - Study finds that heavy smokers had a 40 time greater chance of dying of lung cancer
1964 - Surgeon General's report concludes that smoking causes lung cancer
1972 - Tobacco Institute produced a film to refute Surgeon General's Report
Here are seven arguments the Tobacco Institute used to refute the irrefutable scientific evidence that smoking causes cancer. It seems like the pit bull lobby appropriated these arguments to refute the irrefutable evidence that pit bulls are dangerous. If you watch the entire video, you will find many more arguments that are virtually identical to the arguments the pit bull lobby uses.
Timestamps from Smoking and Health: The Need to Know
2:52 - The narrator practically shouts when he names a list of medical experts we will be hearing from in the film. They will be telling us that cigarette smoking does not cause cancer. When this documentary was produced, there was conclusive evidence that smoking cigarettes caused lung cancer, emphysema, and heart disease. Looking back now, it is easy to see these science hacks were flat out lying.
The pit bull lobby has their own set of experts which they trot out to defend pit bulls. And these experts also should be aware of the yearly death toll inflicted by pit bulls as well as the dozens of published medical studies which all come to the conclusion that pit bulls are far more dangerous than other kinds of dogs. You can find some of these experts on the National Canine Research Council site (owner: Animal Farm Foundation pit bull advocacy group).
6:20 - Many risk factors contribute to heart disease.
While correct, controlled studies had already shown that smokers had a higher risk of heart disease than non-smokers. This argument was copied exactly by the pit bull lobby to hide the fact that pit bulls cause more fatalities than all other kinds of dogs. The NCRC published a paper that describes the "co-occurances", or common "contributing factors" in fatal dog attacks.
Their study found that there were common elements related to fatal dog attacks. For instance, most victims were less able to defend themselves because of their age. Attacking dogs were more likely to be intact. The NCRC ignored that the dog being a pit bull is the leading factor, by far, in fatal dog attacks.
6:50 - The word "cancer" isn't a scientific term because there are many kinds of cancer.
This is obvious nonsense. The term "cancer" is a term for a group of diseases in which abnormal cells divide without control. And smoking is a leading cause of lung cancer.
The pit bull lobby uses the same exact argument. They say the term "pit bull" is meaningless slang because there is more than one breed of pit bull. This argument is so silly that it is surprising that the pit bull lobby did not make this up themselves. The term describes a group of dog breeds that were originally bred for "sport aggression" for the purpose of dogfighting. And pit bulls kill more people than all other kinds of dogs combined.
10:08 - The Surgeon General's large scale review of literature is flawed.
The "experts" first mention the large report that reviews many studies. Then, they shift to criticizing a single study in the report without explaining the shift. They give the impression that the exhaustive report reviewing thousands of research papers is one single study.
The pit bull lobby uses a similar tactic to mislead by ignoring many studies. The AVMA published a supposed literature review from 2014 entitled "Dog Bite Risk and Prevention: The Role of Breed" However, the authors fail to include all recent studies, of which there are many, on the role of breed in aggression, bites, and attacks. Instead, they cherry pick old studies that support their position that breed has no role in the prevalence of bites and attacks. Many of the cherry picked studies are from a time when pit bulls were rare.
13:48 - Since not all people who smoke get lung cancer, smoking can't be the cause.
Doctors know that smoking is a risk factor that raises your chance for getting cancer. Not just a risk factor - the leading risk factor. The hack doctor knows that risk factors increase your risk, they do not guarantee you will get cancer.
The pit bull lobby adopts the same argument. Since not all pit bulls attack, genetics and breed can't be the reason serious and fatal pit bull attacks are so prevalent. This is just as nonsensical as the argument the tobacco industry doctors make. No one has ever said that all pit bulls are going to attack. But pit bulls are indeed much more likely to inflict serious injuries than other breeds.
14:30 Other toxins cause lung cancer, too.
One of their examples is asbestos. In 1960 scientists already knew that asbestos exposure causes a specific kind of lung cancer called mesothelioma. And they knew that smoking does not cause mesothelioma. Bringing up cancers caused by other toxins is completely beside the point. Cigarette smoking was still a leading cause of lung cancer and lung cancer was the most common of all cancers in males in the 1960s.
The pit bull lobby's version of this argument is simple: Other kinds of dogs bite, too. Obviously, though true, the statement is irrelevant because pit bulls are still responsible for 66.4% of all dog bite related fatalities.
17:24 - "Most mortality statistics in the cigarette controversy are based on death certificates, not on autopsies performed." "Death certificates are notoriously inaccurate."
Here it is suggested that deaths attributed to lung cancer were misidentified and that another disease or condition was the cause of death. According to the Tobacco Institute only autopsies are accurate enough to determine lung cancer is the cause of death. However, during the sixties, several studies found that death certificates were largely accurate.
There were discrepancies when death certificates were reviewed after autopsy. But, the discrepancies were not extensive enough to render statistical data unreliable. In addition, doctors were better at diagnosing and recognizing cause of death for some diseases than for others. And, regarding Lung cancer specifically, the discrepancies between death certificates and autopsies represented a substantial under count of lung cancer as cause of death on death certificates. Which means that deaths by lung cancer were under reported, not over reported, by doctors. These studies were available when the Tobacco Institute documentary came out. These doctors knew the truth.
The pit bull lobby's version of this argument claims that news articles and medical records are inaccurate because they misidentify other kinds of dogs as pit bulls in dog attack articles and research. But they offer no proof to support this. The pit bull lobby claims that only DNA tests can confirm that a dog is a pit bull. But, the courts have consistently found that a person of average intelligence can visually identify a pit bull. In fact, a recent study shows that pit bulls as well as mixed breed dogs with pit bull characteristics are responsible for more serious attacks and for a greater number of attacks. This study confirms that pit bull mixes with visible pit bull traits are as dangerous as pit bulls.
It is uncanny how closely the pit bull lobby arguments mirror the tobacco lobby arguments. And this is only a few found in this film. You can find many more if you watch the entire thing. It is unclear whether the pit bull lobby actually studied these arguments, or if trying to defend the indefensible always leads you to the same lame arguments. Looking back, knowing what we now know, it is easy to see the tobacco industry's lies. Someday soon, everyone will be able to look at the pit bull lobby's lies and see them for what they are. Until then, we need to keep fighting for truth.
---
A Tobacco Institute Video from 1984. Note how the lobbying works on a federal and state level.
---
Related articles:
07/16/20: Pit Bull Myths: The Media Conspiracy Against Pit Bulls - DogsBite.org
10/20/16: Back Story of the Montreal Pit Bull Ban, What the Vets Omitted and Cited...
04/20/15: A Primer on State Preemption Laws and Charts for Advocates - DogsBite.org