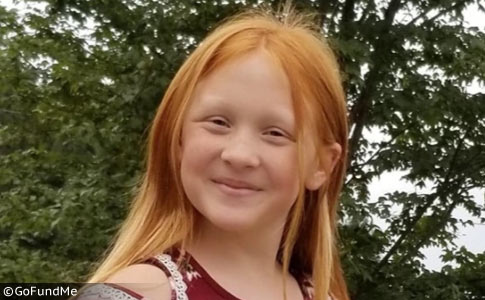 Skylar Headrick, 11-years old, was mauled to death by two family Neapolitan mastiffs.
Killed by Large Mastiffs
Crandall, GA - Two family dogs killed an 11-year old girl over the weekend, the Murray County Sheriff's Office said. The fatal attack occurred on May 30 after 11:00 pm at the family's home on Dunn Road West. A police report obtained by WTVC states the girl's sister returned from work and went down to the basement, where she discovered her younger sister on the floor lifeless. She ran and told her father, who told police that he saw blood on the fur of both of his Neapolitan mastiffs.
The Murray County Deputy Coroner said the preliminary cause of death is blunt and sharp force trauma. The manner of death was an accident.
The father told investigators he believed the dogs attacked her, but said they had "never been aggressive to humans before;" they had only been aggressive to each other. The father's social media page shows one of the Neapolitans at 10-weeks old in February 2019 and possibly a different one, named "Tank," in 2018. He also has a video of one of the Neapolitans from a year ago that shows the adult dog running in slow motion. The family owns two St. Bernards too.1
The last time the father had seen his daughter was about 11:00 pm, when she came upstairs to get a bandage for her heel after one of the dogs had scratched her. She returned to the basement afterward, where both Neapolitans were. She was never seen alive again. Northwest Elementary School identified her as one of their students, Skylar Headrick. The child's family has set up a GoFundMe. The Georgia Bureau of Investigation (GBI) is also assisting in the investigation.
Skylar's mother, Cecelia Dowis Headrick, posted to Facebook on May 31, "Last night at 1:45 am my sweet beautiful and smart 11-year old baby girl was killed by her own Neapolitan mastiff. Her older sister found her, but it was too late. I am a mother of three beautiful daughters. And I am devastated. I want her back in my arms safe at home with me. I want to hold her and never let her go." She added, "This pain is unreal." The post only indicated one Neapolitan mastiff, not two.
Neapolitan mastiffs
The Neapolitan mastiff is a large heavy-boned mastiff. It's ancient ancestor, the Molossus (molosser), was a war dog used to fight other animals, including lions and tigers, as well as people, during times of war. They were known as "war dogs, gladiators, and guardians." Many dangerous dog breeds descended from the molosser, including: pit bull terriers, rottweilers, American bulldogs, South African boerboels, cane corsos, dogo Argentinos, and more.
The Neapolitan mastiff is grouped within our annual and combined year dog bite fatality statistics under the mastiff/bullmastiff category. During the 15-year period of 2005 to 2019, the combination of large molosser breeds -- pit bull terriers, rottweilers, and mastiff-type guard dogs and war dogs, specifically, the types used to create "baiting" bull breeds and fighting breeds -- contributed to 84% of all U.S. dog bite fatalities. From inherited function to conformation, no one should be surprised.
Recent Photographs
The obituary for Skylar Headrick states that one of her sisters is named Kirsten. Recently, a "Kirsten H" posted photographs of one St. Bernard and two Neapolitan mastiffs to KingPet.com, a pet contest website. The same photograph of "Nessie" the St. Bernard is also seen on the father's Facebook page. Gracie and Tank appear to be the family's two Neapolitan mastiffs as adults. We previously identified that "Tank" was the name of one of the family's two Neapolitan mastiffs.
Late Wednesday, we confirmed that Skylar's father linked to this same pet contest with "Tank."
---
1
It would not surprise us that by the age of 1.5 or 2 years old, both Neapolitans became "downstairs dogs," relegated to the basement. Separating the four large dogs into pairs is a distinct possibility.
Related articles:
05/12/20: 2020 Dog Bite Fatality: Doctor Killed by Suspected Roaming Dogs in Lyons, Georgia
03/10/20: 2020 Dog Bite Fatality: Suspected Fatal Pit Bull Mauling in Crawford County, Georgia
12/27/19: 2019 Dog Bite Fatality: Woman Dies After Vicious Dog Attack in Dacula, Georgia
---
Baseline reporting requirements:
Law enforcement departments across the United States should release consistent "baseline" information to the media and the public after each fatal dog mauling,
including these items
.