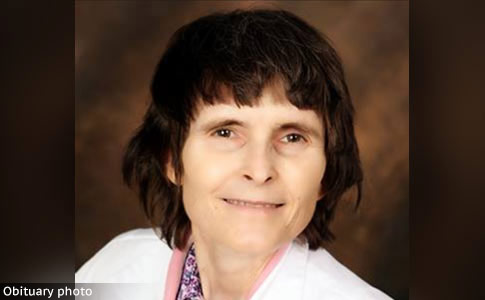 Dr. Nancy Shaw, 62-years old, was killed by roaming dogs in Lyons, Georgia.
Dog Owner Charged
UPDATE 08/25/21: Over one year after a 62-year old doctor was mauled to death by four pit bull-mixes, a man has been arrested and charged in connection to her death. Gregory Van Mosley, 65, of Lyons has been charged with involuntary manslaughter after evidence recently obtained from the State Crime Lab allowed authorities to pursue prosecution in the case, according to Lyons Police Chief Wesley Walker. Dr. Nancy Shaw was found dead in a ditch on May 7, 2020.
Three of the four dogs believed to be responsible were located shortly after her body was discovered. Two of the dogs were wearing collars with their owner's name. The fourth dog was shot and killed by a resident after it attempted to break into a man's chicken pen. All three dogs are still being held at the Lyons Animal Shelter and are considered evidence in the case. Mosley was taken to the Toombs County Jail for processing, where he posted a $5,000 property bond.
10/23/20: The Suspected Dogs
On October 23, 2020 our nonprofit obtained confirmation about the dog breeds involved in the death of Dr. Nancy Shaw from a records request from the Lyons Police Department. The three dogs, which are still being held by police, are described in records as one brown and white pit bull-mix and two black pit bull-mixes. All of the dogs belong to the same owner. We also obtained three photographs of the dogs. The outcome of the dogs has not been determined at this time.
---
---
05/10/20: Suspected Dogs Captured
Three of the four dogs suspected in the mauling death of a 62-year old doctor have been captured and are being held as evidence by police, Southeast Georgia Today reports. A fourth dog was shot and killed by a Lyons resident after it attempted to break into a man's chicken pen. The dogs are reportedly "bulldog-mixes," which is a generic term in much of the south, including Georgia and Florida, that refers to both American bulldogs and fighting bulldogs -- pit bull terriers.
A perfect example of this lies in an adoption listing for a Savannah "bulldog mix." That dog is as far removed from an English bulldog as imaginable. A generic "bulldog" in Georgia is a phenotype, perfectly represented by the adoption listing. In 2017, there was a large fight bust in Polk County, Georgia. 150 dogs were seized, "pit bull-based or bulldog-based breeds." All of these dogs are generic Georgia "bulldog-mixes." But what about Uga, the famous Georgia Bulldog mascot?
In 1894, a solid white female bull terrier, named Trilby, became the very first dog mascot for the college. During that time period, the names "bull terriers, pit dogs and pit bulls" were synonymous. In 1898, Chauncey Z. Bennett founded the United Kennel Club to bring formal recognition to the pit bull breed, under the official name, "American pit bull terrier." At that time, Bennett also drew up rules and regulations for dogfighting to bring "organization" to the now illegal blood sport.1
Dog Owner Located
The update from Southeast Georgia Today also reports that police have located the owner of the four loose dogs suspected in killing Dr. Nancy Shaw. Possible criminal charges depend upon the results of the investigation. Lyons Police Chief Wesley Walker speculated that Dr. Shaw may have seen the dogs by the road and stopped to feed them when a fight broke out between the dogs. However, it will never be known why Dr. Shaw suddenly stopped and got out of her vehicle.
The remaining dogs are currently being held at the Lyons Animal Shelter. Earlier today, the city of Lyons issued a press release about Dr. Shaw's death. The most important part is that the Georgia Bureau of Investigation is also involved in the multi-agency investigation. The city reminded residents that "the City has an adequate animal control ordinance and a competent Animal Control Division" and that they rely on "community policing to enforce its running at large regulations."
The City of Lyons Georgia
Press Release - May 12, 2020

The Mayor and City Council is saddened by the events that ultimately led to the Death of Dr. Nancy Shaw. Dr. Shaw was a friend to the City, Lyons Police department, and Lyons Animal shelter. The Lyons Police Department assisted by the Lyons Animal Control Division, Georgia Bureau of Investigation and Lyons Public Works Department actively searched for the dogs responsible for the incident.

On May 8, 2020, The Lyons Police identified and seized the dogs allegedly involved in the Thursday Morning death of Dr. Shaw. The incident is still under investigation. At this time, charges have not been brought on the owner of the dogs.

The City would like to assure the Citizens of Lyons that the City has an adequate animal control ordinance and a competent Animal Control Division. The City uses community policing to enforce its running at large regulations, and when compliance is not achieved, prosecutes offenders regularly. The Lyons Animal Control Division encourages Citizens to abide by the Cities leash law and keep your pets under the level of control required by the law.
---
05/10/20: Dogs Kill Local Doctor
Lyons, GA - A women was discovered dead in a ditch early Thursday morning. An autopsy later confirmed that Dr. Nancy Shaw, 62-years old, died from an animal attack. Police spotted her car on Skyline Boulevard about 3:00 am, pulled over on the wrong side of the road, car running and the door open. "Got out of the patrol car to investigate and found a female that was deceased in the ditch," Lyons Police Chief Wesley Walker said. Police suspect roaming dogs are the culprits.
Dr. Shaw lived on Skyline Boulevard under a half mile from where she was found. Depending upon how quiet the neighborhood was, her car could have been idling for hours. The estimated time of the attack was not released. Dr. Shaw practiced internal medicine at Meadows Regional Medical Center. She would often stop by the police station to check on the well-being of officers. "She was a friend of ours," Chief Walker said. "When I realized who it was, it was devastating."
The term "wild dogs" is often a product of the media. We have defined owned roaming dogs (that may or may not be collared), stray dogs, feral dogs and wild dogs in the past. Owned roaming dogs are virtually always the culprits in fatal attacks. On Thursday, Southeast Georgia Radio reported more details, including that police believe a couple of the suspected dogs were collared. "We feel like they did belong to someone, but haven't had any luck yet," Chief Walker explained.
"Around 3 a.m. one of my officers was on routine patrol in the north end of town and came across a vehicle that was parked close to the shoulder of the road, running, with the door open. He got out to investigate and found a female in the ditch that was deceased. We identified that female as Dr. Nancy A. Shaw, 62 years of age with a Skyline Boulevard address," said Walker.

Walker said, "The investigation is continuing but it appears from preliminary investigations that she was possibly attacked by an animal, probably some dogs that were seen in the area and caused the death of Dr. Shaw from those injuries."

Walker added, "We are actively trying to locate some dogs that were seen running loose in the area around this same time to see if there is any evidence of that. We do believe that a couple of the dogs do have collars on so we feel like they did belong to someone but haven't had any luck yet." - Southeast Georgia Radio
Friends of Dr. Shaw began posting about her death on May 7. One of her co-workers, Brenda Moody, said she "was one of the kindest people I have ever met. She always trusted my judgment and never failed to tell me what a good job I was doing as Med-Surg charge nurse. She had a kind word for everyone and loved her cats. She was loved by all of us that worked night shift." This indicates Dr. Shaw had a routine of driving home late, even into the early morning hours.
Another friend stated that she "loved her cats beyond words." Friends speculated that Dr. Shaw might have gotten out of her car to help a cat. She "wouldn't have hesitated to stop and help," Moody said in a comment. Dr. Shaw is yet another victim of a violent dog mauling "found dead in a ditch" afterward. We had this discussion in December, commenting then, "It is a moral and societal failure" and a "collective lack of enforcement." Reckless dog owners are certainly to blame as well.
Despite being "devastated" over her death, Lyons Police did not post anything to their Facebook page about the death investigation. Instead, they posted twice about dogs. One post promoted Dog Food Distribution and the other promoted the Lyons Animal Shelter.2 "We are coming for shots, toys and free dog food... what are you waiting for?" The timing of this is unfortunate. This beloved, hardworking doctor was "found dead in a ditch" after being mauled by roaming dogs.
View the DogsBite.org Google Map:
Georgia Fatal Pit Bull Maulings
.
1
American Pit Bull Terrier Handbook, by Joe Stahlkuppe, Barron's Educational Series, Inc., Page 55, 2000.
2
According to the Lyons Animal Shelter, as of April 30, the shelter was still not fully operational due to Covid-19. Who knows if any entity is responding to calls of roaming dogs? Further, in early April (while most of the country was sheltering-in-place) the city passed an anti-chaining ordinance. While no one wants to see dogs chained, that was a terrible time to pass this ordinance. Requiring irresponsible dog owners to suddenly have to build a fence during Covid-19 is plain stupid. One commenter stated: "So I just let them outside now without any restrains."
Related articles:
03/10/20: 2020 Dog Bite Fatality: Suspected Fatal Pit Bull Mauling in Crawford County, Georgia
12/27/19: 2019 Dog Bite Fatality: Woman Dies After Vicious Dog Attack in Dacula, Georgia
---
Baseline reporting requirements:
Law enforcement departments across the United States should release consistent "baseline" information to the media and the public after each fatal dog mauling,
including these items
.