A Brief History of the South African Mastiff - The 'Farmer's Bulldog'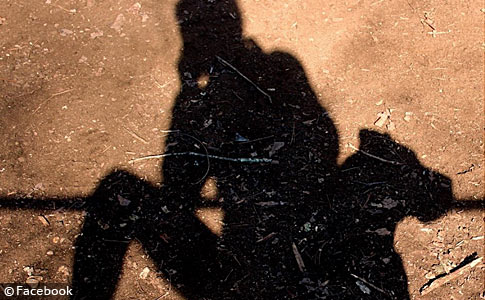 Jane Marie Egle, 59-years old, was killed by her South African boerboel on May 1.
Autopsy Released
UPDATE 04/17/18: On May 1, 2017 the Buncombe County Sheriff's Office responded to a residence after receiving a call for assistance. They found Jane Egle, 59, dead on the floor of her home. One of the victim's South African boerboels was also in the home, exhibiting so much aggression that deputies "destroyed" it at the scene. Egle's cause of death was not released. The only incident report released by the sheriff's office indicated the victim had "minor" injuries.
On April 16, 2018, nearly one year later, Egle's autopsy results were released. The autopsy was performed May 3, 2017 under the presence of "representatives for Buncombe County Sheriff's Office," states the medical examiner's report. The cause of death was "exsanguination due to multiple penetrating and blunt force injuries of the head and neck, consistent with canine bites due to dog mauling." The sheriff's office knew the cause of death on May 3, but misled the media.
The sheriff's office failure to release cause of death forced us to exclude Egle from our late February release of 2017 dog bite fatality statistics.
The Buncombe County Sheriff's Office delayed the release of any information about Egle's death until four days afterward. We noted that action as a "red flag" in our initial post. On May 5, Natalie Bailey, a spokeswoman for the sheriff's office, told the Citizen-Times, the exact cause of death had not yet been determined. Bailey stated the same thing to the Citizen-Times on May 9, six days after the autopsy was complete and the official cause of death was known by the sheriff's office.
On November 22, 2017, after three FOIA requests, we received a copy of the 1-page incident report from the Buncombe County Sheriff's Office. Within the "Injury" area, there are multiple boxes to choose from, including "Broken Bones, Severe Lacerations, Other Major" and more. The officer checked the "Minor" box only. His or her supervisor signed the report. We now know the incident report was fraudulent. The South African boerboel ripped out the front of Egle's throat.
---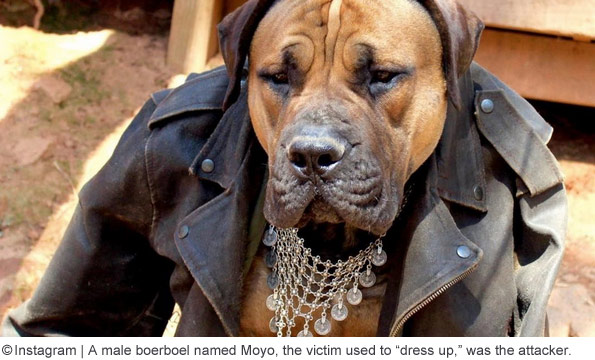 ---
05/17/17: Time for Honest Dialogue
Asheville, NC - On May 5, it was a reported that a 59-year old woman was found dead in her home with an aggressive South African boerboel. Deputies had discovered her body four days earlier -- red flag. We looked into the case and quickly learned that Jane Egle was a breeder and seller of South African mastiffs. She had a dedicated website, "Beloved Boerboels," that notes she previously worked with rottweilers and bullmastiffs, along with Facebook and Instagram pages.
In addition to the delayed release of her death information, the Buncombe County Sheriff's Office quickly resorted to, "visible cuts on her body that are consistent with an animal attack, but her exact cause of death" is undetermined. It remains unknown today, 15 days later, if her death is an actual dog bite fatality -- red flag number two. In our ten years of tracking dog mauling deaths, when law enforcement limits the release of injury information, there may be other factors at play.
In the past, other factors have included trying to dampen public interest or media attention to the mauling case, which we have seen backfire too.
When deputies arrived at the scene, the gladiator dog -- one of the fiercest guarding breeds -- predictably would not allow first responders into the home. Deputies were forced to dispatch the massive dog to reach the woman. Seven other boerboels were also seized from Egle's yard along with a great pyrenees. Asheville Humane Society, which operates the Buncombe County animal shelter, stated right away the adult boerboels were dangerous and slated them for euthanasia.
---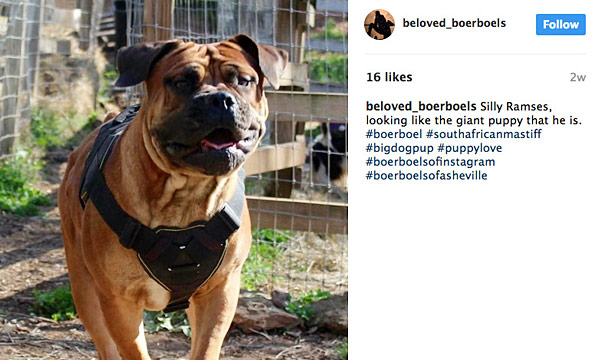 ---
Memory Lane: In 2015, the Asheville Humane Society (AHS) adopted out a pit bull that passed a temperament test. Three weeks later, the dog brutally killed a 6-year old boy. No temperament test can measure unpredictable aggression. These tests can measure obvious aggression, as can observation, which is the case with the boerboels that Egle liked to dress up with bling. Recall that AHS also had a habit of anthropomorphizing pit bulls with bling to make them more palatable.
---
The Dog Behavior Consultant
On May 8, WLOS interviewed Kim Brophey, a certified dog behavior consultant that evaluated the South African boerboels, six adults and one 4-month old. As one would imagine, she was terrified of the dogs. "I was terrified, and I've done this a long time," Brophey said. "It was a difficult thing to do. Both myself and the other evaluator were appropriately cautious given the expressed threatening behavior of the dogs, it was warranted. We had a job to do, and we did it," she said.
Yet, Brophey's logic goes south with the young boerboel, which also should have been put down, effectively wiping out Egle's entire breeding operation.1 Pertaining to the adult boerboels she states, "Given their propensity to harm others, it would have been negligent to do anything other than what was done." Speaking about the breed as a whole, she states: "If we have no tolerance for the specific behaviors that dogs were bred for, maybe we shouldn't be breeding them."
"They were so highly threatening that one could not even interact with them in order to assess them -- all of them." - Kim Brophey, dog behaviorist
By May 15, as we began writing this post, Brophey spoke to the Citizen-Times and admitted the adult boerboels were so dangerous they could not even be assessed by personnel, outside of observation. In a stunningly forthright video, Brophey states, "Our message really is ... we should take the opportunity to open a very honest dialogue ... about the big picture of our dog's behavior. We like to act as if dogs are all simply just pets, and that it's all how we raise them," she said.
"The truth is there are many other factors that are facilitating their behavior. If we are not prepared for those behaviors, if we don't look into their history, understand the biology and the genetics, the interplay of their environment, their socialization" and more, Brophey said, "then we are going to continue to find ourselves surprised and in some cases, tragically so ... These incidents are doomed to continue to happen if we don't get honest and practical in our discussion," she said.
---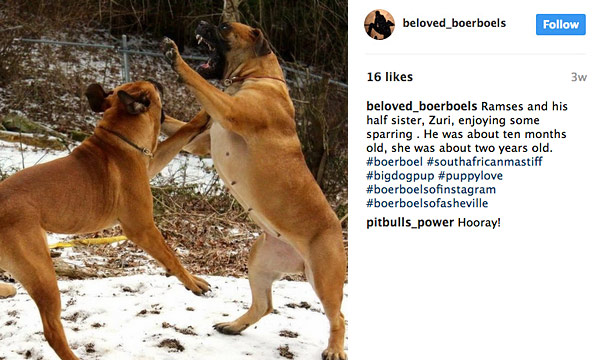 ---
History of the South African Boerboel
The South African boerboel is one of several "reinvented" ancient gladiator breeds used for the purposes of guarding and fighting (combat dogs). There is no trustworthy source of information online, in English, about the breed's history -- most are written by boerboel breeders who glorify the dogs. As visually apparent, the bullmastiff was a heavy influencer in resurrecting the breed as they share common ancestors. Calling these dogs a "farm dog" or a "farmer's dog" is deceptive.
The boerboel name is more appropriately translated into the "farmer's bulldog" or "farmer's mastiff," according to academic researchers.
No one has done more to "resurrect" the ancient gladiator breeds than Dr. Carl Semencic, who was once billed as a "world-renowned authority on fighting dogs" and continues to get his aging books reprinted: The World of Fighting Dogs (1984), Pit Bulls and Tenacious Guard Dogs (1991) and Gladiator Dogs (1998). The Gladiator Dogs book "brings to life 13 breeds originally used as fighting dogs." All of the usual suspects are on the list, including the South African boerboel.
Semencic's book purports to explain the history of these gladiator breeds and their different "combat techniques." The fact that Semencic dedicates an entire chapter to the boerboel is telling, right along side the better known baiting, fighting and war dog types, such as pit bulls and presa canarios. South African boerboels are rare in the United States but certainly are not in South Africa. We reached out to animal behaviorist Alexandra Semyonova who provides more details.
---
Alexandra Semyonova - Gladiator Breeds
The story of the "boerboel" (which means "the farmer's bulldog" in Afrikaner Dutch) is basically the same as that of the Cuban Bloodhound (second profile).

They were created by crossing the bull / bear / horse baiting bulldog of Elizabethan England and the war dogs European colonists used to subdue, terrorize and sometimes help eradicate native populations. These bulldog-war dog mixes were introduced in South Africa by the Dutch in and after 1652, together with the introduction of slavery there. The "boerboel" was used to guard colonizers' farmlands from the natives the lands were stolen from, to guard and terrorize slaves, and in battles with the indigenous populations. To this day, the "boerboel" is still one of the most vicious and destructive guard dogs that exist in South Africa.

In 2010, a South African surgeon warned that the "boerboel" was presenting an alarming new danger to children:

"Speaking from his rooms at Somerset Aesthetic Surgery in Somerset West, Toogood said: 'Dog bite cases outnumber the cases I see involving motor vehicle accidents, incidents involving pedestrians, and domestic violence.

'And of the dog bite cases, approximately 80 percent of the cases I see involve boerboels.

'The remaining 20 percent (are made up) of all the other breeds of dogs combined.

'I'm simply telling you what's coming through my doors and they are children bitten by boerboels.
--snip--

'This is not just an affable farm dog with big slobbery chops," said Toogood.

'They are inherently dangerous, with a strong streak of unpredictability, but breeders are not saying so and hence they are being kept as house pets.'" - Murray Williams, "Boerboel attacks on kids on rise," IOL News, February 24, 2010 (www.iol.co.za)

Cape of Good Hope SPCA CEO Allan Perrins, admits in the article, "I know that the pit bull has the 'killer dog' reputation. But I'm afraid it's being fast superseded by the boerboel," writes Semyonova.

According to South African government sources, the export of "boerboels" suddenly greatly increased in 2011. In the United States, South African breeders were getting up to $9,600 for a single animal. It's not surprising then, as this surgeon remarked, that "boerboel" breeders are not honest about what they're selling: "[Boerboels] are inherently dangerous, with a strong streak of unpredictability, but breeders are not saying so and hence they are being kept as house pets," writes Semyonova.
Alexandra Semyonova is an internationally acclaimed animal behaviorist and author of The 100 Silliest Things People Say About Dogs. Academically educated in behavioral science and specialized in animal behavior, she provided a major breakthrough for the field in her paper, The Social Organization of the Domestic Dog. She has worked with dogs and their owners on a daily basis for more than 30 years. Visit her website at Nonlinear Dogs. View additional DogsBite.org posts that Semyonova has provided commentary for in the past.
---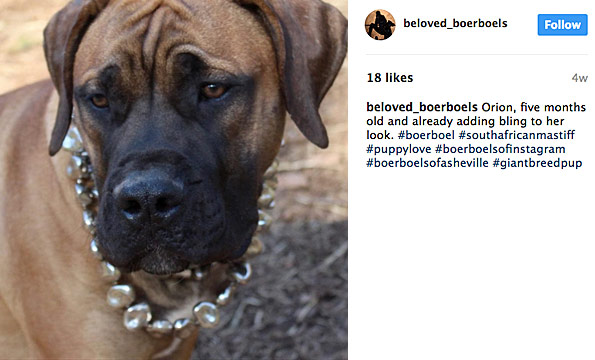 ---
Who Worships, Breeds or Owns Boerboels?
It would be dishonest not to discuss the types of people who own and breed these dogs, including Egle, who graduated up to South African boerboels after raising rottweilers and bullmastiffs. There comes a point where people can't claim ignorance anymore about a dog breed's heritage, nor deny that the real motive is often pathological narcissism -- including the narcissist's insistence on living in a self-aggrandizing fantasy world. Neither of these photos are cute; they are disturbing.
A week before her death, Egle posted to Instagram: "Aslan and Mojo ... before they figured out how to break through that gate and take their boerboel five pack out to meet our suburban neighbors and their many adorable kiddos. Whew! Fortunately, they were only out a few minutes and were friendly and sweet. The neighbors were so charmed by them (all five dogs instantly came when I called them, YES!!), that I now have a new posse offering to take them on walks."
We are deeply thankful that no one else in the community was harmed by Egle's pack of gladiator dogs. They were certainly on track to do so.
Semyonova also points out that a neighbor interviewed by WLOS, Jennifer Odom, described Egle as very sweet, friendly and kind. "How sweet, friendly and kind is it to infest one's neighborhood with a type of dog that endangers the lives of every living thing within miles?" Asked Semyonova. "Ones that, as the surgeon pointed out in the 2010 article, are even deadlier than the smaller pit bull types?" Odom also plays the fantasy game by calling the dogs "very sweet, gentle giants."
This is in stark contrast to the heritage of the "Farmer's bulldog" -- selected for willingness to commit sustained, unprovoked attacks and with a physique that makes defense impossible -- that author Semencic worships and promotes in his book. As well as the honest assessment by Brophey, who said these South African boerboels "were beyond threatening and aggressive, as ferocious of an animal as I have ever met in a 20-year career specializing in aggression."
Summary
The South African boerboel is still uncommon in the United States. Their high purchase price and annual care costs make it unlikely for this gladiator breed to ever achieve remotely modest population numbers in this country. The American bully, a pit bull "designer" breed frequently infused with bullmastiffs and other mastiffs to create extreme exaggerations in the weight, size and features of a traditional pit bull, appears to be the larger and more troubling trend in the U.S.
Local media outlets are interested in this story and obtaining the cause of death. The Medical Examiner's Office told WLOS it could take 2-3 months to receive the official report -- this is fairly standard and can take much longer when contributing factors are involved. What is not standard in this case is the lack of receiving any preliminary autopsy report or reasons why. We are only left to speculate as to why, which might include trying to dampen public interest or media attention.
Lastly, as recognized by animal behaviorists Alexandra Semyonova and Kim Brophey and columnist John Boyle of the Citizen-Times, this case demands an honest discussion about dog breeds. Some dog breeds are vastly more dangerous than others, which is the focal point of our nonprofit's website. The consequences of believing the myth, "It's all you raise 'em," and ignoring the genetic heritage of a dog's breed results in life-altering injuries and deaths every year.
---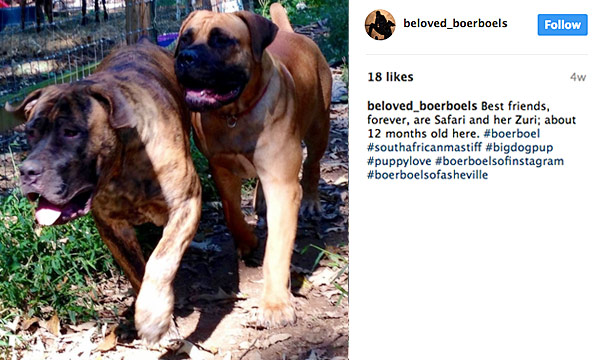 1Other news reports said there were three 4-month old boerboels discovered at the scene. Family members may have taken two, perhaps to continue the lineage. Also, calling these dogs puppies is misleading given that they are already over 50 pounds by the age of four months.
Here is one of her 5-month old boerboels
.
Related articles:
08/06/15: 2015 Dog Bite Fatality: Recently Adopted Out Pit Bull Kills 6-Year Old Boy...
11/19/14: 2014 Dog Bite Fatality: 7-Year Old Boy Killed by Trained Protection Dog in Dodge...
05/05/09: Alexandra Semyonova: Heritability of Behavior in the Abnormally Aggressive Dog