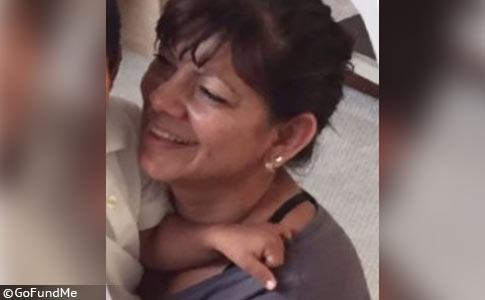 Lorena Cordova, 47, died after a vicious dog attack in Dacula that occurred in September.
Asking for Felony Charges
UPDATE 12/27/19: Prosecutors are now seeking felony charges after three pit bulls viciously attacked 47-year old Lorena Cordova on September 16 in Dacula, Georgia. Cordova suffered life-threatening injuries in the attack, including "considerable muscle and nerve damage in all of her limbs," organ damage and bacterial and fungal infections. By November 6, Cordova continued to be in the ICU "fighting for her life." She succumbed to her injuries and died on November 21.
District Attorney Danny Porter said his office would seek a grand jury indictment for felony involuntary manslaughter charges against David and Vickie Clark. "We don't really know where we will be or a resolution, but we are moving forward with felony charges," Porter told WSB-TV. The grand jury may or may not indict; it is up to Porter's office to present the evidence necessary for an indictment. If indicted and proven guilty in court, the Clarks will face up to 10 years in jail.
---
11/30/19: Mauling Victim Identified
Local media outlets confirmed the death of 47-year old Lorena Cordova, who died on November 21 after suffering severe injuries from a dog attack on September 16. Her daughter, 23-year old Ingrid Alvarado, said the neighbor's three pit bulls had been an ongoing problem. Alvarado found her mother that morning, injured and bleeding out on the pavement, reports CBS 46. "They already had mauled her completely and there [were] just chunks missing of her body," she said.
"I couldn't hold her, I couldn't help her, because she was just missing chucks of her right arm." - Ingrid Alvarado, 11 Alive News, November 26, 2019
"The attack caused muscle and nerve damage in all of her limbs. She also sustained internal organ trauma," Alvarado told 11 Alive News. Cordova was taken to Gwinnett Medical Center then transferred to Grady's Marcus Trauma Center, where she later died. CBS 46 spoke to the owner of the pit bulls, "Mr. Clark," who claimed the victim "come down on his property." Clark's pit bulls were euthanized after the attack. Police also charged Clark with reckless conduct -- a misdemeanor.
---
11/25/19: Support for Lorena Fundraiser
Dacula, GA - On November 23, the organizer of a GoFundMe page for an adult victim of a vicious dog attack announced that she succumbed to her severe, complicated injuries on November 21. We only found one media report of this September 16 attack. In late October, 11 Alive reported the adult female victim was still hospitalized. Her first name is Lorena and she was in her mid 40s. The beneficiary of the fund is the victim's husband, Rolando Gonzalez-Carrillo, the fund states.
The fundraiser was created on October 3. "Lorena is a dear friend of mine," states the organizer. "I am shocked and saddened that she was viciously attacked by three pit bulls in her own yard just a couple weeks ago. The dogs came from a neighbor's house and were not fenced in. She is fighting for her life and needs our help. The attack caused horrific, life-threatening injuries that require specialized care. She has considerable muscle and nerve damage in all of her limbs."
By October 13, Lorena remained in ICU, requiring 24-hour sedation and a ventilator. "She is in a trauma center, and her family was recently told she was the sickest person in the hospital. Before the attack, she was perfectly healthy. Now she has kidney failure and requires daily dialysis," states the update. "If she continues to lose tissue around the artery in her right arm, she will need to have her right arm amputated. None of the doctors can offer a prognosis," the fund states.
According to the GoFundMe, this is not the first time the neighbor's three pit bulls had attacked a person or an animal. "They had attacked other people and many other animals previously. The owners knew or should have known the pit bulls were vicious. The week before the attack, Lorena's husband asked the owner to do something about the dogs. Yet, the pit bull owners did nothing," states the organizer. By November 6, Lorena's medical condition had not improved.
We continue to provide any information that we find to local media. We expect police and media confirmation in the coming days. Again, the attack occurred on September 16 in the 3000 block of Luther Wages Road. Lorena was working in her own yard when the dogs viciously attacked her. One family member was injured by the dogs while trying to save Lorena. After the attack, the owner surrendered all three dogs to animal control. The dogs were subsequently euthanized.
View the DogsBite.org Google Map:
Georgia Fatal Pit Bull Maulings
.
Related articles:
04/09/18: 2017 Dog Bite Fatality: Child Killed by Two Family Pit Bulls in Hart County, Georgia
10/05/17: 2017 Dog Bite Fatality: Woman Killed by Pit Bull While Visiting Owner's Home...
---
Baseline reporting requirements:
Law enforcement departments across the United States should release consistent "baseline" information to the media and the public after each fatal dog mauling,
including these items
.