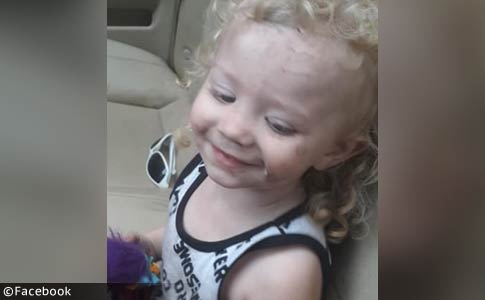 Jonah Jellison left his enclosed yard and was killed by a loose pit bull in Hunt County.
Pit Bull Kills Child
Quinlan, TX - A toddler is dead after being attacked by a dog, according to the Hunt County Sheriff's Office. On June 29, about 11:10 am, Hunt County Sheriff's deputies were dispatched to the 9900 block of Private Road 3820 in the Easy Living addition of Hawk Cover for a dog bite. The first deputy at the scene observed a toddler in the roadway who sustained major trauma due to a severe dog attack. The deputy began CPR until American Medical Response (AMR) arrived.
In the audio dispatch logs from the Hunt County Fire Department Dispatch on Broadcastify.com, one hears the AMR paramedic unit asking dispatch, "Do we know if this is a single bite wound? A multiple bite wound? Do we have any more information on this patient?" Dispatch responds, "It's a 2-year old male, bitten from head to toe. He's not breathing effectively at this time." The AMR paramedic unit then responds, "Let's go ahead and put a helicopter on standby please."
The child was transported to Hunt Regional Medical Center in Quinlan, but did not survive his injuries. Preliminary information from Hunt County Sheriff's investigators show the toddler had gotten out of an enclosed yard unnoticed by his family and walked down the gravel road. The dog, described as a pit bull, was in its yard enclosed in a four-foot chain link fence (an insufficient height for a pit bull). The dog was able to escape the yard and attacked the child in the roadway.
A similar tragic scenario occurred many times in fatal dog attacks during the 80s and 90s. A young child "wandered away from the home" and back then, entered into the "death radius" of a chained pit bull. The "wandering toddler" scenario is no longer common in dog bite fatalities. The most recent deaths occurred in Texas in 2012 and Arkansas in 2009. Both attacks involved boys, ages 2 to 4. In 2010, a chained sled dog in Alaska killed a 3-year old girl under similar circumstances.
The Hunt County fatal pit bull mauling did not involve a chained pit bull, but the concepts are similar. A chained dog in a yard accessible to children -- particularly a chained pit bull, rottweiler, sled dog or wolf-dog hybrid -- is a recipe for disaster. Attempting to confine a pit bull or other powerful, athletic dog breed with a four-foot fence is irresponsible. Even a six-foot fence is not meant to be a barrier "between life and death," but certainly might have better secured this dog.
---
---
Join Texas Dog Bite Victims' Advocacy - Join our Texas email list to stay informed
View the DogsBite.org Google State Map:
Texas Fatal Pit Bull Attacks
.
Related articles:
10/29/18: 2018 Dog Bite Fatality: Woman Dies After Being Mauled by a Mastiff in Hunt County