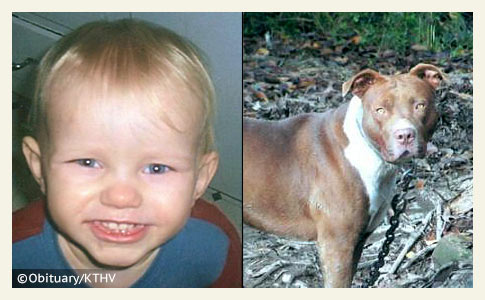 Matthew Hurt, 2-years old, was killed by a neighbor's chained pit bull in Prescott.
Attacked His Throat
UPDATE 10/29/09: New information has been reported about the death of Matthew Hurt. According to a KTHV video, family and friends1 said the boy saw a puppy and chased it to a backyard where a pit bull was chained. Matthew's 3-year old brother followed him, then rushed home to alert the family. Neighbor Bridgette Monroe, who tried to help, described the horrible scene, "The babies' jugular, throat was bitten and from his mouth up to his eye was bitten."
Authorities seized two adult pit bulls from the dog owner's home2, one of which was male. Though not stated in the article, it's likely that the puppy Matthew had been chasing came from a litter of the two pit bulls. Richard Ray Smith, whose mother owns the dogs, said, "The dog has been raised with us and all the kids have played with the dog. It's not a violent dog, we don't know what happened." Smith added, "We don't want the family to be mad at us, it's just an accident."
But two adult chained pit bulls, likely part of a backyard breeding operation, that wind up severely injuring or killing a child is far from an accident. The situation is a ruinous attack only waiting to happen. Chief Brian Russell said police and emergency crews arrived within minutes and the boy was airlifted to St. Michael's where he was pronounced dead. "There very well could be charges either way," Russell said. "We'll just have to see where the investigation goes from here."
10/28/09: 2-Year Old Killed By Chained Pit Bull
Prescott, AR - Five days following the fatal pit bull mauling of 17-month old Colton Smith at his babysitter's home, two-year old Matthew Clayton Hurt of Prescott, Arkansas is also dead by a pit bull. Matthew arrived at his babysitter's home just before 10 am this morning. At some point, the boy wandered a few blocks away and into a backyard where a pit bull was chained. The dog savagely attacked the toddler. A woman walking nearby tried to help, but it was too late.
Little two year old Matthew Hurt was at his babysitter's just before 10 this morning. Matthew wandered 4 blocks away, into the backyard where the pit bull was chained but still managed to attack, killing him

A lady was walking nearby and asked for help after she saw the child in the backyard, they ran to see what was going on...but it was too late.

As you can imagine, the people nearby were disturbed and very shaken up after their discovery.

"He wasn't moving at all he was bitten all on his throat across his face just limp," Bridgette Monroe said. - KSLA-TV
1
Matthew and his two siblings stayed with Kevin Taylor and Christy Godwin while their mom worked. The couple was afraid of the dogs and told the dogs' owner they were vicious in the past.
2
The loose puppy of an unnamed breed has still not been caught.
Related articles:
11/20/09: After Fatal Pit Bull Mauling, the City of Prescott Bans Pit Bulls
10/27/09: 2009 Fatality: 17-Month Old Boy Killed by Pit Bull-Mix at Babysitter's Home
09/17/09: 3-Year Old Girl Airlifted After Backyard Breeder's Pit Bull Attacks
06/29/09: Shaylee Crosson, 3, Loses Scalp in Pit Bull Attack
05/14/09: 2009 Fatality: 2-Year Old Boy Killed by Pit Bull in Luling, TX