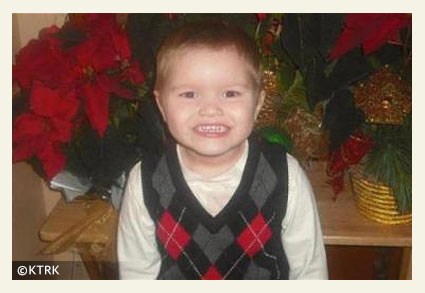 Kylar Johnson, 4-years old, fatal pit bull attack victim #329.
News Conference
UPDATE: 03/28/12: The Victoria Advocate released the 30-minute news conference given by Victoria County Sheriff T. Michael O'Conner. In summary, investigators do have answers to many questions, but are not releasing them yet. The time of the boy's death has yet to be determined by the medical examiner's office. O'Conner does address many aspects of Kylar's death including that many "conspiracy theories" were formed and launched in social media channels.1
03/27/12: Preliminary Autopsy Results
Preliminary autopsy results indicate that Kylar Johnson was mauled to death by a single pit bull. Manuel (Manny) Garcia found Kylar's body in his backyard Monday morning near one of 10 pit bulls that he keeps chained up in his yard. Officials said Garcia's dogs were used for hog hunting. Investigators speculate that the boy may have been hiding from searchers on purpose, playing a type of game. The Click2Houston update did not reveal the time of the boy's death.2

03/27/12: Mauling Death Confirmed
KHOU.com reports that, "Evidence shows the child was mauled to death by a pit bull kept chained in the neighbor's yard. The Victoria County sheriff believes Kylar wondered into the mostly-fenced yard about half a mile from his home." The neighbor and owner of the pit bull, who joined in the search effort, has so far not been named and owns as many as 10 pit bulls. A new Victoria Advocate article says that preliminary autopsy results should be available by Tuesday.3
03/26/12: Boy Discovered Monday
Victoria, TX - In a developing story, the body of a missing 4-year old boy was discovered today and was reportedly mauled to death by pit bulls. The boy, Kylar Johnson, disappeared about 8 pm Sunday night. A neighbor found the boy about 10:30 am this morning. A family friend, Ken Hutchins, told The Victoria Advocate the boy was mauled to death by pit bulls kept in a neighbor's enclosure near his home. Police, however, have not yet confirmed the cause of death.
An extensive search was carried out over Sunday night and into the morning by police search teams, K-9 units, and family members, but it was hampered by tall grass and fog. The fog finally lifted about 10:30 am. The boy's body was found near Village Lane several hundred yards from his home. Cole Johnson, the boy's father, had been cleaning his car on Sunday with Kylar playing nearby. He looked up and Kylar was gone. The boy's family will speak to the media soon.
View the DogsBite.org Google Map:
Texas Fatal Pit Bull Maulings
.
1
The distance Kylar traveled is still being reported as a half-mile, quarter mile and several hundred yards.
2
A 4-year old played such a game all night long?
3
The Click2Houston video shows that the dog owner is "pit bull in a barrel" breeder.

Nice

.
Related articles:
05/12/11: Texas Doctors Produce Study: Mortality, Mauling and Maiming by Vicious Dogs
09/19/10: Dog Attacks, Trends and Dog Law Coverage of Texas
Photo: KTRK-TV