Dog Came to Iowa Via a "Rescue Transport" from Louisiana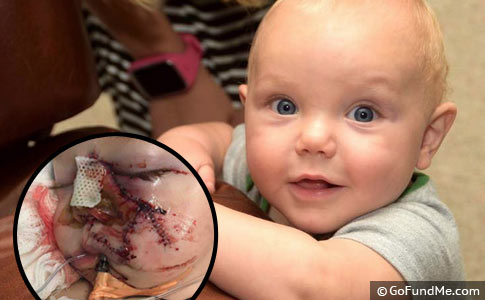 Images of Lucas before and after the dog attack from his fundraising page.
Family Files Lawsuit
UPDATE 03/31/17: The parents of a toddler attacked in the face by a newly adopted dog are suing. On Tuesday, Tyler and Holly Harrison, the parents of 15-month old Lucas Harrison, who suffered severe facial injuries in the March 15 attack, filed the petition through attorney John Frey. The petition alleges one count against the dog's owners for strict liability and two counts against the Clinton Humane Society for product liability, negligence and breach of express warranty.
Three weeks before the attack, a pit bull-mix named Emmet, was on death row at the New Iberia Parish Animal Shelter in Louisiana. On February 22, after social media rallied to "save Emmet," by raising over $300, the dog was "approved for transport." Emmet was trucked across state lines by NOLA Freedom Transport and delivered to the Clinton Humane Society five days later. On March 15, Ashley Greene adopted the dog and in under two hours, Emmet viciously attacked Lucas.
The petition alleges the Clinton Humane Society sold or distributed the dog to the Greenes and expressly warranted the dog as child friendly.
The Clinton Herald article spells out key aspects of the lawsuit, which primarily center upon the failure of the Clinton Humane Society to provide any reasonable instructions or warnings, including proper precautions to be taken when transitioning a shelter dog to a family home environment and when bringing their dog into the home of a friend, where another pet, an infant or young children are present. The Clinton Humane Society also told the new owners the dog was child friendly.
The petition states the Clinton Humane Society failed to provide warning to the new owners, Kris and Ashley Greene, the dog in question had recently been on death row in Louisiana. The humane group also failed to provide warning to the Greenes the dog could be a pit bull-mix, even though it was apparently advertised by the humane group as a boxer-mix. The petition states that the omission of these and other instructions and warnings renders the dog not reasonably safe.
---
03/18/17: Horrific Facial Attack
Clinton, IA - On Friday we learned about a devastating dog attack. 15-month old Lucas Harrison was attacked in the face by a newly adopted dog. He was airlifted to the University of Iowa Children's Hospital where he is being treated. "A large part of his gum/bone including permanent teeth were ripped out, most of his nose cartilage was destroyed, and he will have lifelong damage," his fundraising page states. In two days, donations have already exceeded $115,000.
"While playing with a friend's newly adopted dog," Lucas was "suddenly attacked, with the dog biting off a large portion" of his face. - GoFundMe page
Through the online victims' advocacy network, we were able to reach a reliable source and verify the attacking dog and the shelter that adopted it out. On March 15, the day of the attack, the Clinton Humane Society adopted out a pit bull-mix named Emmet. Less than two hours later, the dog violently attacked Lucas in the face. Through public Facebook pages, we learned late Friday that Emmet was formerly a death row dog, shipped in from Louisiana at the end of February.
Transporting Death Row Dogs Across State Lines
Across the country there are "rescue transports," which are primarily driven by volunteers. The purpose is to save dogs on death row by transporting them (known as "freedom rides")1 to other rescues and shelters across the country, in hopes the dogs can find an adopter in that location. Dogs wind up on death row for two central reasons: They are dangerous dogs or the shelter's limited space forces euthanasia. The latter often refers to shelters in the Southern United States.
In mid-October 2016, Emmet, a male unneutered black and white pit bull-mix came into the New Iberia Parish Animal Shelter (IPAC) in Louisiana. The dog lingered in the shelter unwanted for 4.5 months. Though the shelter's Facebook support page states it is not a "government page," shelter staff are also Admins. Friday, while reviewing Emmet's October adoption listing, one of the Page's Admins deleted Emmet's listing. However, we had already retained a full copy of the listing.
Animals of IPAC advertised Emmet as a "great dog with a great temperament." On Saturday, IPAC also deleted the video of Emmet, but we retained a copy of that Friday too. On January 30, 2017, Animals of IPAC announced on the adoption listing that Emmet "will be euthanized tomorrow morning, no exceptions. The shelter is FULL." Then the rallying starts to "save Emmet." By February 14, $300 in pledges had been raised to "save Emmet." On February 22, Animals of IPAC states on the post, "Emmet got approved for transport. Please call in your $50 pledge" now.
NOLA Freedom Transport (New Orleans)
On February 25, Karen Anderson, who operates NOLA Freedom Transport, posted to her personal Facebook page that she is ready to transport 45 dogs from Louisiana to Missouri and Iowa. Emmet is seen on the second row, fifth dog. One can also see a zoomed in photo left in a comment on the same post. The next day, a similar post appears on the NOLA Freedom Transport Facebook page that encourages donations to make the out-of-state transport possible.
After reaching the fundraising goal on February 26, Anderson announces on her personal page, "We leave TOMORROW." NOLA Freedom Transport has no website and is not a 501(c)(3) nonprofit. Shortly thereafter, the Clinton Humane Society (CHS) receives the dogs. "Thank you to our great friends at New Orleans Freedom Transport for driving across the states, through the rain, hail, and tornado warning to get these dogs to us safe and sound," states their post.2
Clinton Humane Society (Clinton, Iowa)
The Clinton Humane Society takes in 22 dogs transported from Louisiana, one of them being Emmet. The CHS adoption listing shows a different age for Emmet than the IPAC Animal Shelter, mislabels the dog a "Boxer/Mix" and shows an intake date of 2/27/17. A local Clinton family adopts the dog on March 15 and in under two hours, Emmet tears off the face of a 15-month old boy. This is how the transport system works. Our only surprise is that CHS did not rename the dog.
The Clinton Humane Society website states multiple times that they administer a "nationally recognized temperament test" before dogs are considered for adoption. CHS is a 501(c)(3) nonprofit that has no legal jurisdiction over animal cruelty investigations or ordinance enforcement, according to their website. CHS states that it is an "open admittance" shelter, but has a strict waiting list for local owner surrenders and accepts animals from "out-of-state" at their choosing.
The "nationally recognized temperament test" is called the Behavior Assessment and Reactivity Checklist (BARC Checklist). You can see a copy of the guidelines here. There is no mention of testing for children or cats in the checklist. No temperament assessment test -- "state-of-the art" or "nationally recognized" or otherwise -- measures unpredictable aggression. So both descriptions of these assessment tests are misleading and inaccurate to the public and potential adopters.
"There is no pass or fail for BARC. It is designed to be used as an assessment tool to best determine suitable homes," states its creators.
Call-To-Action for the Public
Last September, after examining 34 behavior records of dogs at a county shelter in California, many rife with aggression issues, we issued a Call-To-Action. At that time, animal behaviorist and author Alexandra Semyonova also provided an analysis and a special report to help the public understand the current state of shelter assessment tests: Behavior Testing Shelter Dogs -- A Summary of Where We Are Now. We again encourage readers to closely review her summary.
In some cases, shelters have an internal policy, "If They Don't Ask, Don't Tell" regarding sharing information about the dog's history with potential adopters. As an adopter you have the right to ask for all uncensored behavioral and medical files prior to adopting a dog. If for some reason the shelter hesitates at your request, or worse, refuses it, exit the facility right away. In the case of Lucas, we have no information about what transpired between CHS and Emmet's adopter.
When Adopting From a Shelter
Do your research
Go in with questions
Bring a trainer with you to the shelter to evaluate for signs of aggression
Request all behavior records for the dog
Request all medical records for the dog
Request all "outcomes" for the dog (if the dog was returned to shelter)
---
---
1
"Freedom rides" is a term from the civil rights movement in the United States that has been stolen and co-opted by dog rescuers to refer to dogs, primarily pit bulls, escaping death row and elevating "dogs" to a "human" status.
2
At some point after March 22, the Clinton Humane Society deleted or hid this post. We updated the broken link to a screenshot of the post on March 25. At this stage, all three involved parties have removed posts about this dog.
Related articles:
10/10/16: Special Report: Level 1 Trauma Center Dog Bite Studies in All U.S. Geographical...
09/20/16: What's Behind the Clickbait Web Advertisements of Aggressive Shelter Dogs...
04/29/16: 2016 Dog Bite Fatality: Pit Bull Rehomed by Humane Society Kills Newborn Baby
08/06/15: 2015 Dog Bite Fatality: Recently Adopted Out Pit Bull Kills 6-Year Old Boy in North...