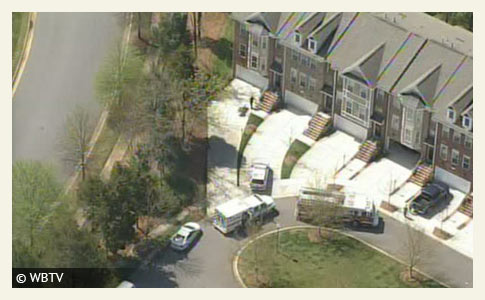 Emergency vehicles outside the home where two pit bulls killed Bessie Flowers.
Victim Identified
UPDATE 03/28/16: The victim has been identified as 86-year old Bessie Flowers. Police have identified the attacking dogs as two American pit bull terriers. Both animals were properly licensed and vaccinated. Police confirmed they were called to the same address in April 2013 regarding a complaint about two aggressive dogs; no other details were provided. WSOC-TV also reports that the homeowners association is now considering banning pit bulls in the community going forward.
The same male neighbor who spoke to Time Warner Cable News is also in the WSOC-TV video footage. "There have been two incidents with those dogs," said the man who did not want to be identified. "They attacked other dogs here. No one has done anything about it. I constantly told people that they are going to kill someone," he said. That is exactly what the dogs did too. It is unknown if the earlier incidents were reported to police. So far officials have not addressed this.
Evening Updates
In an evening update by WBTV, circumstances leading up to the deadly attack were included. Flowers had been on the back deck of the townhome and was heading back inside when she slipped or tripped onto a dog bed. Her daughter's two pit bulls approached Flowers while she was on the floor and "apparently" began playing with her, which quickly escalated into a full-scale attack, said a police source. The dogs executed the killing bite, attacking her neck and head.
Flowers' daughter was able to separate the dogs and call for help. A portion of the 911 call was released to the media. Heavily breathing, the daughter said, "This is an emergency. My dogs attacked, they really hurt her. Please come!" When police arrived, Flowers was deceased on the floor, Captain Todd Lontz said. After seeing her own pit bulls attack and kill her mother, the daughter refused to sign the dogs over to officials, so animal control officers seized them.
03/28/16: Family Dogs Kill Woman
Charlotte, NC - An 86-year old woman was attacked and killed by two dogs while visiting a family member's home in south Charlotte. The victim, whose name has not been released, suffered "fatal dog bite injuries" and was pronounced dead at the scene, officials said. WBTV reports that the woman was visiting her daughter's townhome on the 3200 block of Luke Crossing when the lethal attack occurred. Captain Todd Lontz confirmed that the dogs involved "are actually family dogs."
"Sources say the woman suffered injuries to the neck and lost a substantial amount of blood." - WBTV, March 28, 2016
At this stage, police have not named the breeds of dogs involved, but neighbors told WBTV that the homeowner was "always walking two pit bulls on leashes." Photographs taken by WCCB confirm that both dogs are pit bulls, specifically red nose pit bulls. The Charlotte Observer reports that a neighbor said both dogs -- a male and female -- and their female owner had lived in the area for several years and at one point had served on the community's homeowners association.
Time Warner Cable News briefly spoke to an unidentified neighbor who was clearly upset. "[The pit bulls] attacked another dog two times and no one ever did anything about it," he said. "They never attacked a person, but they attacked two dogs." The footage also shows police gathered outside of the home where the woman was attacked and neighbors or possibly family members near the home's front door. CMPD's Animal Care and Control took both pit bulls into custody.
Fifth Fatal Pit Bull Attack
This still unnamed elderly victim is the third fatal pit bull attack in North Carolina since January 2016 and the fifth since July 2015, when 6-year old Joshua Strother was fatally attacked by a pit bull that was adopted out three weeks earlier by the Asheville Humane Society. These victims include: Suzanne Story, 36, of Perquimans County, Talan West, 7, of Robeson County, Cathy Wheatcraft, 48, of Davie County and Joshua Strother, 6, of Henderson County, North Carolina.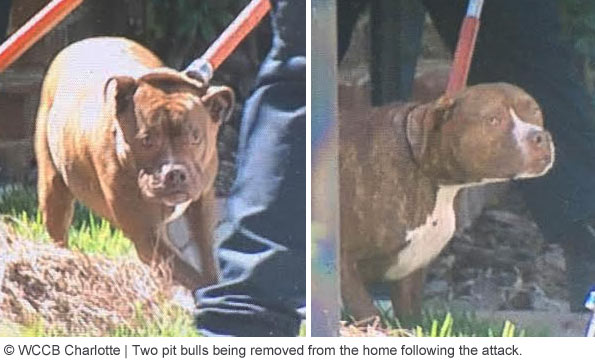 View the DogsBite.org Google State Map:
North Carolina Fatal Pit Bull Attacks
.
Related articles:
02/12/16: 2016 Dog Bite Fatality: Woman Killed by Pet Pit Bull in Perquimans County, NC
03/05/16: 2016 Dog Bite Fatality: Pit Bull Kills Child, Injures Another in Lumberton, North Carolina
08/25/15: 2015 Dog Bite Fatality: Pit Bull Kills Woman, Injures Another in Davie County...
08/06/15: 2015 Dog Bite Fatality: Recently Adopted Out Pit Bull Kills 6-Year Old Boy...
05/05/09: Alexandra Semyonova: Heritability of Behavior in the Abnormally Aggressive Dog