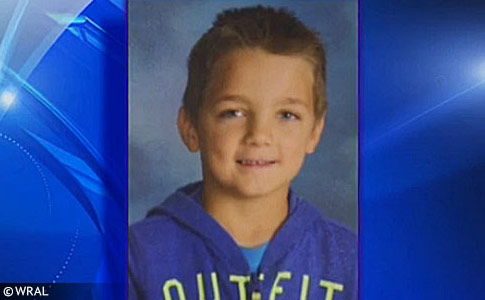 Talan West, 7, was killed by a pit bull, while two other dogs attacked his older brother.
Ordinance Passes
UPDATE 06/15/16: Five months after 7-year old Talan West was mauled to death by a neighbor's pit bull, the city of Lumberton passed a pit bull ordinance. The new ordinance, passed in a 5-3 vote, is based upon the ordinance in Edenton. Talan's mother, Jamie West, was a powerful force behind the passage of the new law, which declares pit bulls "potentially vicious." The ordinance bans the tethering of pit bulls, requires a secure pen with a concrete floor and liability insurance.
"My baby's life counted. Other children's lives count ... We've got to start somewhere and I promised my 8-year-old we would." - Jamie West
The three no votes came from council members who all own pit bulls. Since 2012, pit bulls have killed three people in Robeson County. No other dog breeds have inflicted a fatality in the county since 2005, as far back as our data set for all U.S. dog bite fatalities goes. Since 2005, canines have killed 20 people in North Carolina; 75% (15) of these attacks were carried out by pit bulls. This is a much higher rate than the national rate of 64% for pit bulls over the same period.
Jamie West is an amazing mother of five children today who has overcome extreme odds since the horrific death of her son Talan in January, including keeping her family together after his death when Robeson County officials wanted otherwise. Now Jamie has managed to help pass a pit bull ordinance in an area of the country and North Carolina that for so many years has desperately needed one. Jamie's persistent efforts will save the lives of future innocents in Lumberton.
---
03/05/16: Mother Regains Custody
We wanted to let readers know that on March 2, a Robeson County judge returned custody of her five children to Jamie West and allowed her family to return to their home. The custody battle between Robeson County social services and Jamie began at the end of January, just days after her 7-year old son, Talan West, was brutally killed by a neighbor's pit bull. Jamie initially fled the state of North Carolina with her children to stop social services from breaking up her family.
Jamie also started a petition on Change.org to Robeson County Commissioners to improve the county's dog ordinance. Currently, there is not even a leash law in the county. As for possible charges being filed against the owner of the dogs, it was reported on February 9 that detectives had nearly completed their investigation; the next step was to send the case to the district attorney's office for review. That was nearly a month ago now and the last news report available.
In memory of Talan West. Due to social services' fiasco, Jamie could not even attend his funeral.
---
01/29/16: Mother Flees State with Children
In a very heartbreaking development, the mother of a 7-year old boy killed by a pit bull, Jamie West, and her remaining five children will not attend Talan's visitation or funeral service. Talan West, her youngest son, was mauled to death by a neighbor's pit bull last Sunday. Jamie fled the state of North Carolina with her children to stop social services from taking them away from her. 5-years ago, her children were taken away for reasons unknown, but she won back custody.
"I can't bring back Talan, but I can hold onto my five." - Jamie West
In an interview with WRAL News, Jamie said that social workers told her, "I could go to the service with my children. They would not walk in there to get them during the service, but pretty much after it was over and we left, we could discretely, I could hand them over," she said. All of her children are currently with her and are holding up as well as they can, she said. "I have prepared all of them, that if something happens and they have to leave, I will be back to get them," Jamie said.
People on social media have been cruel to the boy's family and are also harassing the GoFundMe page for the boy's burial costs. The person running the page is a close friend of Jamie, who at this stage has no way to run the page herself. It is very common for close friends and family members to manage these donation pages. The situation on the page began with a nasty comment left by a person with the Facebook name of "Fa Kyu" several days ago and it has only deteriorated since.
Several days before Jamie fled the state with her children, the boy's father Steven West posted to his Facebook page, "This dog didn't just bite him, he butchered him." He describes his son's injuries as being ripped 15 to 20 times. Including the neck injuries -- the pit bull latched onto his neck and broke it -- the dog tore into his face, ripped into his midsection and tore out his calf muscle completely. All of the injuries described are common fatal injuries inflicted by pit bulls.
---
01/26/16: Victims' Family Speaks Out
The mother of 7-year old Talan West spoke to the media Monday about the devastation she is suffering after Talan was mauled to death by two pit bulls. His 8-year old brother Jaylan West witnessed the attack and was also injured by the dogs. The two brothers were among four children chased and attacked by a group of dogs on Sunday. Talan died of his injuries; Jaylan suffered bites to his lower leg requiring stitches. Jaylan was treated and released from the hospital.
Talan and his three siblings were playing in a field behind their home, when three dogs began running after them. Jaylan said he jumped onto a car, but Talan could not get away. "One [dog] was on that leg, one [dog] was on that leg – the big one just all over his face biting him up," Jaylan told WNCN. One of the dogs, a pit bull, attacked Talan. "[The pit bull] broke his neck, but it took pretty much the entire back of his neck off and that's when he died," said his mother Jamie West.1
While county authorities investigate, Talan's parents were told by social services they cannot have any unsupervised visits with their children.
ABC 11 interviewed the boy's father, Steven West. According to Steven's account, only Talan and Jaylan were involved -- the other two siblings were not. Steven witnessed an unnamed woman attempting to give CPR to Talan. "I saw the lady trying to do all she could on my son to keep him alive and my heart goes out to her," Steven said. He also said the tool Jaylan grabbed to fight the dogs off was a pair of pruning shears, not a machete or hatchet as reported in other stories.
Dog Ownership Information
WRAL.com reports that the dogs belong to Afreda Locklear. Her brother, Spencer Oxendine, said that one of the dogs recently had a litter of puppies. The Fayetteville Observer reports that the property where the attack occurred is owned by Alfredia O. and Jack D. Locklear, according to Robeson County tax records. Finally, the attacking pit bull died on scene, but had no visible injuries, The Robesonian reports. A veterinarian is examining the dog, the sheriff's office said.
WBTW Update Adds Details
On Tuesday, WBTW updated their earlier article. It now includes information from Sheriff Kenneth Sealey. There were three dogs involved in the fatal attack. They were taken by animal control and have been euthanized. Sealey described the other dogs as mixed-breeds. Puppies parented by the pit bull and one of the mixed-breeds were taken to an unnamed rescue in Robeson County. We hope the rescue is forced by law to tell any adopters that the parent dogs killed a child.
Melissa Locklear, a cousin of Talan, is also interviewed in the piece. It is unclear if Locklear is related to the owner of the dogs. Locklear believes the owners should be held responsible. "They should be held responsible because, like I said, pit bulls already have a bad reputation," she said. "Everyone knows they're naturally aggressive," Locklear explained. If you're going to have pit bulls, she said, one must be extra vigilant in understanding its temperament and keeping it secure.
01/24/16: Pit Bull Kills Child Injures Another
Lumberton, NC - Two children, ages 7 and 8, were attacked by a pit bull at a home on the 2400 block of Odum Road in Lumberton Sunday morning, according to the Robeson County Sheriff's Office. Authorities identified the 7-year old as Talan Nathan West. Deputies and EMS responded to a 911 call that was placed about 11:30 am. Talan was found unresponsive with severe injuries. Both children where transported to Southeastern Regional Medical Center, where Talan died.
Talan suffered "severe puncture wounds" in unspecified areas and 8-year old Jaylan Ray West suffered bites in the lower part of the body, states the release. Jaylan has been treated and released, according to the sheriff's office. Both children lived on the 2600 block of Odum Road. "At this time the Robeson County Sheriff's Office Major Crimes Division and the Juvenile Division are doing an investigation on the child's death to determine the cause," states the news release.
Third Fatal Pit Bull Attack Since 2012
The death of Talan marks the third fatal pit bull attack in Robeson County since 2012. In October 2012, Mary Jo Hunt, 53-years old, was struck down by her seven rescue pit bulls in Pembroke. At the time of the attack, Hunt worked for Robeson County Claws and Paws Rescue. In November 2014, Alemeaner Dial, 83-years old, was mutilated and killed by her granddaughter's four pit bulls in Rowland. The granddaughter and her pit bulls had moved in with Dial about 5-months earlier.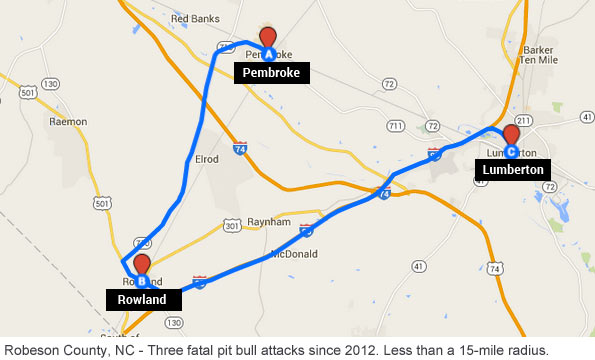 View the DogsBite.org Google State Map:
North Carolina Fatal Pit Bull Attacks
.
1
WNCN also reported -- possibly in error, we will be tracking this information down -- that there were 5 fatal pit bull attacks in the county in the last 5 years, two more than what we have recorded for the county during this period.
Related articles:
08/06/15: 2015 Dog Bite Fatality: Adopted Out Pit Bull Kills 6-Year Old Boy in Henderson...
11/03/14: 2014 Dog Bite Fatality: Woman Dies After Violent Pit Bull Attack in Robeson County
10/04/12: 2012 Dog Bite Fatality: Pembroke 'Dog Rescuer' Killed by Rescued Pit Bulls