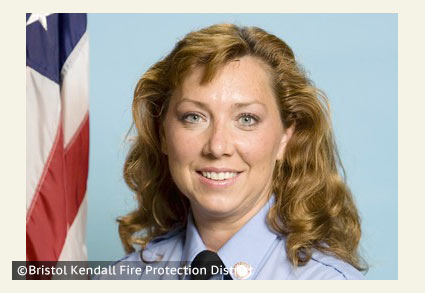 Dog New to Home
UPDATE 11/14/12: Police Lt. Pat Gengler said that an autopsy found that Brown died from dog bites to her neck from a 140 pound mastiff. She was discovered by her husband at the bottom of the basement stairs in their home. Gengler said the couple took in the mastiff about a week ago from a family member.1 He added that four animal control handlers were needed to contain the animal. The couple's two other dogs, a boxer and pit bull-mix were uninvolved in the attack.
Bristol Kendall Chief Michael Hitzemann noted that that the mastiff was having trouble getting along with one of the other dogs (which is perhaps why it was in the basement?) "I'm not sure we're ever going to find out," Hitzemann said, referring to what prompted the deadly attack. John Ciribassi, a veterinary behaviorist at Chicagoland Veterinary Behavior Consultants chimed in with typical garbage stating that fatal dog attacks are rare, "especially against adults."2
Adults Comprise Nearly Half of All Fatal Dog Attack Victims
So far in 2012, 51% of all fatal dog attack victims have been adults. Just days ago, a 30-year old California woman was killed by one or more dogs. In the 7-year period of 2005 through 2011, 213 Americans were mauled to death by dogs. 54% (116) of these victims were ages 14 and younger. The remaining victims, 46% (97), were adults ages 20 and older. Of the adult category, 16% were ages 20 to 39, 33% were ages 40 to 59 and 51% were ages 60 and older.
View Related video3
11/14/12: Woman Killed by Own Dog
Big Rock, IL - A firefighter found dead in her home on Monday was killed by her dog. Kane County Sheriff's police Lt. Pat Gengler said an autopsy completed Tuesday showed that Dawn Brown, 44, died from injuries inflicted by one of her dogs, a mastiff. At the time of the incident, Brown was home alone with the mastiff and her two other dogs, a boxer and a pit bull-mix. She was discovered by her husband about 4:15 pm in their home on the 400 block of Jefferson Street.
Brown, along with her husband, was a volunteer firefighter with the Big Rock Fire Protection District -- the same department that responded to the call. Brown also worked full time with the Bristol Kendall Fire Protection District in Yorkville.
1
To avoid the dog from being put down. Such a wise choice?
2
Quoting "experts" like Ciribassi guarantees the propagation of false data, as his comment was clearly one of a personal belief with zero documentation supporting it.
3
Video names dog breed a bullmastiff.
Related articles:
10/04/12: 2012 Dog Bite Fatality: Pembroke 'Dog Rescuer' Killed by Own Dogs
09/11/12: 2012 Dog Bite Fatality: Jefferson County Woman Attacked by Own Pit Bulls Dies
09/05/12: 2012 Dog Bite Fatality: Trotwood Senior Citizen Killed by Own Dogs
08/17/12: 2012 Dog Bite Fatality: 23-Year Old 'Dog Rescuer' Mauled to Death by Own Dogs