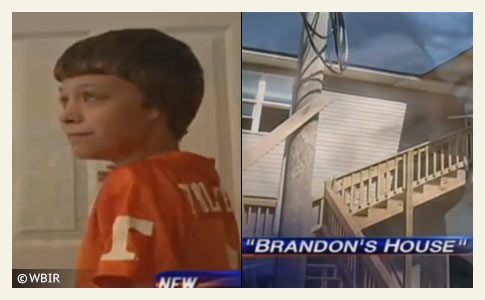 Brandon Williams
Cocke County, TN - In one of the most uplifting stories DogsBite.org has ever posted about, an outpouring of community support along with Shriners Hospitals for Children has created a remarkable new chapter in the life of a young Tennessee pit bull mauling victim. In August 2011, Brandon Williams, then 10-years old, was horribly mauled by two loose dogs (See: more photos). He suffered the loss of both ears along with extensive injuries to other parts of his body.1
The community gifted Brandon and his father with a 1,200 square foot new home -- everything was donated, from windows to walls.
The new home falls on the heels of Brandon losing his mother, Christy Williams, in April of this year. The Cocke County Shrine Club spearheaded a fundraiser to help Brandon's family cover the funeral costs for his mother. Josh Dunn helped organized the new home project and said it took about 250 volunteers to fully construct the new residence. Brandon's extensive and ongoing medical care will be fully covered by Shriners Hospitals for Children until he is 18-years old.
Brandon's father, Tony Williams told WBIR.com, "It's like you're in a dream; it's awesome. There are no words to describe it.
The Closed Chapter
The owners of the dogs, Anthony Lugar and Jennifer Switzer, pleaded guilty in January 2012 to allowing animals to run at large, causing serious bodily injury. In return, the two were sentenced to two years of supervised probation. In late March, the court rejected an attempt by Switzer to receive judicial diversion; Lugar was ineligible for the program. The judge only ordered a restitution amount of $376 because private and public groups covered Brandon's medical bills.2
1
Doctors could not reattach his ears that deputies picked up in the road after the attack. Doctors will have to create special prosthetic ears for
Brandon.
2
Both TennCare and the Shriners covered Brandon's medical bills. Given that TennCare is Tennessee's Medicaid program, and is partly funded by the State of Tennessee, it seems appropriate that the dog owners should have to pay back every penny spent by TennCare.
Related articles:
06/02/12: 11-Year Old Victim of Pit Bull Scalping Injury Recounts Attack
09/04/11: Update on 2-Year Old Pit Bull Scalping Victim George Sumrall