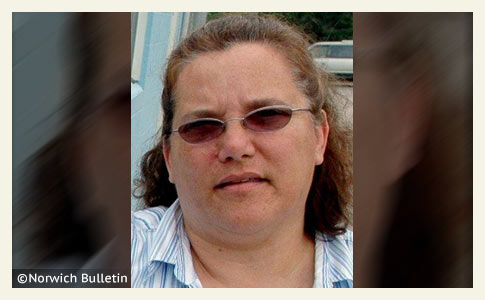 Plainfield Animal Control Officer died after being knocked to the ground by a pit bull.
Officer Theresa Foss
Plainfield, CT - An incident that raises questions regarding what defines a "fatal dog attack" recently occurred in Connecticut. On September 29, Plainfield Animal Control Officer Theresa Foss was hospitalized with a head injury after being knocked to the ground by a pit bull. Foss had responded to a call of an aggressive dog that had trapped a family in their home. A resident of the home, Ron Roberts, shot the dog several times after it attacked Foss, causing the dog to flee.
News articles were quick to point out the loose pit bull, named Buddy, had not bitten Officer Foss. The owner of the dog, David Coombs, told reporters "he had no idea" the trouble Buddy had caused when the dog returned to his home at 180 Moosup Pond Road the following morning. Though news reports emphasized that the dog had not torn Foss' flesh, Coombs took the unusual step of shooting Buddy to death then burying the animal in Canterbury, about 4 miles away.1
Local authorities did not attempt to locate the buried dog, because the incident did not involve a bite.2 A bite would have required a rabies test.
Up until Foss' death on October 8, she remained hospitalized at Yale-New Haven Hospital with a serious head injury. While it could have been an error on his part, Charles Gagne, of Gagne-Piechowski Funeral Home, said that Foss' death was unrelated to the dog. This appears to be impossible, as Foss never left the hospital after the attack. State Animal Control Officer Linda Wenner later told reporters that Foss "died of organ failure," begging the question as to why?
Two Heart Attack Victims in 10-Day Period
Foss' death comes during the same 10-day period when two people suffered a heart attack following a terrifying "pit bull incident," thus highlighting the graveness of "non bite" pit bull injuries.
On October 2, 70-year old Mary Garcia of Adams County, Colorado was attacked by two dogs, a pit bull-mastiff mix and boxer-pit bull mix, when she stepped outside to lock her car doors. Garcia suffered serious bite injuries in the attack, but the immediate threat was a heart attack that struck after the incident.
On October 11, 56-year old Timothy Neimeyer of Indianapolis hopped a fence to stop a fight between his pit bull and a neighbor's dog. The pit bull broke its chain and jumped a fence to attack the dog. While trying to stop the fight, Neimeyer went into cardiac arrest. His condition is listed as "grave" in news reports.
1
Combs was ticketed for dog nuisance, allowing a dog to roam and failure to license. He was fined $242.
2
For all we know, Buddy could have been shipped across state lines to live with a friend or relative of Coombs.
Related articles:
09/09/09: Elderly Woman Suffers Broken Hip and Crushed Wrist After Pit Bull Attack
06/08/09: Pit Bull Drags Adult Owner into Oncoming Train, Killing Her
03/06/09: Dog Aggression Equals Human Injury, Bullets and Dead Family Dogs