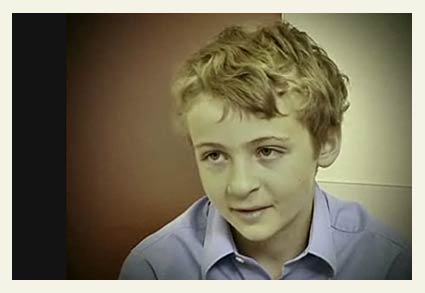 Dominic Solesky at 13-years old (Click image to watch video).
Fighting Against Dog Bites
Washington D.C. - Back in March, we published a post about Anthony Solesky and his son Dominic (View Anthony's story: Dangerous by Default: Extreme Breeds). On April 28, 2007, Dominic and two other boys were attacked by a pit bull that leaped from its pen. Dominic suffered life-altering injuries. Both Anthony and his son were recently featured in an NBC Washington video that was broadcast in conjunction with National Dog Bite Prevention Week 2010.
Dominic tells his story on camera. He describes the sound of blood flowing from his leg, "It sounded like water. Like someone just took a water bottle and turned it upside down. That's how loud the blood was coming out of my leg." The pit bull had torn through his femoral artery. The news team also interviews the Johns Hopkins doctor who performed the artery repair surgery. The doctor and his surgical team are attributed to saving Dominic's life and his leg.
"Generalized" Dog Bite Prevention Tips
The video offers "generalized" bite prevention tips, such as "Don't touch dogs sleeping, eating or with puppies," and "Don't run or scream." As Anthony voiced in his own piece, "Not coincidentally, two of the four boys were able to escape attack. Should each have curled up in a ball1 instead of running?" DogsBite.org does not believe that such tips adequately address the pit bull breed, selectively bred to attack unprovoked, unpredictably2 and with great tenacity.3
The tips also make safety the victim's responsibility. As Anthony noted in a recent email, "Why wouldn't these safety tips be aimed at dog owners? Don't feed your dog around children, for instance." One also has to question how a 3-year old, or a child from the highest risk category, ages 5 to 9, can permanently digest and adhere to such tips. Would a school remove its crossing guards from crosswalks because the children had been informed how to safely cross a street?
More Dog Bite Prevention Resources
We praise the continued courage of Dominic. He is a great inspiration to us all!
1
How to Avoid a Dog Bite, The Humane Society of the United States
2
The Ethology and Epidemiology of Canine Aggression, by Randall Lockwood, The Domestic Dog: Its Evolution, Behaviour, and Interactions with People, edited by James Serpell, Cambridge University Press, 1995.; republished in Animal Law and Dog Behavior, Ed. David Favre and Peter L. Borchelt, PhD, 1999
3
The "generalized" tips are designed to prevent "normal" dog bites and they provide important education in this area. But the tips do not address the many pit bull maulings where the dog snaps its chain, leaps over a fence or chews through wire caging to attack an unsuspecting victim.
Related articles:
03/10/10: Dangerous By Default: Extreme Breeds by Anthony Solesky
05/17/09: National Dog Bite Prevention Week (May 17-23, 2009) - DogsBite.org