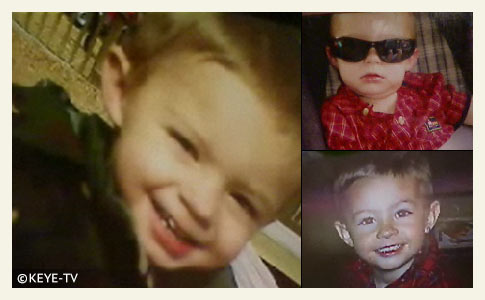 Tyson Miller, 2-years old, was mauled to death by a chained pit bull in Luling, Texas.
Mother Indicted
UPDATE 05/14/09: A Caldwell County Grand Jury indicted the mother of a 2-year-old boy this week who was attacked and killed by a chained up pit bull. Melissa Miller, 24, faces charges of injury to a child and criminally negligent homicide, both felonies, in the March 26 death of Tyson Miller, according to a Caldwell County press release. The grand jury returned the indictment after hearing testimony from Miller and her attorney, Matt Jones of Austin, the release said.
The destruction this chained pit bull has brought upon Melissa Miller and her family cannot be measured. Yet the actions of those involved cannot be excused either. DogsBite.org urges parents to keep their children away from chained dogs, especially if the animal is a pit bull, rottweiler or other powerful breed. Do not ever agree to "watch" one of these dogs for a friend or relative nor allow your children to visit the home of a friend or relative that owns a dangerous breed either.
---
The mother was later sentenced to two years in a state jail in connection to her son's death.
---
03/31/09: Mother Shares Story
Melissa Miller told CBS 42 reporters that she woke up at 6 am that morning to dress her 6-year old daughter, Valerie for school. Valerie's great-grandmother picked her up about an hour later. Miller said she forgot to deadbolt the door at that time. Exhausted after what she calls an irregular work schedule, Miller said she went back to sleep and woke up around 12:30 pm to find Tyson gone. She also said that Valerie and Tyson had only been staying at the trailer for five days.
Miller told us the owner of the pit bull was an acquaintance of one of the friends living in the house. Miller just moved into the mobile home two weeks before the attack. She said Valerie and Tyson had only lived there for five days, because they spent spring break with their grandmother.

"I knew there was a dog back there chained up, but I never knew what type of dog, or that it was pregnant or that it was a female." - Katherine Stolp, CBS 42, March 31, 2009
03/30/09: Mauling Victim Identified
Authorities have released the name of the mauling victim. Deputy Luling Police Chief David Creed identified the toddler as 18-month old Tyson Miller, who had been staying with his mother, Melissa Miller, for about two weeks at a home in Luling, where the attack occurred. Creed said the child awoke before the adults that morning and went into the back yard where the female pit bull was chained. When the mother and her boyfriend awoke (about 12:30 pm), the boy was dead.
About the same time the couple began staying at the new residence, Miller and her boyfriend agreed to "watch" the pregnant pit bull for a "friend." The owner of the pit bull, a family friend named Amanda Ayala, signed a voluntary euthanasia order for her pit bull. Police officials have not filed any criminal charges yet. The case will now go to the Caldwell County District Attorney, whose office indicated to reporters that the case will go before a grand jury as soon as possible.
03/28/09: A Recipe for Disaster
Carol Escobedo said her two brothers were living at the trailer where the attack happened. She said one of her brothers -- whom she did not identify -- "had been keeping" the pit bull suspected of attacking the boy for a couple of weeks for a friend. The core ingredients of a fatal dog attack in this case are overwhelming: 1.) 0-2 year old child 2.) Pit bull 3.) Chained 4.) Pregnant 5.) New dog (at location just a few weeks) 6.) Adult "watching" the dog for a friend. Roy Mendiola, who lives down the street, said the dog, a grayish pit bull, was usually behind the trailer on a long chain.
---
---
03/27/09: Pit Bull Pregnant and Chained
New information has been released about the fatal pit bull mauling of a young boy reportedly named Tyson. One neighbor, Carol Green, said she saw the horrific attack with their own eyes. Police said the chained pit bull attacked the boy in a wooded area, where two other dogs still remained Thursday night. "There were some adults present (during the attack)," Luling Police Chief, John Cochran said. "But who and their relationship with the kid, I have no idea," he said.
"It was pretty bad, the dog, the pit bull mauled the baby and kept going for its head until he killed him," said neighbor Carol Green ...

Friends of the family walked in and out of the mobile home hours after the attack, only a few, would stop to briefly talk with us.

"It was somebody else's dog," an unidentified man told the swarm of media.

"The dog was pregnant so they thought it would be fine," Escovedo said.
The friends also told us about the deceased two year old boy, who they called Tyson. - Katherine Stolp, CBS 42, March 26, 2009
03/26/09: Owner of Dog Remains Unclear
Luling, TX - Authorities believe a 2-year old boy was killed by a pit bull in the backyard of his home. Shortly after noon on Thursday, 911 dispatchers received a call about a dog bite. When Luling police officers arrived at the home in the 900 block of Hackberry, they found the child's body with a female pit bull dog next to him. Investigators say the bite marks on the boy are consistent with being attacked by a dog. An autopsy is planned to determine the exact cause of death.
The boy and the female pit bull were reportedly found in the boy's backyard, but police aren't certain if this was the family's dog. Family members told reporters that they "didn't know" where the animal came from and it was not theirs. Currently, police are interviewing family members to learn more -- including the identity of the 911 caller. The animal has been picked up and is now in the custody of Luling animal control officers. Police continue to investigate the boy's death.
Related articles:
01/15/09: 2009 Fatality: Cheyenne Peppers, 5-Years Old, Killed by 3 Family Pit Bulls
12/20/08: 2008 Fatality: 2 Pit Bulls Attack, Kill 60-Year-Old Rubidoux Man