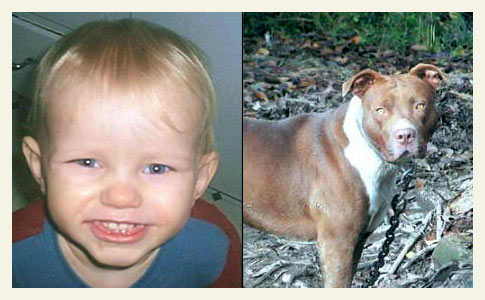 Matthew Hurt, 2-years old, was killed by a neighbor's chained pit bull in Prescott.
City Passes Pit Bull Ban
Prescott, AR - Nineteen days after a pit bull killed Matthew Clayton Hurt, the Prescott City Council declared an emergency to approve an ordinance banning pit bulls. The ordinance was approved on November 16. Prescott now joins a number of Arkansas cities that ban pit bulls including: De Queen, Dierks, Dover, Jacksonville, Lonoke, Maumelle, Mineral Springs, Mountain Home, Nashville, North Little Rock, Mayflower, Russellville, Salem, Sherwood, Truman and more.
The recent death of a 2-year-old boy motivated the Prescott City Council to approve an ordinance banning pit bull dogs from the city, said Mayor Howard Taylor.
The ordinance, approved Monday night, makes Prescott the fifth town in Southwest Arkansas to ban the dogs. Similar ordinances have been approved by Nashville, De Queen, Dierks and Mineral Springs.
The council was going to consider the ordinance banning pit bull dogs in the December meeting, but decided to declare an emergency and approved the ordinance Monday night. - Texarkana Gazette
Other Arkansas cities regulate pit bulls by declaring them "dangerous" or "potentially dangerous" and include: Little Rock, Morrilton Pine Bluff and more. View all related Arkansas ordinances.

From left: Attacking pit bull and his doghouse, Chief Brian Russell and Richard Ray Smith.
Related articles:
10/29/09: 2009 Fatality: Toddler Wanders from Babysitter's Home; Killed by Pit Bull
06/22/09: Troy, Missouri Bans Pit Bulls; 60 Days to Register Current Dogs
06/22/09: Fayette, Alabama Passes Pit Bull Ban in City Limits