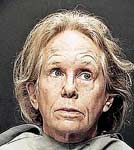 Civil Forfeiture Begins
UPDATE 03/23/09: The Pima County Attorney's Office wants two properties, one in Picture Rocks and the other in Cochise County, owned by Emily Dennis. County officials said that just because Dennis was acquitted of the charges doesn't mean she wasn't breaking the law. Deputy County Attorney Kevin Krejci said there is nothing unusual about pursuing civil forfeiture of assets, even when a defendant has been acquitted of criminal charges.
Dennis filed a claim against Pima County seeking more than $1 million in compensation for dogs that were seized. The claim puts the value of each dog at $10,000.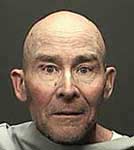 11/20/08: Patrick and Dennis Acquitted
A judge acquitted Mahlon Patrick and Emily Dennis of dogfighting charges. Dennis sobbed and hugged Patrick in Pima County Superior Court after Judge John Leonardo read his verdict and said there was not enough proof that the pair raised fighting dogs, or that they fought dogs on their property. Patrick is known worldwide for two bloodlines lines: Tombstone and Boilio, the latter is known as a man-biter.
Proving dogfighting charges is difficult. We lost this one readers.
11/13/08: 1 Leash for Over 100 "Socialized" Dogs
Tucson, AZ - In February, SWAT teams raided four properties involved in a fighting dog ring. Mahlon Patrick was arrested and charged with two counts of dogfighting and 21 counts of animal cruelty. Patrick was known worldwide for two bloodlines he originated: Tombstone and Bolio. The latter was said to be a man-biter. Also arrested was Emily Dennis, who faces the same charges.
Judge John S. Leonardo of Pima County Superior Court heard opening statements today in the bench trial, which is expected to carry over into next week. Deputy County Attorney Lewis Brandes told Leonardo that the combination had built a reputation on breeding dogs that would engage in dogfighting. Brandes also said that when law enforcement officers raided the facility, only one leash was found for 110 dogs.
Defense attorneys Mark Resnick, who represents Patrick, and Thomas Higgins Jr., who represents Dennis, said there is no case against their clients. "He did what any responsible breeder does and made people sign a contract saying if you sell the dog, it's not to be used for the purpose of fighting," Resnick said. Resnick told Leonardo an expert will testify that, with the exception of two dogs seized from Patrick, the dogs were socialized.
On the day of the raid, 110 dogs were seized from Patrick and Dennis' property, Picture Rocks kennel. Seven of the dogs were euthanized for medical reasons, 94 were euthanized by Pima County animal welfare officials several months following the raid and nine were taken in by animal rescue groups. Of the nine, three chosen by Diane Jessup for "law dog" training have since been euthanized as well. It seems farfetched that the dogs were "socialized."
In addition to Patrick and Dennis, deputies arrested Robert Clayton Smith, 56; Terry Lee Williams, 53; Juan Rudolfo Verdin, 40; and Zenaida Yvonne Verdin, 40. Verdin recently pleaded guilty to attempted dogfighting; wife Zenaida, pleaded guilty to cruelty to animals. Leonardo is set to sentence them Nov. 26. Smith and Williams are scheduled for a jury trial in February.
Related charges:
03/12/08: Bloodsport Bust: Alleged Bloodsport Breeds Charged
02/20/08: Breeder Busted, up to 150 Dogs Seized in Dogfighting Raid