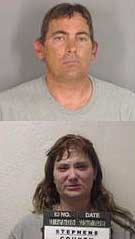 Bail Lowered; Owners Go Home
Breckenridge, TX - Bail for two Breckenridge residents arrested in connection with the dog-mauling death of Tanner Monk was reduced, and both have been released. Jack Smith, 45, and Crystal Watson, 27, were arrested in connection with the death of Tanner. Bail for each person was initially set at $250,000 each but was reduced to $10,000 each.
Smith and Watson live next door to the Monk family and are now headed home.
Two pit bulls attacked Monk, who was found dead on the road outside of his home. The dogs were shot after they became aggressive toward authorities. Two other dogs belonging to Smith and Watson were ordered destroyed later. Both Smith and Watson are charged with a dog attack resulting in death, a second-degree felony punishable by up to 20 years in prison and a maximum fine of $10,000.
90th District Judge Stephen Crawford issued a gag order in the case June 16th, forbidding the discussion of case details.
Related articles:
05/26/08: 2008 Fatality: Video Tribute to Tanner Joshua Monk
05/19/08: 2008 Fatality: Boy Killed by Pit Bulls in Breckenridge, Texas
05/19/08: Roll Call: Texans Killed by Pit Bulls in 2007