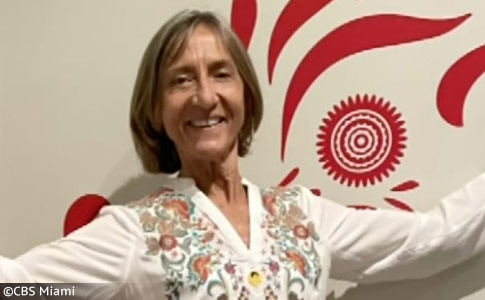 A hulking pit bull-type dog killed Pam Robb at a rescue dog facility in Oakland Park.
Civil Lawsuit Filed
UPDATE 12/08/22: In early December, we became aware of a civil lawsuit that was filed against 100+ Abandoned Dogs of Everglades Florida in connection to the mauling death of 71-year old Pam Robb, who had been volunteering at the rescue. On February 17, Robb was violently attacked by a 125-pound pit bull-mastiff type dog that the rescue had "saved" from the Everglades on January 18. The lawsuit was filed in July by Angela Anobile, the surviving spouse of Robb.
The legal name of the defendant is 100 Plus Animal Rescue, Inc. The wrongful death lawsuit alleges that under statute 767.04 of Florida code, the defendant is strictly liable for the damages caused by the subject dog to Robb. The lawsuit seeks damages in excess of $30,000 and demands a jury trial. The lawsuit, unsurprisingly, focuses on the rescue's lack of safety protocols and safety equipment on the premises and the lack of training for when a dog attacks.
Pages 4-6 itemize the alleged breaches of duty and safety failures, including: failing to euthanize the dog "immediately upon learning of its dangerous propensities," failing to train employees for dog attacks on the premises, "luring members of the general public," including Robb, onto the premises by stating that the subject dog "needs your love and support," and failing to provide Robb with the "proper protective equipment." Also, for failing to call 911 in a timely manner.
Since apparently no one on the premises had any training for when a dog attacks, much less for a hulking 125 pound dog, they resorted to "throwing food" at the dog, "splashing water" on it and "placing a bone in its mouth." The lawsuit alleges the rescue had no equipment on the premises to separate the attacking dog from Robb. The lawsuit also alleges that 100 Plus Animal Rescue breached their duty of care for Robb by failing to "render first aid" to her after the brutal attack.
---
02/18/22: Outside When Attacked
Local news station WPLG watched additional videos of "Gladys from the Glades," a hulking pit bull-type dog that was rescued from the Everglades on January 18 by 100+ Abandoned Dogs of Everglades Florida. On February 17, the dog attacked and killed 71-year old Pam Robb who was volunteering at the facility on Commercial Boulevard. In a February 5 video, WPLG noted that an employee admits that the dog's fear issues "might be out of our hands, a little over our heads."
"It has been slow and steady with Gladys (5:43) … Since we have had her in the house, she is good with certain people. She is not good with others (6:00) ... She has got tremendous, tremendous fear ... She is afraid to leave this room. It is a battle to get her out of this room every single day. If we can get her out in the yard, she's terrified out there. She does not want to be out there. She paces, tail is tucked. She's just a nervous wreck (6:27) She's got so much anxiety and fear. We are trying to manage it (7:06) As I said, there are only a few of us that can work with Gladys right now, because she's got some fear issues of our other volunteers … We are doing the best that we can [to get her over her anxiety]. It might be out of our hands, a little over our heads. (13:38)" - Gladys Update, slow and steady
The Sun-Sentinel reports that Robb had volunteered at the rescue for the last six years after she retired from teaching at a high school. According to her wife, Angie Anobile, Robb was outside with the dog when the attack happened. Gladys first latched onto Robb's arm before taking Robb to the ground. Despite this violent act, Anobile said, Robb "was one of the few that the dog resonated with. She was just starting to build trust with the dog." (See February 14 video of dog outside.)
Clearly, the dog did not "resonate" with Robb or possibly any human being. Though, it appears the dog "tolerated" some people. Confusing the two cost Robb her life. The dog was also outside at the time of the attack, a place where Tiffany explained, "She's terrified out there. She does not want to be out there." Certainly, all of the signs were apparent that this dog posed a safety threat to staffers and volunteers while outside and inside. "Wishful thinking" did not remove this threat.
The Sun-Sentinel also spoke to Ana Campos, a private investigator and animal activist. Campos was critical of the rescue for not enough people wearing bite sleeves or other safety equipment during the "Divine Intervention" rescue of the dog on January 18, along with people who visited the dog after the Everglades rescue. "I've got to tell you when I watched the video of the rescue along with everybody else, I had concerns about basic safety protocols being ignored," Campos said.
Finally, as predicted by our own commenters, the claim that Robb "died doing what she loved," has manifested, as it has after other female rescuers were fatally attacked by dangerous dogs they were trying to rehab. "Pam loved what she was doing and died loving what she was doing," Anobile told WPLG. Indeed, love would have been throbbing from her heart as the 125 pound "Gladys from the Glades" latched onto her arm, took her to the ground, and fatally mauled her.
---
02/17/22: Rescue Dog Kills
Oakland Park, FL - One woman is dead and another injured after being mauled by a dog at a rescue facility. The multi-victim attack occurred at 100+ Abandoned Dogs of Everglades Florida, located at 345 East Commercial Boulevard. The female dog, a pit bull-mastiff combination, was rescued from the Everglades on January 18. She was named "Gladys of the Glades" by her rescuers, which is recorded in a January 18 rescue video on the group's Facebook page.
At 1:24, the woman who is filming tells the rescue story. She calls it a "Divine Intervention," and that a group of women prayed together, "and one of the members of her prayer group, gave her my number. She called me. And here we are." Just under one month later, after multiple fundraising videos were posted for the dog, Gladys inflicted a fatal attack. "Our Hearts are Broken for our Dear Friend Pam. Our deepest condolences to her family & friends," states a recent post.
"We are here with Tammy and Tiffany and Jan and a couple that reached out to me last night. The couple's two boys were out here fishing -- talk about Divine Intervention. They were out here fishing and came home and told their parents that they saw a dog in the middle of the Everglades -- I am telling you there is absolutely nothing around. She is a big girl. She's a big girl. She's got nipples. We don't know if she's pregnant. We don't know if she recently had a litter. We don't know if she was dumped out here. There is not a house anywhere in sight … The couple came out here all day yesterday, she would not come with them. She said she reached out to her prayer group and prayed with her prayer group and one of the members of her prayer group, gave her my number. She called me. And here we are." - PLEASE DONATE FOR GLADYS & OUR ONGOING MISSION 
Oakland Park Fire Rescue crews and Broward Sheriff's Office deputies responded to the scene at the rescue dog facility on East Commercial Boulevard just before 11:00 am, reports WSVN. The 71-year old female victim, identified as Pam Robb, was transported to Broward Health Medical Center with serious bite injuries. Shortly thereafter, she succumbed to her injuries. The other female victim, who intervened to help, suffered minor injuries and was taken to Holy Cross Health.
WSVN captured footage of the dog being removed from the facility by animal control officers. Broward Sheriff's Office spokesperson Claudinne Caro shared the results of the preliminary investigation. "The preliminary investigation reveals that the two adult females are workers, and one of them was working with the dog when apparently the dog suddenly snapped," Caro said. "The second adult female tried to aid that first worker, and in the process she herself got injured."
Oakland Park is located 100 miles south of Fort Pierce, where a volunteer of the Humane Society of St. Lucie County was discovered "mutilated and dead" after being attacked by a pit bull-mix named "Amos" in 2019. That dog had been found wandering the streets a month earlier and was available for adoption prior to killing 52-year old Christine Liquori. David Robertson, who was the Executive Director at that time, said that Amos had never shown any signs of aggression before.
The most recent video of Gladys posted on the rescue's Facebook page, was published February 14. The 16 minute video shows Gladys outside with little interest in the woman who is filming. Gladys is yet another XL pit bull designer breed/American Bully involved in a fatal dog mauling. The most recent being the pit bull-cane corso mix that killed Tiffany Frangione, 48, in November and the massive pit bull-American bulldog mix that killed Amber LaBelle, 42, in September.
In a January 25 video, one commenter inquires about adopting Gladys. Terry Kemp replied, "make sure you can have the breed she is at your home also, she is a American bully" [sic]. The American bully XL is an "extension" of the pit bull terrier and is interchangeable with XL pit bulls, which are typically crossed with mastiffs, cane corsos, American bulldogs or a combination thereof. Calling this dog a "large mixed-breed" is an omission of up to four bully breeds.
---
Related articles:
01/12/22: 2021 Fatal Dog Attack Breed Identification Photographs - DogsBite.org
11/23/21: 2021 Dog Bite Fatality: Houston Police Suspect 48-Year Old Woman Killed by Dogs
09/26/21: 2021 Dog Bite Fatality: Woman Killed by Pit Bull She was Dog Sitting in Oregon
09/06/20: 2020 Dog Bite Fatality: Adopted Pit Bull-Mix Kills Woman, Severely Injures Other...
05/09/19: 2019 Dog Bite Fatality: Volunteer at Humane Society of St. Lucie County Dies...
---
Baseline reporting requirements:
Law enforcement departments across the United States should release consistent "baseline" information to the media and the public after each fatal dog mauling,
including these items
.